Wilton wedding cakes are a top choice for brides across the country. The Wilton name and brand is synonymous with excellence in the baking industry, especially when it comes to cake decorating. Whether you find someone who attended the school or take classes to learn the Wilton Method yourself, you can use their wedding cake designs for your wedding dessert.
Wilton Trained Decorators
The Wilton School has been teaching students how to create fabulous cakes and confections since it began in 1929. The Wilton Method, developed by Dewey McKinley Wilton, focuses on teaching decorators the basics and building upon those fundamentals.
Cake decorators can take classes and workshops at the school itself in Chicago. When calling local bakeries to learn their wedding cake ideas, ask if the decorator has been schooled in the Wilton Method to ensure you get a cake that lives up to your expectations.
Make Wilton Wedding Cakes Yourself
Couples who are trying to find some wedding money saving ideas may consider making the cake themselves. Luckily, local Wilton courses are available across the United States and Canada. Bakeries, craft stores and baking supply stores often have Wilton trained instructors available to teach their three decorating courses, gum paste and fondant course, and special projects courses.
Taking a class does involve an investment of both time and money. You will need to pay for the class itself plus materials such as decorator's tips and bags. However, the skills learned will serve you long after the last crumb of cake is eaten. Taking a few classes to learn how to make a single tier wedding cake may end up being more valuable than hiring even the best vendor since you can apply those same decorating techniques to birthday, anniversary, shower, graduation, and many other special occasion cakes.
Wilton Resources
Couples looking for cake inspiration or who want to learn more about Wilton cakes do not have to take a class. The Wilton website offers plenty of support as do books and DVDs available for sale. Not only does Wilton offer ideas for wedding cakes, but for bridal shower cakes and groom's cakes, too.
Online Resources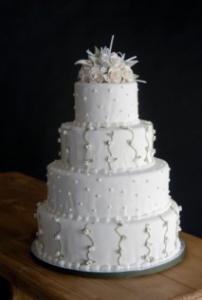 The Wilton website has a lot to offer couples and cake decorators who want to learn more about Wilton's techniques and methods. Learn more about:
The Wilton website assists brides and grooms in other areas of wedding planning, too. Get help with your budget using their budget worksheet or look through their decoration ideas. Visit the online store to find tiaras, headpieces, candles, favors, cake toppers, and other accessories to complete your big day.
Books
After a while, you may get tired of browsing online for wedding cake ideas and tips. When it comes to experimenting in the kitchen, you will need a good book or two to reference instead of running back and forth to the computer. Consider purchasing one of these Wilton titles from Amazon.com or Wilton.com:
---
Couples looking for the ultimate in design may want to consider Wilton wedding cakes. The traditional Wilton Method has proven itself repeatedly to be one of the leaders of the decorating industry, with traditional and innovative techniques and designs for every couple's taste.