You may wonder what you're going to wear to a beach wedding when you first receive the invitation. You can examine the style and wording for hints or choose to follow a few guidelines on beach wedding attire.
Invitation Attire Guidelines
Although proper etiquette states that invitations should not mention a dress code, it is often becoming necessary for the modern couple. With wedding themes and styles ranging from costume to elegant to country, it can be hard for guests to discern proper attire without a little help. For beach weddings, looks can range from extremely casual to black tie.
Guests should first check the wedding invitation to find out if there is a notation about the formality or attire for the wedding.
Black Tie or Black Tie Optional
The line "black tie optional" suggests a formal beach wedding, usually in the evening. Women should wear a long formal dress. Dark grays, browns, navies, purples, burgundies or greens are appropriate color choices. Men should wear a dark suit and tie. A black tie wedding indicates tuxedos for men and long formal dresses for women.
Beach Formal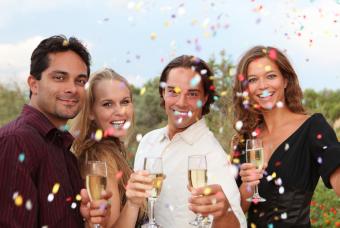 Though still a formal dress code, this lets in a little wiggle room for guests when it comes to color and style. Vibrant colors for both men and women will look wonderful. Bright blues, reds, purples or corals are appropriate in formal shirts, ties and special occasion dresses.
Dressy Casual
A dressy casual request often indicates a more informal look. Sundresses and social summer dresses are perfect for women, while men can wear a linen suit or dress shirt and slacks and look appropriate.
Vacation Attire
Vacation attire suggests a very informal dress code. This can mean a fun summer print shirt for men with khaki pants or a patterned short sundress for women. Although the dress code may be casual, guests should still avoid wearing jeans or shorts. This type of dress may also be indicated by the terms resort wear or casual attire.
Children's Attire
Invited children at weddings should dress in clothing that falls along the same lines as the adult attire. For very young children, like toddlers and infants still in diapers, bringing along a change of more comfortable clothing for the reception may be appropriate if the wedding attire is formal. Check with the couple or their immediate family to find out.
Suggestions for What to Wear to a Beach Wedding
Bridal party members may be able to steer you in the right direction for choosing your beach wedding attire. Follow some general tips for finding the right outfit and you are sure to show up looking perfectly styled.
Attire Cues from the Weather
When shopping for beach wedding attire, be sure to take into account the time of year and expected temperature.
Fall and winter: Even when the day is sunny and bright, many fall and winter evenings are cool. Look for a bolero jacket or shawl to keep your shoulders covered, while men can don heavier dress coats. Layer children's clothing, like leggings under a dress for girls and long-sleeved polos under sweaters for boys.
Spring and summer: Hot and sunny weather means that you should dress in breathable fabrics, like linen. Short dresses for women and dressy short-sleeves for women and men are perfect for staying cool. Children can wear formal shorts outfits and dresses to beat the heat.
Windy areas: Coastal winds can send ties whipping and skirts flying, so be sure to pick up a tie clip and avoid short flowy dresses to prevent clothing guffaws.
Where to Shop
Department stores and and boutiques often have staff members who help you shop more easily for the right beach wedding apparel. Personal shoppers, salespeople and style managers can help guide you in the right direction. You can also browse styles and options online at the following outlets:
General Guest Attire Guidelines
Though dressing for a beach wedding can be more difficult than a church or backyard wedding, you can always use some general guidelines to help you dress appropriately.
Jeans should never be worn (unless requested at a western themed wedding).
Revealing or risqué clothing is not appropriate.
Choose fabrics and styles appropriate for the weather.
Women should not wear dresses in white or off-white.
Outstanding Guest Outfits
When you know the formality of the wedding, it's easy to find an outstanding outfit. Shop online or in person at a department store or boutique for your best options. Whatever you wear, remember a smile is your best accessory!