Classic Wedding Tuxedo
Most grooms focus on wearing a classic black wedding tuxedo until they view a gallery featuring different suit styles and colors. When presented with other tuxedo options, preconceived ideas about wedding attire instantly change!
Colored Vests
Colored and patterned vests give distinction to a classic tuxedo. This is a perfect look for a gentleman who prefers an open jacket but still wants a unique and stylish wardrobe for the wedding day. Abstract patterns, stripes, subtle plaids, and paisley patterns in muted, coordinated colors are all popular options.
White Tuxedos
A white tuxedo is still a popular choice for a groom's tuxedo and it allows him to match the beauty of his bride. When choosing a white tuxedo for the groom, bear in mind that the rest of the men in the bridal party will not typically wear white - just like the bride's dress, white is reserved for the groom.
No Jacket
A tuxedo without the jacket is a great casual look for a groom, particularly for an informal wedding on a hot summer day. Shorter sleeves are popular without the jacket, or the men may roll up their sleeves for a carefree but still coordinated look. Lighter tuxedo colors, such as beige or light gray, also work well for a more casual appearance.
Jacket Accents
A tuxedo jacket does not have to be plain. Colored accents on the edges of the collar or cuffs can coordinate with the cummerbund, vest, or tie and bring together the look in a sleek and stylish way. Other ways to personalize the look of a tuxedo jacket include opting for a double-breasted rather than a single-breasted jacket, or choosing a colored jacket to match the bridal party dresses.
Western Tuxedos
A western style tuxedo is perfect for a western wedding, and will include leather or suede accents and different stitching patterns than a traditional tuxedo. This type of tuxedo jacket can be worn elegantly with nice jeans or dress slacks, and accessories such as string tie, cowboy hat, and western boots are essential to finish the look.
Beach Tuxedos
For a beach wedding, the groom and groomsmen may opt for deliberately short tuxedo pants to make walking easier without dragging pant cuffs in the sand. Many men in beach wedding parties also forgo jackets and shoes, or they may opt for lighter colored tuxedos that are more suitable for a beach climate. In many cases, beach wedding men opt out of tuxedos altogether and choose other beach wedding attire instead.
Groomsmen in the Bridal Party
For most weddings, the groomsmen all wear identical tuxedos with matching accents such as vests, ties, handkerchiefs, or cummerbunds. This gives the wedding party a coordinated and elegant look, just as the bridesmaids all wear identical dresses. If the bridesmaids will be wearing different dresses, it is acceptable for each groomsman's attire to be slightly different so he coordinates with his partner.
Cultural Attire
Men who want to honor their cultural heritage may opt for specialized wedding attire that looks nothing like the familiar tuxedos and dinner jackets. An Indian groom, for example, will have a shirt and jacket just as ornate and colorful as his bride's heavily beaded wedding dress. Similarly, grooms from any culture may opt for traditional attire that is true to their ethnic heritage.
Vintage Tuxedos
A pinstripe tuxedo with a cocky fedora is a fabulous option for a vintage wedding with 1920s flair. Vintage tuxedos are popular and can reflect many different eras, from the ancient royal garb of medieval weddings to slick top hats and tails for a 1930s theme. These types of tuxedos are not easily found, however, and may need to be custom ordered long before the wedding.
Tuxedo Kilts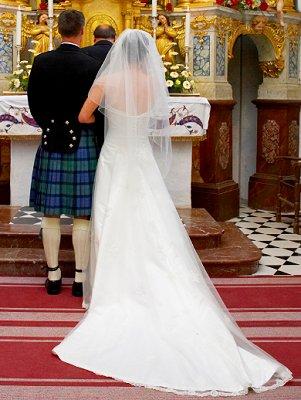 Kilts are popular formal attire for Scottish weddings, and a Scottish groom may wear the tartan pattern either for his family or his bride's, whichever is most appropriate for their heritage and wedding plans. This type of ornamental uniform is similar to the military dress uniform for armed forces weddings and should be treated just as exceptionally.
Father of the Bride
The father of the bride typically wears the same tuxedo as the other men in the wedding party, though his vest or tie may be different to distinguish his different role in the wedding. If preferred, the father of the bride may also wear a simpler tuxedo or just a fine suit instead of more formal attire.
Children's Tuxedos
Male children in the wedding, particularly the ring bearer or junior groomsmen, also wear tuxedos that coordinate with the overall wedding party. A child's tuxedo, however, should be more comfortable and have fewer pieces, and it is wise to have children change clothes after the wedding ceremony and photos so they are more comfortable and the formal clothes are less likely to get stained or torn during the reception festivities.
Tuxedo Ties
While many tuxedo jackets may look the same, there are different options for ties that can give all the men in the wedding party a more distinguished look. Bow ties and classic Windsor knot ties of varying widths are the most popular, or couples can choose ascots, string ties, or mandarin collar tuxedo shirts that do not require a tie.
Tuxedo Flowers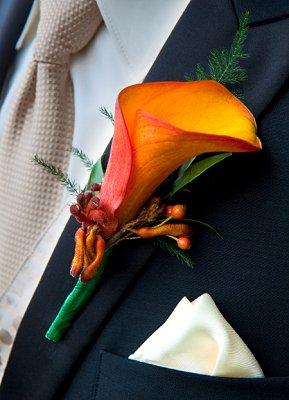 No wedding tuxedo is complete without a boutonnière. The flowers men wear for a wedding should coordinate with the wedding bouquets, and the groom's boutonnière is typically slightly different for more distinction.
Check out more ideas for men's wedding attire: