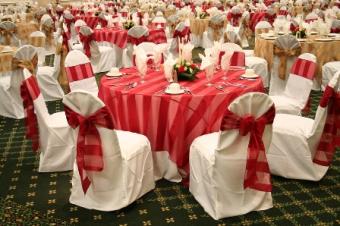 Ideas for your wedding reception should address venue, decorations, food and many other aspects important in making your day special. Some creative ideas can transform your wedding from typical to memorable while keeping yours guests entertained and happy.
Reception Venue Ideas
Skip the traditional hotel or convention center banquet reception hall in favor of a more unique venue. Beaches and gardens are good for outdoor weddings, but are also fairly common. Alternative locations for your reception include:
Museums
Imagine toasting to a lifetime of happiness surrounded by classic works of art or historical memorabilia. Many museums will include the cost of tables, linens and clean up in the rental fee. Be sure to have all wedding professionals visit the museum prior to the event so they know the layout and color schemes. Make sure guests and vendors know which areas they will have access to during the reception.
Zoos
Most zoos have acres of beautiful land perfect for a wedding. Tour all of the wedding facilities to see which location works best for your wedding, whether it's outside or in. Sometimes zoos even have options for animal "meet and greets" for the guests or photos with certain animals for the couple. Check on the additional costs and restrictions if this appeals to you. Keep in mind that you may have to put up with noise and potential smell on a warm day, but to many that's all part of the charm.
Water Parks
If you want to take your wedding reception outdoors and aren't afraid of a wet wedding, consider booking a water park for your reception. This reception is ultra-casual and perfect when lots of guests are kids and teens. Make sure the invitation wording states that guests should bring beach attire, cover-ups and other water accessories for the reception. Typically, water parks will include the cost of lifeguards in the rental fees, as they will want to make sure those renting the facilities are safe. Alcohol is usually not recommended or even allowed at these parties due to safety reasons.
Skating Rinks
Plan a fun reception by choosing a roller skating rink as your venue. The disco ball and flashing lights are all ready there, and you can throw some twinkle light netting over the rink walls for additional ambiance. Typically, there's all ready a DJ booth and sound system available, making providing music easy, even without a professional DJ. Make sure you play plenty of disco hits and retro 1980's tunes to create the right atmosphere at this unique venue.
Reception Theme Ideas
Even if you want a traditional wedding ceremony, you can still host a themed reception. Take some cues from the reception location, season, holiday or personal interests to give you ideas. At a castle location, you can play up a fairy tale or royal theme. In the skating rink example above, a punk 1980's theme would be fun. Other wedding theme ideas include:
Different Reception Activity Ideas
Dancing is a favorite activity for many couples and guests at a wedding reception, along with the garter and bouquet toss. Plenty of other things to do are also available for couples who want to offer their guests something different. Consider these wedding reception activities:
Hosting a dance-off contest, where the couple chooses the winner during a song
Playing wedding reception games, like bride and groom trivia or Bingo
Taking fun photographs in front of a designated area, similar to prom pictures
Watching a special demonstration, such as cigar rolling or flamenco dancing
If you're going to have children at the wedding, set up a kids' area with crafts and games to keep them busy. Set up one table with cookies they can decorate, have another area with crayons and coloring books, and another with building blocks to keep the young ones out of trouble during the wedding.
Reception Foods
The type of food you serve at the wedding should be something you enjoy and you think your guests will enjoy. Contact catering companies if the venue does not offer the service on-site. Consider having an internationally themed buffet, such as a Chinese stir-fry or a Mexican taco bar. Finger food wedding receptions are always fun when it's a cocktail atmosphere. If you have a sweet tooth, make sure you set up a wedding dessert bar and offer guests your favorite treats in addition to a wedding cake. At a morning wedding, a wedding coffee bar is the perfect addition to a brunch buffet with omelets and rolls.
Decorating the Reception
Reception decorations should coincide with your wedding colors and theme. Typically, most receptions have matching linens, centerpieces and some sort of lighting display. Get creative and decorate each table differently for an eclectic look. Make centerpieces varying heights to capture everyone's attention and use a colored lighting scheme instead of the traditional soft white lights.
Stack boxed cupcake favors on cake stands to do double-duty as decor and favors. Alternatively, make centerpieces out of paper origami figures that break apart to also serve as favors.
Inspired Reception Ideas
All it takes is a few good ideas to create the wedding reception of your dreams. From the venue to the decorations, there are plenty of ways to take a traditional event and make it truly your own.