Balloon Decorations for a Wedding Reception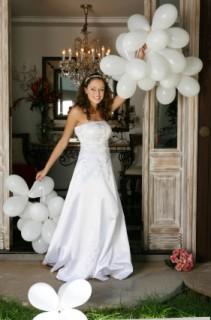 Choosing wedding reception decoration balloons can make an elegant statement. Although you may not always think of balloons as a sophisticated decor, they can be made into stunning works of art for modern wedding receptions.
Create an Entrance
Guests can enter the reception site through more a simple wedding arch made with balloons. Alternately, you can have balloon artists create large shapes for guests to cross through. Ideas include:
Hearts
Stars
Wedding bells
Swans
Butterflies
Cross
Maple leaf
For couples who want a traditional arch, you can also dress it up a little. Consider having the arch reflect your overriding theme, like a rainbow colored arch or grapevine and ivy crawling up an arch.
At sites with winding staircases, have balloons tied to the banisters and floating in the ceiling to greet guests. Entire tunnels can even be created for guests and the bridal party to walk through before entering a ballroom or dance floor.
Table Decorating with Balloons
Balloons can add interest and appeal for table decorations.
Save money by tying wedding balloons in varying heights to favors and placing them in the center of the table.
Balloons can also be used to create a floral centerpiece, candle centerpiece or even a faux topiary wedding sculpture.
Tie a small balloon bouquet to the center of gathered chair covers instead of the traditional bow.
An informal wedding reception centerpiece can be a balloon artist shape. Make a miniature castle for a Cinderella theme wedding, a pumpkin for a Halloween wedding or a pea pod for a two peas in a pod wedding theme.
Head Table
The head table is often a focal point for the reception. Make it one to remember by creating swags behind the table and along the front of the table. Large shapes like double hearts can be hung behind the couple. Add large balloon trees, topiaries or columns to the ends of the head table. Lights strung near or with the balloons can look stunning in soft lighting.
Cake Table
Create a unique cake table look by doing it with balloons. Small Mylar or latex balloons can be fashioned into a cake topper. Set up bride and groom figures made with balloons next to the cake. Hang a balloon swag made of an accent color on top of a tablecloth in the main wedding color.
Highlight the entire area by creating a miniature gazebo. A canopy held in place with columns and tulle covering three sides will create a special cake cutting area.
Other Wedding Reception Decorations: Balloons
Balloons can be incorporated into lots of reception areas. Consider adding them to your reception in the following ways:
As part of a balloon cloud in the ceiling
Over the dance floor for a release after the last dance
Above the head table or dance floor in a canopy
Covering columns in a swirl design
In large shapes that fit within a theme, like palm trees at a beach wedding reception
As accents for doorways, windows, pillars and stages
In swags crisscrossing the ceiling or across walls
Backdrop mural behind the head table or covering an unsightly wall
As a large sculpture piece that is near a doorway or set upon the guestbook table
Photo Balloon Fun
Order photo balloons with pictures of the bride and groom through the years to create a one-of-a-kind memory area. Place the balloons along the wall in chronological order, in two rows-one for the bride and one for the groom. Gradually have the two rows meet as it gets nearer to when the couple themselves will meet. Continue across the entire wall, ending with a balloon that has the most recent photograph. Use the photo balloons as part of a centerpiece. Have approximately five balloons to each cluster. Guests will then refer to a homemade placemat that asks questions regarding the various pictures of the couple through the years. To find out the answers they will have to go to the balloon wall and find the matching balloon. A card can be placed below the balloons on the wall that needs to be flipped over to find the answers.
This activity can help keep guests entertained during cocktail hour or if the photography session is scheduled for after the ceremony.