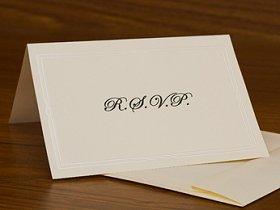 RSVP wording for a wedding invite should encourage your guests to respond and hopefully accept your invitation. While the wedding invitation conveys the type of venue, the RSVP plays a vital role for proper planning so you can accommodate the number of guests attending.
About RSVPs
RSVP is an abbreviation for the French phrase "respondez s'il vous plait" or "respond please." Your wedding RVSPs are an essential tool for determining who on your guest list will be able to attend your ceremony and reception and who will not, critical information for caterers, arranging reception seating, and otherwise knowing how many people to plan for at your event.
Traditionally, RSVPs are small, folded cards that are enclosed in the wedding invitation. Your guests then fill in the required response information and return the card in the self-addressed, stamped envelope provided by the bride and groom. Couples planning a wedding on a small budget may choose to opt for RSVP postcards instead, which are less formal but are also less expensive in terms of the cards themselves and the postage required. Whichever type of response card you choose, the wording should be clear and allow your guests to indicate their response to your invitation.
Wedding RSVP Wording Ideas
The minimum information that a wedding response card should include is the name of the guest(s) and whether or not they will be attending the festivities. Common wording options include…
Classic wedding RSVP examples:
The favor of a reply is requested
By September 21
M__________
___ Accepts with greatest pleasure
___ Declines with deepest regrets
Or
Please reply on or before May 5
M__________
___ Yes, I/we will be attending.
___ No, I/we cannot attend but will be thinking of you.
Or
We look forward to celebrating with you.
M__________
___ Accepts with pleasure
___ Declines with regrets
Please reply by August 15.
Casual RSVP:
We have ___ seats reserved for M__________.
___ Accept with pleasure
___ Decline with regret
Please respond by January 10.
Or
Kindly reply by April 20.
M__________
___ Can't wait!
___ Can't come.
Some couples, either to save money on additional cards and postage or who are planning a more environmentally friendly wedding and don't want to waste additional paper, may choose to have guests respond to their invitations at a wedding website or via telephone. A small response card can still be used even if it won't be mailed, or the wedding RSVP wording can be added discreetly to the invitation. Options include…
The pleasure of a reply is requested
On or before May 3 at:
http://www.yourweddingsiteurl.com
Or
Please respond to Parent or Bridal Party Member
On or before November 10 at:
(123) 456-7890
For more wedding invitation RSVP wording ideas, contact your stationer, wedding planner, or wedding etiquette resources. The following invitation sites also have additional RSVP wording:
Additional Information to Include
In addition to the basic accepts/declines information, many couples use the RSVP to gather other important information, depending on what their wedding plans may be. Information you may want to consider adding to your response cards includes:
A choice of entrees so you can plan the menu accordingly, as well as asking guests to indicate any special dietary needs
A space for the number of guests who will be attending, divided into adults and children if necessary
Blank space for guests to add their wedding wishes or other congratulatory notes
Spaces to indicate if different numbers of guests will be attending either the ceremony or the reception
RSVP Tips
For the most effective RSVPs…
Consider writing your guests' names on the response cards yourself so there is no confusion with illegible handwriting.
If the guests will write their own names on the RSVPs, discreetly number the back of the cards so you can compare them to a master guest list if you can't read the writing.
Always have the return envelopes appropriately addressed and stamped. It is considered poor wedding invitation etiquette to require your guests to add the postage.
Consider listing the names of each guest invited separately with checkboxes for accepting or declining. This will help eliminate any uninvited or unanticipated guests.
Add the RSVP response date to the bottom of the wedding invitation to ensure guests see it right away and know when they need to return the response cards.
When RVSPs Aren't Returned
One of the most frustrating things a couple may have to deal with is unreturned RSVPs. By having the response date very visible, guests will know when their reply is required, but unreturned cards are always possible. Ideally, a couple will set their response date early enough to give tardy guests another few days to return their RSVPs before making phone calls necessary. If it is necessary to call guests to inquire about their response, couples can enlist their parents or other bridal party members to assist and to make the call less awkward.
---
By using the appropriate wedding RSVP wording and making it clear when responses are required, couples can be sure their guests will understand the importance of the RSVP and all the information it includes.