Ideas for January Weddings
If you're considering getting married in the winter months, these wedding ideas for January nuptials might spark your imagination to create the perfect day.
Winter Weddings: Advantages
Although spring and early summer are more popular times for weddings, there are many advantages to a winter wedding, especially in January. Since that month is after the winter holidays, and before what is considered the rush of the bridal "season," you may find the venue of your choice more available and have your pick of dates and times. You also have a wonderful variety of themes to choose from that work well with a wedding taking place in this month, no matter what climate you are in.
January Wedding Themes
Many weddings today start with a theme to plan around. For January and winter weddings, theme ideas might include:
Blizzard or winter weather
Winter wonderland
Snowflakes/ and or Icicle theme
"Alaskan" or "Arctic" theme
A fun "summer" theme that might contrast with the cold or blustery weather
Whimsical penguins, polar bears, or other animals that live in cold climates
A New Year's/New Beginnings theme
Beauty and the Beast
Snow White
A "Golden" wedding - gold was first discovered in California in January in 1848
Formal wedding themes
Your invitations, cake, favors, and décor can all be coordinated with the theme you've chosen.
January Wedding Colors
A January wedding works well with many colors. Any shade of blue, silver, and white are gorgeous choices for a winter wedding in this month. Although pastel shades are largely reserved for spring weddings, several pastel shades, such as ice blue or baby blue, lavender, or dusty rose are perfect "icy" options. Rich, deep, elegant colors such as the following also work well for a January or winter wedding:
Navy
Midnight Blue
Plum
Burgundy
Garnet
Emerald
Hunter Green
Gold
Deep Aqua/Turquoise
Black and White Weddings
Wonderfully elegant, a black and white wedding can be an excellent choice for a January wedding. Black and white can add class and drama to any wedding. To add a bit more depth to the color scheme, choose to accents of red or burgundy to go with the black and white motif; or, for a modern feel, choose pink or chartreuse accents. For another twist, couples may choose a rich chocolate or deep brown and ivory or cream.
January Wedding Flowers
The availability of winter flowers depends on your location and climate, so ask a florist in your area what flowers are available in this month in your area. Non-seasonal flowers may be available at an increased price, but should be considered if they are flowers you and want for the wedding. Consider the color as well as the flower. Available flowers for January may include:
Roses
Tulips
Carnations
Calla Lilies
Freesia
Daffodils
Bells of Ireland
Star Gazer Lily
Scabiosa
Orchids
Gladiola
Delphinium
If you are unable to find the perfect blooms in season, consider opting for silk wedding flowers.
Winter Wedding Decorating Ideas
A January wedding can be decorated beautifully. Winter lends itself nicely to decorating with natural or faux items such as pine cones, berries and berry clusters evergreen and garland, and branches or wood decor. Snow and ice themes are beautiful and can be created using handmade or purchased décor items, crystal place settings and centerpieces, and even unusual décor like ice sculptures for special effect.
Strings of colored, white, or icicle lights can be placed strategically to lend beauty and harmonize with a winter theme, as can groups of white, silver or colored candles. Faux sugar frosted fruits can be used as centerpieces or table décor. Carnation "snowballs" can also be utilized to decorate to lend an air of romance and whimsy. Mini silver bells go well with a January theme and many wedding colors, too.
Wedding Ideas for January: Favors
January wedding favors do double duty by serving as both an enhancement to table décor and a token gift of appreciation to your guests. Favor ideas for January include:
Mint tins or rolls with winter-themed wrappers
Snowflake key rings, gel candles, or bookmarks, or mini-picture frames
White chocolate in winter-themes motifs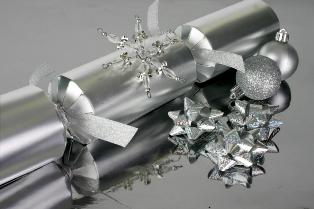 Individual frosted sugar cookies in igloos, snowflakes, or other icons
White soaps in winter designs
White or silver tea light candles
Miniature snow globes
Winter-themed drink coasters
Individual tea bags, hot chocolate, or gourmet coffee
Faux crystal paperweights
Silver-wrapped candies
Winter wine-stoppers
Themed ice cream scoops
Themed mugs
Scented pine cones or sachets
Bath salts packaged to resemble snow cones
---
Wedding ideas for January ceremonies and receptions are many -- whether you want a whimsical wedding with penguins and snowmen or a formal black and white wedding. With a little imagination and planning, a January wedding can be everything you've dreamed..