Outfits for wedding guests don't need to be a challenge. The formality of the wedding will dictate the level of style while the geographic location will determine the rest of the attire criteria.
Ideas for Guest Wedding Attire
What a guest wears to a wedding depends on the time of day of the wedding and reception, location of wedding and reception, formality of the event, and the couple's personalities and wishes. This means that there is almost an innumerable amount of clothing options for wedding guests.
Black Tie Formal Wedding
Black tie weddings have nighttime receptions that involve a formal, sit-down dinner and occur in a dressier location, such as a private club or hotel. Black tie weddings are usually indicated as such by the words "Black tie" appearing somewhere near the bottom. This type of wedding is quite formal and children may or may not be invited. Attire is the same regardless of the season, although women may want to add a warmer shawl or bolero jacket to their ensemble.
Men
Typically, men wear a tuxedo to a black tie wedding. The tux should be as formal as possible, meaning that it should include a cummerbund, suspenders or bow tie. A black silk tie in lieu of a bow tie is acceptable formal black tie formal wear for men.
One dress option is a black tuxedo jacket and pants from UniFormalwearHouse, a white tuxedo shirt and black cummerbund from Brooks Brothers, a black bow tie from J.Crew, and black tuxedo shoes from Men's Wearhouse.
Women
Women usually wear a long, formal evening gown to a black tie wedding. It is inappropriate to wear white or a shade of white as a guest because this color is reserved for the bride. Short dresses, such as knee-length, or cocktail dresses, are not considered formal enough for a black tie wedding. The dress may have any neckline the guest prefers, but given that the event is a wedding and is formal, should not be too revealing or sexy. Female guests normally wear high-heeled shoes to a black tie wedding.
An outfit option falling within this category is a long blue gown, high-heeled silver shoes, and a sheer silk wrap in blue from Nordstrom.
Children
Children's clothing for a black tie wedding is dressy and formal. Boys should wear a tuxedo and girls dresses. Girl's shoes can be flat or have small heels, depending on the girl's age.
Formal, Non-Black Tie Wedding
These weddings are held in the evening, but do not require that guests wear black tie. This type of wedding may be indicated by the lack of "black tie" being mentioned on the invitation. Like black tie attire, the basic outfits will stay the same regardless of season due to the formality of the event.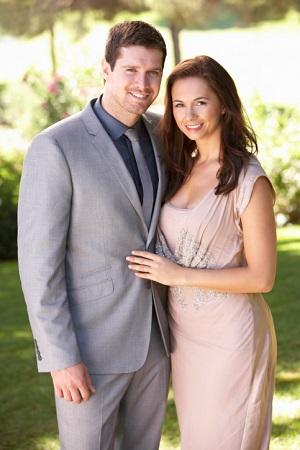 Men
Men usually wear a dark colored suit to a wedding. This indicates formality but does not take that formality to the full step of a tuxedo.
An outfit option is a navy blue suit jacket and pants, white button down shirt, and colorful red and navy striped tie from Macy's and black dress shoes from Johnston Murphy.
Women
To a formal, non-black tie wedding, women may wear dresses of any length, such as a cocktail dress. Once again, however, due to the focus of the event, the dress should not be overly sexy and, therefore, should not be too short or low-cut. Women usually wear heels.
One option for an outfit is a Ralph Lauren cocktail dress and slingback heels and a silver pashmina shawl from the Pashmina store.
Children
Boys can wear suits to a non-black tie, formal wedding and girls can wear dresses. A girl's dress does not need to be overly formal or as dressy as she would wear to a black tie wedding.
Informal, Daytime or Outdoor Wedding
This type of wedding may also be referred to as a "casual wedding". It is usually held in an informal, relaxed location, perhaps in a family member's backyard.
Men
Men may wear dress pants or khaki pants to an informal wedding. He might wear a button-down shirt with no tie or a polo shirt, depending on the time of year. A sweater is also acceptable.
Women
Depending on the time of year, women may wear a casual dress, sundress or even a nice pant or skirt suit to an informal wedding.
Children
Children's attire suitable for an informal wedding is a step above playtime clothes, but less than a dressy outfit.
If the weather is cool, boys can add a navy v-neck sweater to their outfit and girls can throw on a white cardigan sweater.
Destination Wedding
Most destination weddings are informal and decorated to reflect the atmosphere of the destination location. For example, a wedding on a beach may contain décor utilizing sand, candles, or tiki torches, so what to wear to a beach wedding is different than what to wear to a destination wedding at a castle. Therefore, guest attire depends on the location much more than anything else.
Men
Men's attire for a destination wedding should reflect the clothing that men in the location normally wear at that time of day.
For an evening wedding at a European castle, he might wear a Joseph Abboud navy blue suit, a blue and white striped dress shirt from Brooks Brothers, a navy tie from The Tie Bar, and black dress shoes.
Women
Once again, women's attire for a destination wedding should reflect the time of day and mood of the destination.
To a wedding in a European castle occurring at nighttime, she might wear a floral lace dress from Saks Fifth Avenue and the pointy toe bow pump in black.
Children
Children's attire should also reflect the destination. To a wedding in a European castle, these options will look nice:
General Clothing Tips
Dressing for a wedding can be a challenge. However, following some common sense clothing tips can help anyone find wedding guest outfits for any style of wedding.
Avoid dressing like the bride, groom, or bridal party.
Dress for the weather.
Bring comfortable shoes.
Have a second outfit as backup, in case of weather changes or spills, rips, and stuck zippers.
Bring a travel iron to an out-of-town wedding if you do not think that hotel furnishes one.
Pack lint rollers, travel sewing kits, and stain remover wipes to help with clothing emergencies.
Dressing to Be a Wedding Guest
Discerning the proper wedding guest etiquette for outfits can be difficult. If the time and location of the wedding and reception aren't enough help figure out your outfit, use the formality of the invitation to help you determine how formal of an outfit you need or what to wear. Doing so will help you select clothing that you will feel comfortable wearing to the wedding.