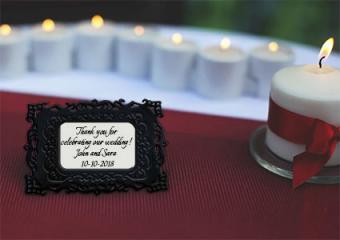 Frames make a great wedding favor that guests will keep as a memento of your special day. You can match the frame with your nuptial theme, such as a Christmas wedding or casual destination wedding.
Creative Ways to Use Frame Favors
Many couples use photo wedding favor frames to double as place card holders. This saves in wedding costs as you don't have to purchase additional place card holders, and is a nice memento for your guests. Ways to display the frames as place card holders include:
Place the frames at the entrance of the reception for guests to pick up on their way in to the hall. Information such as table number and choice of entree can be included along with their name.
For a stand-alone style, place a magnetic strip on the back and hang them at the entrance of the reception for guests to see. Don't forget to add the table info and names to the inside of the frame as well.
Though place card holders are a popular way to use the frames, you can use them in other ways as well. Try one of these ideas for a slightly different take:
Use the frame as a table accent. You can place a photo of you and your soon-to-be spouse in it, include an engagement photo, or you can even ask the guests to put in a picture of their own. If you choose the last option, be sure to give your guests advance notice so that they bring a photo with them to your wedding or send one in advance to use in the frame.
Use the frame to convey a thank you message. You can simply put the words "Thank You" in the frame to remind your guests of your appreciation. These favors can be placed in a large basket for guests to pick up on their way out of the wedding or can be placed at each seat.
Style Options
There are many types of frames to choose from that can be used as favors. Depending on your theme and style of wedding, you can find something to use that will coordinate perfectly. Most favor frames are miniature or small rather than full sized frames. Frames made for wallet sized pictures, 3" x 5"s, or 4" x 6"s are all good choices and will be easy to find.
When shopping for frames, keep in mind that many sites offer discounts for bulk orders. You can pick up individual items from stores like Amazon, but get better discounts when ordering from warehouses and wedding suppliers in bulk. Some frame options to consider include:
Stand-Alone Frames
Mini stand-alone frames offer a huge selection of styles, so you can easily match your wedding theme or personal style. These types of frames can also the most inexpensive and can fit into any budget since they can be bought in bulk. You can even find frames that can be engraved with a special message from the couple.
Some stand-alone frames include:
Antique-Finish Photo Frame: This gold-tone frame can easily double as a place card holder and will look elegant on any table display. It is priced around $1.50 each from My Wedding Favors and is done in resin with accents such as braiding and scrolls. The back is done in faux leather and has an opening for easy photo placement.
Beautifully Beaded Photo Frame: This silver-tone frame from FavorWarehouse can be purchased for about $5.00 each, but bulk pricing is also available. It features a delicate bead design on the front and black velvet backing. This frame measures 4" x 3" and can easily hold a photo or the included table card.
Some stand-alone styles open like a book with two slots for photos or have hinges and the ability to add three or more photos. Use these frames for a message, a photo, and a table number. Pick them up at retail and discount stores, like Hobby Lobby, in basic wood, black, or metallic, often for less than $10, depending on the photo sizes.
Photo Frame Key Chains
Heart-shaped key chain frames are another popular choice. Many silver key chain frames can be engraved with your names and wedding date. A couple photo frame key chains include:
Double Hearts Picture Keychain: This cute silver-tone key chain goes with any theme and features two hearts on the bottom corner as a decorative touch. This key chain frame is priced according to number ordered and can be found for under $1 each at FavorOnline.com. It has an opening that will accommodate a 1"x 2" photo and can connect to a metal key ring. Each key chain comes in a decorative gift box tied with an organza ribbon making it easy to give as a favor.

Beach Wedding Frame Keychain: This key chain frame is priced around $6 each at Amazon.com. It is done in silver metal and features a seashell accents. The key chain frame holds a 1" x 2" photo and comes in a gift box with a bow.
Frame With Mini Album
Surprise your guests with this unique favor frame option. Instead of just a frame, give them a mini album with frame front. This option can be filled with memories of the bride and groom or left unused for guests to fill with their own photos. Use the front to hold a picture of the couple or as a table card with the guest's name. A couple mini albums to consider are:
Silver Reed and Ribbon Album: If budget isn't an issue, this 5" x 7" album featuring a silver-plated frame cover makes a lovely favor. Each album is priced around $17 at Amazon.com.
Unimprinted Silver Glitter Photo Album: This sparkly album is made from vinyl and is priced around $2.50 per piece at Stumps. It has a frame front to hold a photo and can hold 24, 4" x 6" photos inside.
Personalize the Design for Your Wedding
In addition to classic designs, such as simple silver square, rectangular, and circular frames that may have engraving options, frames can be coordinated with your wedding theme. For example, for a western-theme wedding, find a frame shaped like a western hat or attach a horseshoe charm. A beach-theme wedding could use a frame embellished with seashells or starfish. Affix a ribbon or flower to match the color of your wedding. With so many styles of frames to choose from, you are sure to find one to suit the style of your wedding and fit into your budget.