Bags for your wedding favor add that final touch to your gift. Whether you select plain bags or unique personalized ones, it will create an impressive presentaiton for your token of appreciation.
Types of Wedding Favor Bags
Whether you pick chocolate candies, miniature soaps, or candle favors, they should all be presented beautifully. Bags make it easy for guests to grab their favors on their way out, and offer an easy way to make these gifts look pretty.
Fabric Bags
Fabric bags are generally more expensive than paper or clear plastic bags, but really add a special touch to your favors. They come in a variety of fabrics and colors; some even allow a themed picture or personalized message to be added to the outside of the bag. Examples of fabric favor bags include:
Fabric bags are sometimes even shaped into special designs. The Bride & Groom Candy Favor Bags come decorated to look like a groom's tuxedo and a bride's dress. They are a unique twist on traditional bags found at most weddings.
Clear Bags
Clear bags are generally made from cellophane, plastic, or vellum materials. They allow guests to see the favor inside, and are an excellent choice for favors that really pop. These affordable bag options include:
Many clear bags can be purchased at local craft or discount stores. In fact, to save even more money, some couples pick up small generic sandwich bags with a fold-over closure.
Paper Bags
Paper bags come in a large variety of sizes, colors, and styles. From a basic plain colored paper bag to an embellished bag, you are sure to find something that fits your wedding style amongst these options:
Small paper gift bags and favor bags are also available at big box retailers, stationary and party supply stores, and craft stores.
Ways to Personalize Favor Bags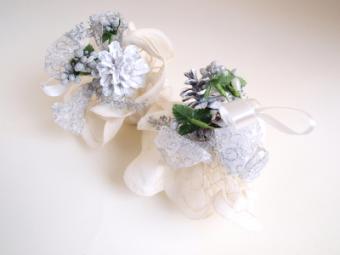 If you choose to purchase favor bags that do not have a message or graphic included in the bag's design, you can still personalize the bag. Ways to do this include:
Print a wedding favor tag from your computer that has a short message. The message may be a two-line thank you, Bible verse, or rhyme. Punch a hole in it and tie it to the bag.
Choose favor bags in your wedding colors.
Add a sticker or stamped design to the front of paper bags.
Attach charms or trinkets to the top of bags, like wedding bells or faux flowers.
How to Close Favor Bags
Most favor bags come with ribbon or a drawstring to tie the top. However, if the bags do not come with a closure, it is important you create your own. You don't want guests to lose their favors during the reception or ride home. Here are some additional ways to close bags:
Fold the top of paper bags over and secure with a sticker.
Use leftover strips of fabric from your bridal or bridesmaid gown alterations and tie the favor bags at the top.
Pick up thin garland and cut off pieces for tying the tops of bags together.
Use raffia to add a rustic feel to favor bags.
Fabulous Favor Bags
Wedding favors are a traditional way for brides and grooms to show their appreciation to their guests. Make sure yours reflect your feelings by bagging them in a pretty package, perfect for giving at the reception.