There are many wedding planning checklists and calendars couples can use to plan their wedding, but when the actual day arrives a wedding day timeline can be invaluable for ensuring that every detail is attended to before, during, and after walking down the aisle. While the exact timing of your wedding day will vary for your specific arrangements and details, a general timeline can help you stay focused and enjoy your special day.
General Wedding Day Timeline
The exact times necessary for your wedding day will vary based on many considerations, not the least of which is what time your ceremony and reception are actually scheduled. A sample timeline, however, can be a useful tool to plan your day.
For a 5 p.m. wedding ceremony, a sample timeline would be…
8:00 a.m. - Wake up calls for the bride and groom. This call might include quick reminders about the first things to accomplish today.
8:15 a.m. - Getting cleaned up - a shower, shave, washing hair, and whatever other steps are necessary.
9:00 a.m. - Bridal party arrival. Both the bridesmaids and groomsmen should arrive at their respective meeting places early enough to get ready for the ceremony and offer assistance to the happy couple.
9:30 a.m. - Light breakfast. Many couples are too nervous to eat much on their wedding day, but a light, healthy breakfast provides the energy you need to accomplish the many tasks to do today.
10:00 a.m. - Site deliveries. If the couple has the wedding favors, decorations, and other items necessary for the ceremony or reception, they should be delivered early enough in the day to be distributed properly.
11:00 a.m. - Hair and makeup appointments for the bride and bridesmaids. At the same time, the men in the bridal party may be getting professional shaves or relaxing with other activities.
1:00 p.m. - During personal preparations, it may be wise to contact vendors to check on last minute details, or to quickly visit the ceremony and reception sites to ensure all the setup and decoration is going smoothly.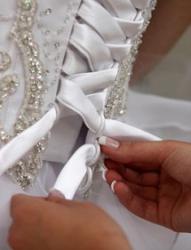 Do you have enough time to put on a corset dress?
2:00 p.m. - Getting dressed. Whether the bridal party will be getting dressed in their wedding finery at home or at the ceremony location, budget enough time for the clothes to look their best. A wedding day survival kit with sewing supplies and safety pins can be useful in case of mishaps.
3:00 p.m. - Individual portrait sessions. Before the ceremony is a great time for individual portraits of the bride and groom to be taken, as well as group shots with their attendants.
4:15 p.m. - First sight photos. Couples who choose to get most of their wedding photos taken before the ceremony may want to stage a "first sight" experience, followed by additional portraits of the couple.
4:30 p.m. - Guests begin arriving. Ushers should be in place to help them find their seats and to take care of any last minute details. The bride and groom should be out of sight freshening up.
5:00 p.m. - The wedding ceremony should always start on time. While a delay of a few minutes may not be noticed, a long delay is rude to the guests and may be cause for speculation and rumors about cold feet.
5:30 p.m. - Cocktail hour and photos. After the ceremony, an assortment of portrait photos with the entire bridal party, parents, and selected guests may take up to an hour or longer depending on the number of poses, who is involved, and whether or not the couple has done many of these photos before the ceremony.
6:30 p.m. - Reception begins. The exact wedding reception itinerary will vary depending on the events a couple has planned (garter toss, bouquet toss, special dances, speeches, etc.), the type of meal to be served (seated or buffet), the number of guests, and any spontaneous activities. A typical reception lasts between three and five hours for dining, dancing, and general celebration.
Factors That Affect Timing
A wide range of factors that can affect the exact progress of a wedding day timeline, such as…
Attire Style: A corset wedding dress can take 15-30 minutes just to lace up, while a casual dress is much faster to put on.
Number of Pictures: A couple with a large bridal party and an extensive list of "must have" photos will need to budget additional time to ensure all the shots are captured.
Hair Styles: A simple wedding hair style can be fashioned in just a few minutes, while an elaborate updo may take an hour to prepare.
Driving: If the wedding and reception are in different locations, time must be planned for driving, including possible traffic problems.
Mishaps: While no couple wants mistakes, accidents, or oversights on their wedding day, it is wise to budget extra time into the schedule just in case.
Don't forget private moments.
Tips for Your Wedding Day Timing
Couples who are able to relax and not fret about every minute of their wedding day will enjoy all the day's special moments, even if those moments aren't exactly on time. Practice a few trial runs of dressing, hair styling, and other time-intensive activities before the big day to get a feel for how much time is needed, and be prepared for delays if necessary. Couples should also relay on their vendors' advice about how much time is needed, as well as the advice of site coordinators and experienced friends.
---
A wedding day timeline can be an essential tool for planning a worry-free wedding day, but even the most meticulously planned schedule won't always go off perfectly. Couples who plan the day but are flexible with their timing will still enjoy their celebration and ensure everything happens in good time.