Wedding Cakes with Fountains and Stairs
Wedding cakes with fountains and stairs provide an elegant twist on more traditional models and effectively symbolize the journey on which an engaged couple is about to embark. They may not be the most common or popular cakes seen at weddings, but their potential to merge with classic designs make them a worthy style for couples to consider.
Fountains and Stairs Wedding Cakes
One of the most eye-catching wedding cake designs features both a fountain and flights of stairs. Traditionally, the design includes a small plastic flowing water fountain at the bottom of the cake. On each side, a layer of cake stands nearby, and two plastic flights of stairs lead up to above the fountain, where another layer of cake is elevated on several pillars. A variation on the design is a fountain at the bottom and a winding staircase on just one side of the cake, leading to several more cake tiers at the top.
Planning the Cake
Fountain and stair cakes do require some special planning. Parts of the cakes almost always have to be assembled on site. Unlike simpler models, it's not usually practical for a bride, groom, or member of the wedding party to make the cake. Cakes with fountains and stairs can also be considerably more expensive than basic designs because of the custom accessories involved, and they take up far more space. They can also be unstable, which is an important point to keep in mind if lots of small children are going to be at the wedding and reception.
Though fountain and stair cakes are both showy and elegant, it's worthwhile for couples to consider whether they truly fit with the theme of their wedding and union. A casual cake or traditional cake with customary decorations might be more appropriate, depending on the wedding style. Talking over thoughts with the baker and decorator can also be helpful, as they may be able to offer price adjustments or alternate design ideas.
Considerations
When you discuss the details of your cake, be sure to share information about your budget, the flavors you want, and any special details or decorations that you have in mind. Consider your wedding color scheme and how it might fit with the cake you envision. If it's possible, bring along pictures of cakes that are similar to what you like so that the decorator can get an idea of your tastes and plan how to complete the cake.Keep in mind that custom wedding cakes with special cut-outs and designs will be more expensive than simple wedding cakes. If it's important to you to have a cake that is very ornate or features a lot of detailed work like a fountain and stair cake, be prepared to pay extra for the cake decorator's time and investment.
Choosing Either Fountains or Stairs
Not every couple wants a dramatic cake. If a cake with both fountains and stairs is too much for your taste, consider incorporating just one of the elements into the cake. If you're interested in wedding cakes with fountains and stairs, try looking through a cake gallery before you meet with a bakery or cake decorator so that you can accurately describe what you want in the finished cake.
Fountain Cakes
A fountain wedding cake is special and unique. Most look very elegant and are evidence of the work that a great cake artist can do. Summer weddings are particularly appropriate for fountain cakes, but couples can use them at any time of the year to illustrate a parallel between the continuation and pureness of the water's flow and the promising intentions for their new marriage.There are many different types of fountains that a wedding cake can feature. Some show a fountain as a separate tier of the cake and depict flowing water on the top and sides of that tier, with a visual effect of the water dripping down to another tier below. Other cakes have fountain toppers that are custom built or made of fondant. A wedding cake can also show a small model of an existing fountain that may be in the shape of a statue or another figure. One especially popular type of fountain features flowing water or liquid chocolate and usually appears at the bottom of a cake with several pillars.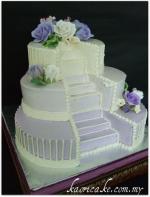 Wedding Cake Staircase
A long flight of stairs on a wedding cake draws visual attention and acts as a symbol for the lengthy and sometimes difficult life that a married couple is about to begin. Most wedding cakes with stairs culminate on a top layer, where small figures of the bride and groom often appear to show that the couple is ready to commit to that journey.
Stair wedding cakes are made by cutting into the tiers of a stacked cake, removing block-like pieces, and frosting over the open spaces. Traditionally, the stairs form a pathway that is decorated with a border and moves up several tiers to the top of the cake. The same cake might also feature pillars between each tier. Plastic stairs are also a common wedding cake decoration. They can be placed at the bottom or sides of a cake, although they typically serve as a connector between layers of a cake that is elevated on pillars.
---
Choosing a cake that includes both fountains and stairs can be a dramatic look, but these elements used indivudally can also be a stunning style for your wedding cake, Consider your wedding theme, personal style, and budget to decide if one of these intricate looks is right for you.