The wedding cake is a traditional focal point of the wedding reception festivities. Understanding what factors affect the price of the cake and how to choose the best option for your budget will make your celebration even sweeter.
Average Wedding Cake Cost
Prices are determined by many factors, but the overriding consideration is the size of the cake. Cakes are generally priced according to the number of servings they contain, with a standard serving for a cut wedding cake measuring only two cubic inches - a fairly small, thin slice.
Couples for whom money is no object can even find bakers who will charge $15 - $20 per extravagant serving. When the cake is intended to feed 100 guests or more, those costs can rapidly add up.
Factors That Affect Wedding Cake Prices
Several factors go into determining the per-serving price of a wedding cake. Ask to look at wedding cake pictures and prices to get the best idea of what your dream cake may end up costing. The most important factors include:
Assembly Difficulty
A 2- or 3-tiered wedding cake is standard. A greater number of layers or designs that include fountains, multiple layer separations, or extravagant figurine placements have higher costs.
Cake Type
Sponge cake is the least expensive type of cake (and the most common). Pound cakes are denser and require more precautions for delicate assembly, and cheesecakes are the most expensive basic types of cake to choose.
Cake Flavor
Basic wedding cake flavors such as classic white, red velvet, chocolate, or marble cake are relatively inexpensive, while more elaborate options such as black forest, carrot, or German chocolate are mid-range cakes. Gourmet flavors like mocha, liqueurs, and tiramisu are generally the most costly. Couples who choose different flavors for each layer of cake proportionally increase the final price of the cake.
Filling Flavors
Basic icing fillings are least expensive, especially if they match the outer icing of the cake. Fillings with nuts, crushed fruit, or liqueurs are more labor-intensive and often use more costly ingredients, increasing their prices.
Cake Shape
Round cakes are the most popular and cheapest wedding cake shapes. Square wedding cakes often require the edges to be built up and sharpened for the desired design, creating more work for the cake designer. Unusual or wacky shapes are also more expensive because they require special pans and assembly techniques.
Icing
Buttercream icing (classic cake frosting) is the least expensive option. Fondant icing - the type that appears smooth and seamless and can be folded or molded onto extravagant shapes - is significantly more expensive. For example:
Therefore, you'll need to factor in not only the icing but the difficulty and design intricacy as well.
Design Intricacy
Wedding cake designs with layers of lace icing, monograms, basket-weave frosting, hundreds of small pearls or beads, and customized sugar flowers are naturally more expensive than simple cakes with rosettes or piped icing in simpler, classic patterns. Designer cakes can average over $800.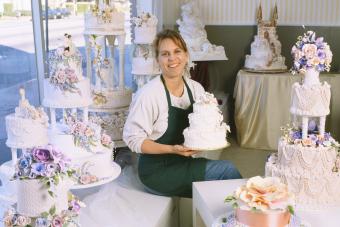 Cake Supplier
A gourmet "designer" bakery will usually charge more than a supplier with less cachet. Beware that the must-have wedding cake bakery in your town may have prices that reflect their high demand. Remember that grocery stores often have bakeries that can provide delicious options for more frugal budgets.
Geographic Location
Of course, prices vary in different locations, commensurate with other costs of living. Expect to pay more in midtown Manhattan or Los Angeles than in some other regions of the United States. Starting prices around the country vary, with costs increasing as design, flavors, difficulty, and more factor in:
Carrie's Cakes out of Sandy, Utah, charges about $275 for a basic two-tier cake that serves about 45 people (about $6 per slice).
Lark Cake Shop out of Los Angeles and Pasadena, California, starts their pricing around $160 for 32 slices (about $5 per slice) in a two-tier cake.
A Spoon Fulla Sugar out of Cincinnati, Ohio, charges an average that usually falls between $3.50 and $6 per slice of cake.
Additional Fees
In addition to the different cake characteristics that affect its price, couples should also be aware of other fees that can drastically increase the price of this wedding reception centerpiece. Many bakeries charge setup and delivery fees depending on the size and cost of the cake as well as the wedding location. Rental fees may apply to necessary cake equipment such as pillars, fountains, or platforms, and steep replacement charges will be levied if the equipment is not returned.
How to Save Money on Cake Prices
Despite the high cost of wedding cakes, many couples are eager to host a designer dessert at their wedding reception. Fortunately, there are many ways to trim wedding cake prices without diminishing the elegance and deliciousness of the treat.
Beyond a Traditional Tiered Shape
Consider a smaller decorative cake to display and cut and have the bulk of the cake made up as inexpensive wedding sheet cakes that cost roughly half the price of the showpiece cake. The cake can be wheeled out of sight to be cut and guests will not notice the difference in the shape of their pieces. Small "satellite" or accent cakes can be used as well - small round, square, or heart-shaped decorated cakes that surround the more elaborate centerpiece cake.
Additional Tips for Saving Money
A few more ways to save money on your cake include:
Arrange to pick up and assemble the cake yourself if the baker charges high fees for this service, but be sure you understand how to arrange the cake without damaging it.
Offer a range of less expensive wedding desserts - cookies, chocolate-dipped strawberries, etc. - to augment a smaller cake. Some guests will choose these other desserts instead of the cake itself.
Choose a simple design decorated with flowers that match the wedding colors for a coordinated, sophisticated look.
Choose a simple cake flavor that will not only lower the wedding cake price but will also appeal to a larger number of guests.
Used iced cardboard for the large, lower tiers of cake (the ceremonial cutting is usually of the first or second layer) to simulate the appearance of a large cake, but substitute sheet cakes for the actual dessert.
Choose Your Best Cake
Some couples must regretfully abandon their visions of designer confections as the best wedding cake is one that fits the budget. By understanding how prices are determined and ways to trim the costs, however, every couple can choose a cake that meets their wedding design, preferences, tastes, and pocketbook.