Walmart wedding cakes often get a bad reputation because they come from a big box store and are so low cost. However, they may be the ideal choice for some couples. From standard cakes to custom cakes, what's available to you depends largely on your local Walmart Bakery.
Basic Walmart Wedding Cakes
While you can order some Walmart cakes online, you'll find more ordering options is you call or visit your local Walmart Bakery. If you have several Walmart Bakeries nearby, comparison shop by talking with the lead cake decorator at each store to see who can pull off your design best.
Walmart Wedding Cake Shapes and Sizes
Standard Walmart wedding cakes come in standard square or round sizes, but specialty cupcakes are also available. If you're looking for a trendy topsy-turvy cake or a funky shape like a hexagon, Walmart doesn't typically stock supplies to make those.
Two-tier round cakes serve about 64 guests.
Three-tier round cakes serve about 134 guests.
Round tiered cakes are only available in white or chocolate layers.
A full sheet cake serves about 96 guests.
Cupcakes are available by the dozen or arranged as cupcake cakes featuring up to 24 in one display.
A party combo cake includes one small round cake surrounded by a dozen cupcakes.

Walmart Wedding Cake Flavor Options
Typical Walmart cakes are either white cake or chocolate cake and those are the only flavors you can get for cupcakes. Some locations also offer yellow, marble, or rainbow blast cakes. In addition to the cake flavor, you can choose a filling flavor for layered cakes. Available filling flavors include:
Lemon
Strawberry
Bavarian cream
Raspberry
Caramel
Pineapple
Walmart Wedding Cake Frosting Options
You have two basic options with Walmart cake frostings, buttercream or whipped icing. Your frosting color options are:
White
Pink, 2 shades
Red
Orange
Yellow
Blue, 2 shades
Purple
Green
Teal
Black
Grey
Chocolate
Walmart Special Occasion Cake Book
If you've ever bought a cake from Walmart's bakery, you know they keep cake books or cake brochures out for customers to flip through. These books feature all the standard designs they offer. You can access Walmart's special occasion cake book online before you ever step foot in the store.
The Ruffles and Shine theme features a little bit of bling and some ruffled piping.
The Tailored Chocolate design includes a chocolate name plate where you could add your initials and classic beaded piping all in chocolate frosting.
Sparkly gold and navy stripes take center stage on the Stripes & Sparkle design.
Elegant rose designs let you choose the piped flower color on your traditional cake.
The Pretty Princess designs feature a crown topper fit for any royal bride.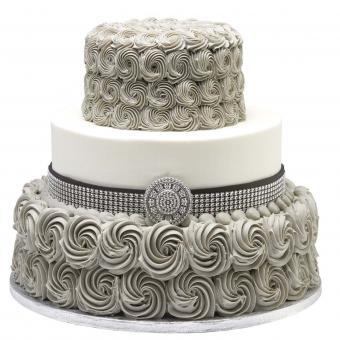 Custom Wedding Cakes From Walmart
If you want to design your own cake from scratch at Walmart, you'll have to make friends with the bakery department to see if it's possible. Although most of Walmart's cake decorators stick to the set designs they've learned from the company's catalog during training, many will consider alternatives. If you want a Walmart cake and bring in a custom design at the time you place your order, the store will likely try its best to accommodate your request. If all you want is a totally custom sheet cake, you can customize that through online ordering.
Choose your serving size, either 12, 24, 48, or 96.
Choose your flavor from the standard options.
Add a filling of your choice for an extra $5.
Choose your type of frosting and the base color.
Select a piping border for the top of the cake from 7 styles and choose the color.
Select a bottom border.
Add piped flowers if desired.
Choose a message for the top of the cake.
Add a special note for the baker if needed.
Walmart Wedding Cake Prices
Cake prices may vary from location to location or be subject to change based on your personal cake choices. However, these are the standard prices you could expect to pay for wedding cakes from Walmart.
A 12-serving custom sheet cake starts at about $10.
A 24- serving custom sheet cake costs just under $20.
A 48-serving custom sheet cake starts around $30.
A 96-serving custom sheet cake is about $43.
A two-tier wedding cake costs around $60.
A three-tier wedding cake costs about $140.
Custom cupcakes cost around $10 per dozen.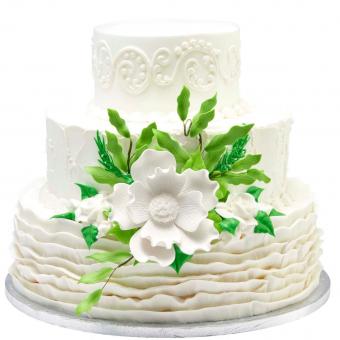 Walmart Wedding Cake Considerations
Aside from the obvious cost savings, there are other factors to consider when buying a wedding cake from Walmart.
Wedding Theme
Walmart specializes in standard and traditional cakes. If you have an ultra-modern or wacky wedding theme, Walmart isn't going to be your best option for finding a cohesive cake design. Anyone interested in a more traditional wedding cake can certainly find what they're looking for at Walmart.

Wedding Size
In addition to your wedding budget and aesthetic preferences, it's worth considering the size of your wedding when you think about where to place a cake order. If you're having tons of guests, be aware that the per-slice price or set-up labor on many cakes may not be practical for your purposes. Alternatively, if you're having a really small wedding, Walmart might be more willing to accommodate your order than big specialty cake shops who like big orders.
DIY Bride
If you're a DIY bride doing a DIY wedding, a plain cake from Walmart can be your blank canvas. Have Walmart do a basic cake for your wedding and pick it up in advance. After you have the flowers for the reception and any other decorating supplies you need, embellish the cake yourself and set it up for display. You can often find wedding cake decorating supplies at Walmart in their crafts section.
Walmart Wedding Cake Reviews
Although Walmart cakes may not be fancy or exciting, they're a solid value for the money. If you're thinking about placing an order for one, review the possible pros and cons.
Cake Reviews From Real Customers
Customer Judy shares that her daughter's wedding cake from Walmart was "gorgeous and delicious." She also raves that it was packaged great for transporting. On the other hand, some customers complain their designs look "amateur" and even start sliding as the event goes on. To test out the decorators in your bakery, order something smaller and simpler like a dozen custom cupcakes and see how they turn out before you buy a cake.
What's Great About Walmart Wedding Cakes
Many of Walmart's decorators have plenty of experience doing simple white cakes with minimal decorations. If you don't want an intricate or custom design on your cake, their wedding catalog may have just what you're seeking.
It's hard to beat Walmart's bakery when it comes to cheap prices.
Walmart's cakes tend to be moist and have a good taste. Their flavors and fillings are among the most popular options, so they're likely to please most wedding guests.
Walmart can produce most traditional designs for you.
You only need to order about a week in advance.
Cons of Buying a Walmart Wedding Cake
If you want a custom design or an unusual cake flavor, you'll likely find more suitable options at a different bakery. f you have gourmet tendencies or are looking for a cake that will blow your taste buds away, you'll probably have to pay for a pricier recipe than what Walmart can offer.
There isn't a lot of choice among Walmart wedding cakes. You only have a few flavors to choose from.
Walmart's cakes aren't going to start any new viral wedding trends because they follow typically tastes.
There's no delivery, you'll have to have someone you know transport the cake.
Walmart Does Weddings
If you're satisfied with what Walmart has to offer and you like the taste and design of their cakes, order one. You're under no obligation to tell anyone who comes to your wedding where you got your cake, so feel free to keep the information to yourself. The most important part of any wedding is celebrating the love and happiness that the union has brought about, and guests come to share in that purpose, not to judge your cake.