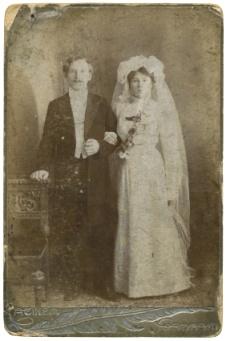 Victorian wedding dresses were extremely different from what you see today. This is probably exactly why some brides seek them out for modern weddings when they're looking for that unique look.
The Style of Victorian Wedding Dresses
Today's bridal gowns are often identified by their sweeping waistlines and strapless designs to accentuate the collarbone and neckline. However, Victorian dress style was quite the opposite - modest wedding dresses and plenty of layered fabric were the norm during this fashion era. As with any time period, the fashions of the early 1900s were beautiful in their own right, and many women today enjoy the vintage feel of donning a dress truly representative of time gone by. This has inspired many Victorian bridal gown stores across the country, providing brides the opportunity to look gorgeously retro on their special day.
Before the turn of the century, brides wore many different colors for their wedding. The dawn of the 20th century brought the traditionally white gown we still generally seek out today. Many Victorian brides cherished their wedding dresses, packing them away in special trunks to preserve them and pass them down to future generations who may agree with the original bride's taste.
A standard Victorian wedding dress was elegant yet simple, often ivory instead of pure white. Often a wide gathered skirt was attached, with plenty of petticoats and a hoop worn underneath to present the full skirted look popular in the late 1800s to early 1900s. The neckline of the dress was often bordered with handmade lace, arranged in a ruffle to add some extra beauty to the look. While the Victorian bride often looked slender beneath her layers of satin, it was often not without effort, as many of these dresses contained a back laced bodice that was cinched tightly with a corset worn underneath.
To finish off the look, a lace veil with subtle sewn-in floral patterns was often donned with some sort of headdress, and the veil length was almost always below the wrists, even reaching down to the floor. Sometimes the veil flowed together with a long train attached to the dress.
Dress Accessories
Along with the Victorian wedding dress, many brides also adorned their bodies and hair with orange blossoms. An ancient Chinese tradition signifying purity and fertility, the tradition was popular in the Victorian era until the 1950s when it finally went out of style. When the orange blossoms were unavailable or too pricey, families would use a wax version for their headdress and dress décor. At extravagant Victorian affairs, some newspapers would report the fact "real orange blossoms" were used, signifying the bridal family's wealth or the extra effort put forth for a fashionable wedding.
To further accentuate the dress' beauty, many brides wore pearls and heirloom jewelry to finish off her completed look.
Buying Vintage Gowns Today
While Victorian wedding gowns aren't common, it is possible to purchase one through a specialty shop. A Vintage Wedding is one such store you may have some luck at when you're browsing for gowns. They offer wedding gowns, veils, and sewing patterns so you can replicate your own if you'd like to personalize it. Victoria Rose also carries a wide selection of Victorian wedding dresses, all within a reasonable price range so you can gauge how much you'll spend on your special day. Check out this site for vintage shoes and veils as well.
Some area boutiques may also offer vintage gowns, so check with your local directory to see if a special bridal boutique exists near you. Or, you may consider taking a special trip with some of your bridesmaids to hunt for that special gown at local antique or consignment stores.
Other Resources
You can learn more about Victorian wedding dresses by reading publications such as Victoriana Magazine or patronizing museums that specialize in time period clothing and customs.
---
A Victorian wedding gown is distinctive and elegant, giving even modern brides a touch of retro romance for their special day.
.