Unique Cake Toppers: Classic
Buy Now"
Unique toppers transform a wedding cake and add a personal touch. Themed cake toppers, such as funny figurines or artistic renditions offer distinctive choices for memorable wedding decorations.
Beach Heart
Buy Now"
A nautical themed heart cake topper is perfect for beach wedding cakes. Shells and sand encrusted on the side of an ocean blue heart give the figurine an instantly recognizable theme in a graceful, elegant way, and the romance of the angled heart is perfect for symbolizing the love a couple shares.
Pearl Accents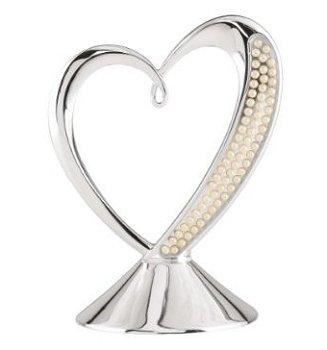 Buy Now"
Crystal cake toppers are relatively common, so make your wedding cake stand out by choosing a pearl accented decoration. This sleek silver heart has modern flair but the innocent pearls capture the classic bridal ambiance.
Winter Wedding Cake Tops
Buy Now"
Couples planning a winter wedding may opt for the simple elegance of snowflakes for their wedding cake topper. A porcelain snowflake with crystal accents is a beautiful option, and it could easily be personalized with the couples names or initials.
Bird Toppers
Buy Now"
The simple grace of birds is popular for wedding decorations, but instead of predictable doves, opt for the stately elegance of swans. A figure with the birds' necks intertwined in a subtle heart shape is perfect for a romantic wedding cake topper.
Fall Wedding Cakes
Buy Now"
Fall wedding cakes with rich flavors and vibrant colors deserve unique wedding cake toppers that capture the beauty of the season. A graceful heart with autumn colors and foliage accents is a stunning choice for decorating a seasonal wedding cake. Couples might also use a cascade of leaves down the cake tiers to coordinate with this elegant topper.
Starfish Topper
Buy Now"
A starfish wedding cake topper is another unique design perfect for beach wedding cakes. A single starfish can be beautiful, or couples might choose a topper with two starfish in different sizes to represent both the bride and the groom. Decorating the cake with waves, shells, sand, and other nautical accents will create a lovely beach tableau for this topper.
Claddagh Ring
Buy Now"
Many couples opt for a "best friends" motif for their wedding to show the strength of their connection to one another, and a claddagh ring cake topper is perfect to share that theme. The ancient symbolism - the heart for love, the hands for friendship, and the crown for fidelity - are beautifully bound together with the eternal ring symbol.
Asian Cake Toppers
Buy Now"
Asian characters such as the double happiness symbol are a unique and trendy option for wedding cake toppers, particularly for an Asian or Oriental themed wedding. Other popular character choices include luck, love, joy, friends, and forever.
Western Cake Toppers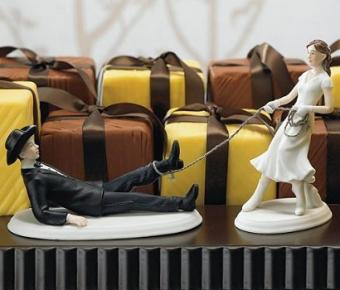 Buy Now"
A rustic western wedding wouldn't be complete without a western themed wedding cake topper. A whimsical option is the bride roping the groom into matrimony, and other great choices include couples on horseback, gold horseshoes, a just married stagecoach, or bride and groom cowboy hats.
Abstract Hearts
Buy Now"
The classic wedding-couple-and-heart topper can have a lot of variations to make it more unique and sophisticated. For example, stylized palm trees bending in beach breezes to make a heart is an elegant choice for a beach wedding cake. Other options might include a heart-shaped arch, heart-shaped waves around the couple, or etched glass hearts.
Funny Toppers
Buy Now"
Funny wedding cake toppers are a whimsical way to add a sweet touch of humor to your wedding cake. The cell phone addict topper is a great one for a tech-savvy couple, and other options include the gone-fishin' groom, a runaway bride, or a slightly naughty kissing couple.
Now that you have a unique wedding cake topper, consider unique wedding cakes as well: