Summer Wedding Guest Wear Ideas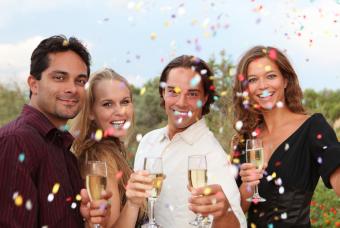 A gallery featuring summer wedding guest attire helps guests select appropriate clothing. A few examples reveal a guest's wardrobe is determined by the degree of wedding formality and the region's temperatures.
Little Boy Outfits
Young boys do not need to wear a full suit at an outdoor wedding in the summer unless it is a formal evening event. A sweater vest with a light shirt and pants look dressy without being too constricting in the heat. If it gets too warm during the reception, you can even remove the vest and let him wear the button-down shirt with the sleeves rolled up.
Attire for Little Girls
Summer sundresses are a perfect choice for little girls. Look for one with a simple pattern, like flowers, stripes or polka dots, in bright or pastel colors. Bring a cardigan if the evening gets cool.
Teen Wedding Clothing
A pretty summer dress is the perfect choice for a teenage girl. Spaghetti straps are cool and look grown-up without being too revealing. Teen boys can wear dress pants and a lightweight button down shirt to a wedding, and look both age and seasonally appropriate.
Bright Dress Shirts for Men
Brightly colored shirts and ties with khaki pants offer a twist on the typical button-down ensemble for men in the summer that usually involves light colored shirts and darker pants. Tuck the shirt in for the ceremony, but feel free to un-tuck during dancing at the reception.
Summer Wedding Suits
A tan, khaki or beige suit is a great option for a summer wedding. Choose a shirt and matching tie in a summer color, like turquoise or tangerine. Look for a suit in linen for a beach wedding.
Sleeveless Summer Dresses
Sleeveless dresses with an attractive floral print are fitting for a garden wedding or outdoor wedding. Choose one in a pastel color for a pretty look at a summer wedding.
Summer Dresses with Sleeves
Protect your arms from the midday sun or stay warm at an evening wedding by choosing a long-sleeved knee-length dress. Other protective options include three-quarter length sleeve jackets, short-sleeve boleros or shawls.
Coordinated Guest Attire
Coordinate your summer wedding guest wear with your significant other, but be careful not to be too matching. His casual striped suit and her red halter dress complement each other without going overboard.
Find more guidance on wedding guest attire in these additional articles: Wedding Guest Outfits and What Should a Guest Not Wear to a Wedding.