Summer Wedding Centerpieces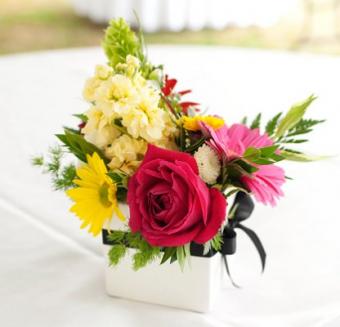 Centerpieces designed for a summer wedding range from sweet and simple to elaborate and elegant. Bridal couples can choose to decorate the reception venue with colorful summer centerpieces to match any summer-related theme while staying within the appropriate level of wedding formality.
With summer being a rich, lush season, simple centerpieces are popular and timely. A low glass vase or container can be filled with a mixed bouquet in your wedding colors, brought together by a simply tied ribbon for a festive but easy touch for your summer wedding tables.
Be Bright
Bright colors are popular for summer weddings, and you can use those same bright colors in your centerpieces. Choose simple centerpieces so the colors are not overwhelming, but add to the decorations by using crepe paper or thick ribbon woven on top of plain tablecloths to bring the color palette together.
Beach Friendly
Beach weddings are popular in the summer, and easy beach centerpieces are perfect for your sandy reception. Blue bottles, tumbled glass, and seashells make an elegant and easy centerpiece, and you can add coordinating blooms or candles to the centerpiece for more romance.
Table Tiers
Tiered centerpieces give height to your wedding reception decorations and help fill an open, airy reception area such as a summer wedding tent or open hall. Cluster several vases of varied heights together and use similar colors and blooms in each one for a coordinated look that is still special and unique.
Tropical Touches
Add a touch of the tropics to your summer wedding centerpieces by choosing fresh, simple white pillar candles and setting them in a bamboo or driftwood tray. Add a few simple tropical fronds and a plumeria bloom or two for an elegant and easy beach wedding centerpiece.
Classic Roses
Roses are one of the most popular wedding flowers, but a rose centerpiece doesn't have to be elaborate. A few classic blooms in rustic bottles is colorful and elegant without being overwhelming. Choose different bottle sizes and cluster them on the same table to make a full centerpiece without losing that summer simplicity.
Hydrangea
Hydrangea is a beautiful summer flower that is popular in wedding centerpieces because of its uniformity and fullness. A few blooms in a low vase with glass pebbles is an elegant arrangement, and add a few sprigs of summer grasses for a chic modern accent.
Summer Citrus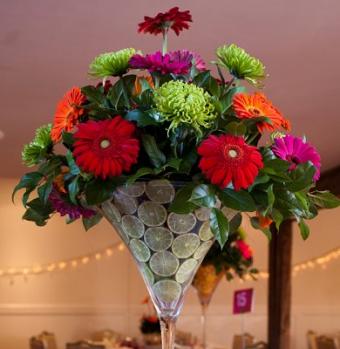 Citrus accents are popular in summer wedding centerpieces. Use a tall vase for a full, elevated centerpiece and line the sides of the glass with citrus slices. Other options include simple bowls of citrus fruit, or floating citrus slices in a low bowl with candles or other accents.
Fresh and Fruity
Fresh fruit is always a popular summer accent to any centerpiece. Fruit piled in a vase can help hide unsightly stems, or a simple bowl of fruit can be a fresh and practical centerpiece. To make even a simple centerpiece more noticeable, add bright fabric piled around the base for color and texture.
Unique Containers
Instead of standard glass vases, choose a more natural container for your summer wedding centerpieces. Woven planting urns, wicker baskets, terra cotta pots, and tin pails are all superb seasonal selections that can set off your centerpieces.
Go Green
Summer is a vibrant season filled with lush greens. Opt for a chic centerpiece with green plants rather than flowers for a still festive yet more subtle decoration. Ivy, climbing vines, ferns, moss, and grasses are all great options that come in a wide range of summery green shades.
Candle Accents
Candles are popular in wedding reception centerpieces for any season. To add their warm light to your summer decorations, choose small decorative lanterns with butterfly, dragonfly, flower, or leaf motifs, and use citronella candles for pleasantly practical centerpieces if you will be having an outdoor celebration.
Herb Bouquets
Flowers are not the only plants that can be used for centerpieces. Fragrant summer herbs such as rosemary, basil, and thyme can be bundled together with burlap or raffia ribbon for a unique and unusual decoration. You can even invite guests to take these centerpieces home for herb garden wedding favors if desired.
Fruit Bouquet
A bouquet of fresh fruit kebobs is a great centerpiece for a summer wedding buffet or dessert table. Grapes, strawberries, pineapple, watermelon, blueberries, and other fruits are colorful and delicious choices, but be sure the fruits will hold their shape and color throughout the celebration. This is also a great way to display dipping fruits for a chocolate fountain or fondue station.
Colored Linens
You can make even simple centerpieces stand out if you coordinate with colored table linens instead of plain white cloths. Choose soft colors for larger tables, or opt for boldly colored napkins or table runners for an instant pop of color.
Looking for more summer wedding ideas? Check out…