If you want something a little out of the ordinary for your wedding cake, consider using a cake or cakes with a square, rather than a round, shape. Square wedding cakes can be anything from traditional to trendy for an eye-catching end to the wedding.
Gift Wrapped Square Cake Design Option
For a new twist on the traditional stacked wedding cake, design your square cakes to resemble intricately wrapped gifts. Often achieved with the use of smoother fondant frostings, cakes decorated to look like a stack of wrapped gifts have a variety of accents for beautiful looks appropriate for casual weddings. Frosting resembling bows and ribbon accompany carefully crafted accents of frosting pearls and beads in a variety of colors.
Square Single Tier Cakes
Although many wedding cakes use traditional stacked tiers, a square single tier cake has several advantages as a wedding cake. The ease and efficiency of cutting make it an excellent choice for very large weddings. The cake can be decorated to match the wedding decorations and decorated with flowers and fanciful designs around the edges. They can also be arranged on pedestals at varying heights and look great at any wedding style.
Square Nature-Inspired Cake
Stacking layers of square cakes on top of one another is a great way to form shapes reminiscent of mountains. Take advantage of this natural shape to create a nature-inspired wedding cake. Layers twigs, branches, berries, leaves or flowers over the cake, arranging the decorations so they flow in one direction over the cake. Light the design from below to cast shadows on the cake through the decoration that highlight the effect perfect for an outdoor wedding.
Cornelli Lace With Color
If you want to add color but not a lot, consider placing small dots of frosting throughout a cornelli lace design. Unless you cross your lines, this lace pattern is hard to mess up. It looks lovely close up and from afar, and when you dot in frosting in your wedding colors, it makes the design stand out even more. Set layers askew and only do every other layer with color to keep it from taking on a polka dot pattern. The lace cake is a good choice for a semi-formal or casual wedding.
Contemporary Square Cake Designs
The clean lines of a square cake lend themselves perfectly to contemporary cake designs that are perfect for more modern weddings. Ways that square cakes can be given a modern twist include:
Printing images onto the sides of the cake to give it the appear of a movie marquee or a billboard
Using geometric designs around the perimeter of the cake, such as herringbone or chevron patterns in bold colors
Decorating the cake to look like blocks of wood complete with grain, concrete blocks, or bricks so the cake resembles architecture
Scroll Design Work
Buttercream frosting doesn't offer brides the guaranteed picture perfect finish of fondant, but they can still be decorated with a gorgeous design. Decorations that lend themselves especially well to buttercream include fleur-de-lis shapes, paisley designs, lattice work, and scroll designs. A few flowers can top off the cake to add depth and color. For a bigger punch of color, use tinted frosting for the design work.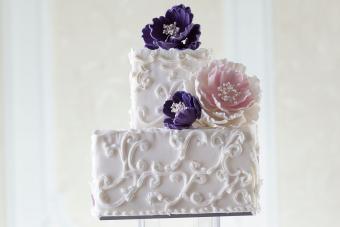 Contrasting Design Cakes
Many contrasting images are in the shape of squares, such as checkerboards, and are the lovely ideas for weddings from upscale whimsical themes to ones with casual boho vibes. Consider using contrasts to create a unique cake, such as:
Square cakes in alternating colors, with each layer a different flavor and color
Using fondant to create long, loose swags that hang from one or two layers of cake or from only one side of the cake, gathering on the table and leaving the other sides bare
Individual Square Cakes
Individual wedding cakes are a contemporary alternative to a large wedding cake or wedding cupcakes. Individual cakes can be arranged on tiered cake stands for dramatic effect. Individual cakes can also be individually wrapped or boxed with a message from the bride and groom and a monogrammed napkin as a wedding favor, or arranged as a dessert bar. By doing this, you can incorporate a variety of flavors.
Wine-Themed Square Cakes
Turn a squared tiered cake into a themed one and incorporate the sharp corner angles to help define the design. For example, this cake that is perfect for a wine-themed wedding at a vineyard uses the corners as the perfect spot for hanging the grapes. Making sure that the design can be seen from each side is key when pulling off a square themed cake.
Embroidered Floral Design
Replicate your bridal bouquet or even your wedding gown by using royal icing to add an embroidered design to the tiered cake. Utilizing the opposite bottom corners for design work creates a modern look. The cake design is perfect for a garden wedding or a formal, upscale wedding any time of year. Use black or gold for a luxurious touch.
Traditional Square Cake Advantages
Most traditional wedding cakes are stacked in descending sizes and covered in white or ivory frosting. Many brides choosing a traditional stacked display decorate their cake with confectionery accents and real or silk flowers in hues that match or complement their wedding colors.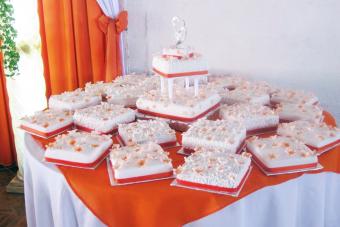 Other advantages of square wedding cakes include:
Square cakes may yield more servings than a round cake of similar size.
You can offset the layers of cake at angles to one another to create a twisting or spiral effect.
The shape of the cakes are a great backdrop for several decorating styles, from art deco to scroll work to traditional fondant swags.
Square wedding cakes often offer more room around the perimeter of stacked layers for embellishments and other decorations.
Virtually any design can be adapted to a classic square cake, making it an ideal choice for brides and grooms.
Get Inspired
Your cake can be anything you imagine, and with a square backdrop, you'll be able to create anything you can conceive in your design. Create a square wedding cake that embodies everything about your special day.