Spring Bridesmaid Dress Options
Shopping for spring dresses for each bridesmaid is easier when you select the same dress for everyone. You can choose a different color for your maid or matron of honor if desired. Vibrant colors, special details, and lighter fabrics are excellent choices for springtime wedding attendants.
Shades of purple are a great color for a spring wedding. Spaghetti straps provide support and the addition of a shawl is a great choice for a cooler evening.
Iridescent Elegance
A dress with a bright orange hue will make your bridesmaids pop in the spring sun. Choose one with a hint of iridescence for a stunning effect. A subtle pink sheen adds dimension to the bridesmaid dresses and softens a bright orange hue.
Inspired by Nature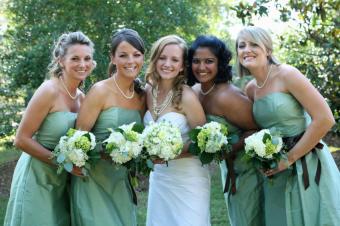 Green colored dresses are a great way to incorporate Mother Nature into your wedding. Shades of light green, from mint to sage, are flattering in spring portraits. A darker ribbon at the waist adds a touch of elegance to these spring dresses.
Fresh White Dresses
Switch things up and dress your bridesmaids in white, too. White dresses might look out of place at a fall wedding, and may be glaringly bright at a winter or summer wedding. During the spring, they add a fresh look to your bridal party attire, especially if you choose a colored wedding dress. Add a brightly colored sash for a splash of color.
Sky Blue Dresses
Blue is not just a hue for winter weddings. Paler shades look lovely in the spring and are reminiscent of spring rain showers. Make the dress short or tea-length to keep your ladies in waiting comfortable during humid days.
Black for Spring Weddings
No color is off-limits in the spring. Instead of basic black cocktail dresses, choose ones with a unique springtime twist. The tops of the dresses can be a pretty pink pastel or other light contrasting shade with ties in the back, leaving the ends flowing in the wind. A hint of skin makes the design soft yet sexy.
Flattering Springtime Neutrals
Neutral colors are flattering to many skintones. If you choose a neutral dress, look for one that has a more intricate design for visual interest. Thick ruched straps and a waist sash contrast nicely with the light top and skirt of the dress.
Floral Bridesmaid Embellishments
Floral embellishments are the perfect addition to a spring dress. Choose bridesmaid dresses that include a floral design in the following ways:
Appliqués
Embroidery
Sequins
View From the Back
Lace-backed bridesmaid dresses are pretty in the springtime. With much of their time spent with their backs to the guests, choosing a spring dress that has interest on the back is a prudent one for many brides. Laces also allow the bridesmaids to adjust their tops for the perfect fit.
Unique Color Combinations
Unique color combinations, like hot pink and lime green, are pretty in the spring. Consider combining other colors in your bridesmaid dresses, like:
Purple and yellow
Red and orange
Sky blue and green
More Spring Bridesmaid Styles
Even if you are having a spring wedding indoors, you can still choose pretty spring bridesmaid dresses for your attendants. Strapless pink dresses with the haze of chiffon at the bottom offer an excellent way to bring the season inside.
For more ideas on how to dress your bridesmaid, check out:
Bridesmaid Dress
Plus Size Bridesmaid Dress