A sponsored wedding is when a couple has items, such as catering or the wedding cake, donated at no charge in exchange for advertising. For instance, the reception hall might offer a free or discounted event in exchange for being able to put their logo on the wedding invitations and place cards. Wedding programs can also hold advertising from sponsors, as can the bride and groom's website. This option can make a couple's dream wedding possible, but comes with a downside as well.
Make a Sponsor Request
If you thought those couples who are paying for their own weddings are stressed out and over worked, imagine having to contact sponsors and solicit freebies for your own wedding. Since most of the advertising isn't blatant, the couple has to do their best to convince the vendor that his advertisement will be seen. There's a fair amount of negotiating when setting up a sponsored wedding and it can be comparable to arranging a business merger more than a wedding. When thinking of securing sponsors, consider the following:
Everything you will need for your wedding
Anything unique that will make your wedding stand out
Large guest list (The bigger the wedding, the more likely it is to be sponsored.)
Set up a wedding website to show potential sponsors that you can attract business
Write Letters to Potential Sponsors
Writing a letter is often the first approach to contacting a sponsor. When making a written request, you will need to convince a sponsor that wedding guests will be interested in their product, and that by being a sponsor, they will get more business. Some elements to include in your letter request are:
Who you are
Why you are looking for a wedding sponsor
What you exactly need
The date and location of your wedding
How this will appeal to them
Businesses to Contact
Depending on what you are looking for, there are several types of businesses to contact for sponsorships. It's important to be creative when choosing vendors, but it's equally important not to stray too far from home. Sponsors will want to target local guests who will be more inclined to visit local establishments. Some businesses to consider for sponsorships are:
Florists
Party supply stores
Formal wear shops
Caterers
Wedding dress designers
Travel agencies
Advertising Options
Once sponsors are brought on board, there are several options for advertising that you can use without coming across as overly tacky and obvious.
The Invitation
One way is to advertise is to enclose a list of sponsors in with the wedding invitation. You could also list sponsors on the back of the invitation, along with their logos.
Wedding Sponosor List in Program
Sponsors can also be listed on the back of the wedding ceremony programs. You can include a thank you to the sponsors and then list each by name.
Novelty Items
Some sponsors have even had their logos placed on novelty items such as:
Matchbooks
Cocktail napkins
Favors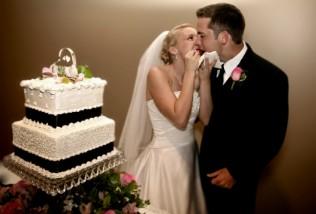 Subtle Suggestions
There are still other forms of subtle sponsorship to consider. For instance a small sign in front of the wedding cake with the words "Wedding Cake Courtesy of ABC Bakery" can be placed on the cake table until it's time to do the honors. The same can be done by the caterer at a buffet.
Famous Sponsored Weddings
There are many celebrities who secure sponsors for their weddings. What better advertising than to be the designer of a famous starlet's dress or to have baked the wedding cake of a trendy rock star? Famous people have been doing it for years, why not those who aren't so famous? Now you too can get a high-end wedding package, you just have to be willing to include a list of sponsors in with your wedding invitations. Some well-know examples of these types of weddings are:
The Downside
There will always be those who feel sponsored weddings are lacking in taste or class. Product placement and advertisement, no matter how subtle, will dominate the guests' conversation and may even sully a happy occasion. Many guests may feel they shouldn't give such generous gifts since the couple's wedding and honeymoon have been paid for by sponsors.
Sponsors Make Financial Sense
If your wedding is turning out to be more than you bargained for financially, you might consider finding sponsors for your wedding. Keep in mind, however, that there are many who feel it takes something away from the happy occasion.