Simply Unusual
Unusual wedding cakes deserve extra pictures to capture their uniqueness. These photos prove there are many ways to add a distinct and personalized touch to your wedding dessert without going crazy.
One of the best and most modern ways to create an unusual cake is to keep it simple. This approach contrasts with elaborate wedding cake designs, making a very simple, elegant cake unusually beautiful.
Distinct and Dark
Even couples who love chocolate and choose chocolate wedding cakes frequently opt for traditional white or light colored icing. Make your cake more unusual by embracing a rich, dark color and contrasting accents.
Tiered Cookies
Wedding cupcakes are the familiar substitute for a full wedding cake, but you can be more unusual by choosing tiered cookies. The icing can match your wedding colors, and the tiers of the cookies mimic the classic wedding cake shape.
Textured Cakes
Adding icing texture to a wedding cake is a popular option to decorate the sides of each tier, but your cake will be more unusual if you add texture to the top of each tier and leave the sides elegantly plain. Small accents, such as beading, pearls, starbursts, or rosettes, are best for filling in a large textured area.
Cakes with Fruit
Instead of floral or icing accents on your wedding cake, be more unusual and opt for fruit. Berries are a delicious option for spring and summer wedding cakes, while citrus slices or grapes are a fun tropical touch.
Unusual Shapes
Choosing a unique cake shape, such as a hexagon, gives it more distinction than classic round cakes. Offsetting the tiers is another way to add a touch of the unusual to your wedding cake.
Unique Cake Toppers
Traditional bride and groom cake toppers are always popular, as are floral or ribbon toppers. To make your wedding cake more unusual, choose a different decoration such as his and hers chairs, shoes, motorcycles, or other objects to match your personalities and wedding theme.
Sheet Cake
Many couples use wedding sheet cakes to save money on high cake prices, but be unique and show off your sheet cake instead of keeping it hidden in the kitchen until being served. Simple sheet cakes can be stacked and decorated just as beautifully as more elaborate cakes.
Unique Cake Stands
Show off a beautiful, classic wedding cake with an unusual wedding cake stand. Stands that have separated levels, interior fountains and waterfalls, and unusual lighting are great options to turn a simple cake into a more unusual treat.
Thin Tiers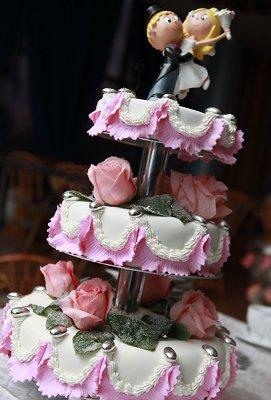 Most wedding cake tiers consist of several layers of cake and icing, making each tier thick. Opt for a lighter cake with thinner tiers beautifully decorated with distinctive icing for a more unusual look. This is also a great way to save on wedding cake costs since the cake itself will be smaller without appearing so.
Add Some Spark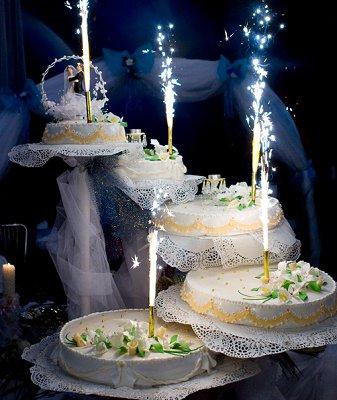 Every new marriage has spark, and show off yours by adding sparklers to your cake. Take care to do this safely, however, and if you plan on cutting the cake while the sparklers are lit, use a long handled knife and cake server to avoid burns.
Miniature Cakes
Instead of a traditional wedding cake or cupcakes, treat your guests to unusual personalized wedding cakes. Miniature tiered cakes with simple decorations are a lovely and quaint option to use for your wedding dessert, and different flavors can be served to guests with different tastes.
Romantic Cakes
Embrace the romance of your wedding day with a heart shaped wedding cake. This is the perfect design for a Valentine's Day wedding or for any couple with a romantic heart theme to their celebration. For even more themeing, consider crystal hearts or a Cupid-style wedding cake topper.
Cake Structure
Adding external structure to a classic tiered wedding cake gives it an unusual silhouette. Molded chocolate, fondant, or inedible accents can add curves, ribbons, bridges, or other structural details to your cake quickly and easily.
Dual Celebration Cakes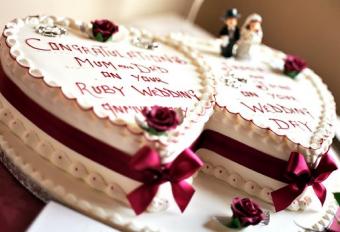 If your wedding is a dual event, such as celebrating with parents' anniversaries or a double wedding, choose a unique double heart cake design to commemorate both events beautifully.
For more ideas for unusual wedding cakes, check out Gallery of Crazy Wedding Cakes and view interesting cake topper ideas in Unusual Wedding Cake Toppers.