Simple wedding bouquets are an emerging trend in the bridal industry as more couples prefer an elegant, understated celebration rather than the elaborate affairs popular several years ago. Simple does not mean boring or predictable, however, and there are many ideas for simple bouquets that couples can use to create their own memorable floral arrangements.
Why Simple?
Brides may choose simple wedding bouquets for a number of reasons: personal style preference, convenience, or economics.
Elegance
Simple is elegant.
A bride who envisions a sleek, elegant ceremony with delicate flourishes may not be interested in an elaborate wedding bouquet that incorporates a riot of colors and shapes. Instead, a simple bouquet can create a powerful impact in the wedding decorations, particularly if it is fashioned from bold colors or unusual blooms. Simple bouquets can be paired with simple wedding gowns and are often more appropriate for a casual dress than a more intricate bouquet. Similarly, a very petite bride may be better highlighted by a simple bouquet rather than being overwhelmed by a large cascade of flowers, ribbons, and greenery. Simple bouquets also go well with elaborate gowns because they do not overshadow the delicate beadwork, lace, and other details on the bride's attire. The key is to find an appropriate balance between the wedding gown, flowers, and other wedding décor where a simple bouquet will add sophistication and elegance to the overall atmosphere of the event.
Ease
Brides with a do-it-yourself preference may opt for simple wedding bouquets because they are easier to construct without extensive professional experience. In fact, the simplest of bouquets - a single long stem rose - can be created in as short a time as it takes to pluck a bloom from the rosebush or the florist's display. Depending on how each bride defines "simple," however, some sleek bouquets will still need professional design to take the right form and proportion, though they will generally require less time and effort from experienced wedding florists.
Affordability
Generally speaking, the simpler a bouquet is, the less expensive it is, and this can be a major factor for brides on a budget. Opting for a simple bouquet design also allows brides to select more expensive, rare flowers that would be too pricey for a larger bouquet. A single wedding bouquet can run $100 or more depending on its design, size, types of blooms, and the season, but simple bouquets are generally far cheaper but no less beautiful.
Ideas for Simple Wedding Bouquets
There are many different ways to create simple but beautiful wedding bouquets. Popular options include: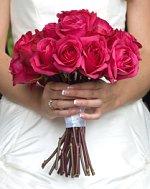 Pink Rose Nosegay
A single bloom or very few blooms, perhaps of a larger type of flower or a more elaborate species that will be highlighted by the simplicity of the arrangement
A bouquet made up of one type of flower instead of multiple types of coordinating blooms
A basic nosegay design rather than elaborate cascades
Exposed stems on a basic bouquet to add texture and depth to the design
Adding inexpensive, easily attainable baby's breath, ferns, or greenery to a simple design
Opting for a "toss bouquet" design that is typically lighter and less expensive than larger bouquets
Tying the bouquet with satin ribbon, either white to match the bride or colored to match the bridal party dresses
Using different flowers that have similar colors to create a monochrome design with rich texture
Choosing non-floral arrangements, such as silk wedding flowers or origami flowers instead of real blooms
Simple Bouquet Alternatives
Some brides may prefer a simple bouquet but be unable to find a design or type of flower they like in such an austere arrangement. Fortunately, there are many beautiful alternatives to carrying a bouquet that add simple elegance to the wedding ceremony, including:
Wearing a fur muff for a winter wedding
Carrying a candle or lantern, especially for an evening or nighttime ceremony
Simple doesn't have to be small.
Carrying a prayer book, hymnal, or Bible
Linking arms with the escort and not carrying any flowers at all
Wearing a wrist corsage that can be displayed throughout the reception as the full bouquet cannot
Carrying a parasol or fan for a summer or garden wedding
Carrying a cookie bouquet that may later be broken down as wedding favors
---
Simple wedding bouquets are sophisticated, elegant, and affordable, making them a popular option for many types of brides who want a unique flair without garish fanfare for their wedding day. By carefully choosing just the right simple design - even if it isn't flowers at all - a bride can create a beautiful accessory to highlight her special day.