If you have always thought of being a June bride, you may change your mind after considering these September wedding ideas. Whether you opt for a mild weather outdoor wedding or autumn inspired wild west shindig, a September wedding is sure to leave you with an abundance of fond memories.
September Wedding Color Combinations
September marks the end of summer and start of fall. Planning a wedding close to the beginning of the month means you can select more traditional summer wedding colors. However, as you near October, you may want to go with more classic fall color combinations. A few wedding color ideas might include:
Cream, dusty blue, and brown
Peach, coral, and succulent green
Royal blue, yellow, and ivory
Wine red and sunflower yellow
Alternatively, select colors that can bridge the two seasons, such as yellow and purple. Just pair a vibrant hue with a muted one such as bright yellow with dusty lavender. A pastel yellow with a deep royal purple is another example of taking two more traditional summer or spring colors and making them work for September.
Planning a September Reception Outdoors
Weather is a consideration when it comes to planning a September wedding, especially if you want to have your wedding outdoors. September can stay hot and humid right until the end, it can have sporadic rain showers, or you could even get chilly temperatures, especially in the evening. Therefore, you'll want to keep this in consideration when planning your late summer/early fall outdoor wedding.
Rent a Wedding Tent
Skip the summer wedding canopy and instead go with a full tent. These have sides that fully enclose your reception to keep wind, bugs, and rain out. Some tent rentals allow you to add heaters which is a great option for night weddings later in the month.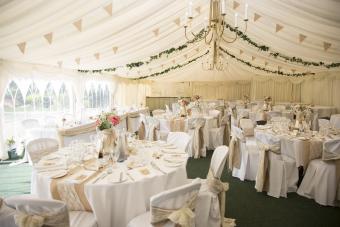 Select a Location With Indoor-Outdoor Areas
When looking for your perfect wedding venue, keep September weather in mind. Consider venues that have both indoor and outdoor spaces included. If the weather is nice, you can open up the balcony or patio, and even set up a bar or dance floor there. But if inclement weather occurs, you can keep doors shut and everyone is safely enclosed indoors. These venues might include:
Mansions with large courtyards
Museums with attached gardens
Resorts and hotels with patios or decks attached to ball rooms
Restaurants with balconies
Themes for September Nuptials
Once you have your basic colors and planning down, you can create a specific theme to suit both your chosen month and your personalities.
Traditional Autumn Theme
Though the spring and summer months are the most popular times to get married, couples who opt for a September wedding can often benefit from lower costs and easier availability of venues. Look for rustic barns, fields, and other locations that highlight the season. Let Mother Nature do the autumn decorating and use branches, leaves, fruits, and nuts to create rustic traditional fall centerpieces.
Football Theme
September means the start of football seasons for many fans. Instead of walking down a red carpet, choose a green astroturf one with the yard lines marked. Write your vows to include references to football lingo such as "I vow to have and to commit holding" or "I vow to love you from first and ten until the final whistle". Instead of an arbor, fashion a goal post and after the vows are complete, step over the goal line to "score" a husband. A football-shaped groom's cake is a must for this type of fun celebration.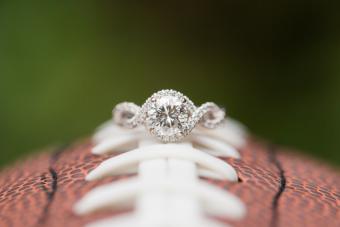 Western Theme
Let guests know your theme by sending a western wedding invitation. A horse-drawn wagon or even a bride arriving on horseback can be included. Keep it relatively casual by wearing a simple dress that can be bustled for square dancing at the reception to your favorite country songs. Hold a barbecue for the reception. Offer activities such as horse shoes and hay rides in addition to square dancing to complete the authentic western feel. To get completely in character, have your fiance wear cowboy boots and a Stetson hat, in white of course.
Mountain Destination Theme
September is a popular time at most mountain resorts as travelers flock to see the magnificent fall foliage before the snowy ski season begins. Resorts fill up quickly so you may need to book as early as a year in advance. Consult with the event coordinator at the resort to find out when the foliage should be at its peak. Be prepared, however, for the peak weekend to change without notice as unseasonably dry or cold weather may result in the foliage being delayed from turning or changing faster than anticipated.
September Wedding Ideas on a Budget
Planning a September wedding, just like any other, means you'll need to stick to your wedding budget. Adding a secondary theme beyond the color and season can mean more decorations, and having a back-up plan for inclement weather may also incur additional expenses. Utilize money-saving ideas throughout the event.
Date Selection
The date you select in September can end up saving you money. While everyone may think a Labor Day weekend wedding is the perfect timing for a September wedding, facilities are more likely to be rented for other events. You might have to pay caterers, photographers, and other vendors additional fees for their holiday weekend work. Skip Labor Day weekend and select another date to make sure you're making the most of your money. If you are planning a destination wedding in the U.S., waiting until mid-September, when children are in school and family vacations are generally done, means you might score better deals on hotel and airfare.
Decorations for September
When it comes to figuring out your decorations, keep your chosen month in mind. Think about what is in season and appropriate. Just a few simple ideas include:
Adding red or green apples to your centerpieces
Creating cheap wedding centerpieces; just spray paint twigs and small branches from your yard with white and place in a colored mason jar
Incorporating Gerbera daisies or chrysanthemums into bouquets and arrangements
Hanging maple leaves that are mid-color change in banners at the ceremony and reception
Selecting seasonal September flowers so you don't need to pay additional costs for out-of-season or tropical blooms
Utilizing rustic wreaths in yellows, oranges, and reds on doors and pews
Seasonal Self-Catering
Save money by self-catering your wedding. Pick a menu that makes the most of the seasonal produce. For example, you can have pork tenderloins with an apple glaze and an apple cinnamon cake even if you aren't having an apple-themed wedding. Walnut strawberry salad makes a great starter. Zucchini and corn gratin is a delicious early fall side dish, and you can have slices of banana bread with pumpkin butter available, too.
Treasure Your Wedding Day
Regardless of which September wedding ideas you choose, the most important thing is to enjoy this remarkable time in your life. Treasure your wedding day and use these ideas as a springboard to making your ceremony uniquely your own.