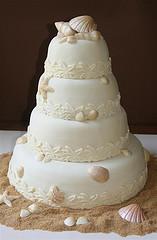 If you're having a wedding near the ocean, a reception on the beach, or you just want to summon a tropical vibe for the celebration, a seashell wedding cake is a wonderful choice. Cakes adorned with shells are a refreshing break from traditional flowery, ornate designs, and they're especially fun for guests to admire.
Shell-Theme Bridal Cake Ideas
There isn't too much variation among designs for seashell wedding cakes, but there's plenty of variation in price and detailing. Before you make an appointment to talk with a baker about a customized cake, look at a variety of pictures and consider the number of wedding guests you're going to have, the size of cake you want, and your cake budget.
Best Icing Color to Go With Shells
Image courtesy of Dawn DeRoberts
Most seashells are light in color and are mild shades of pink, gray, tan, cream, or white. That makes them pair especially well with traditional white or off-white wedding cakes because they provide a contrast in shape and texture but stay away from harsh color contrasts.
Complementary Ocean Elements
You can choose the type of shells you want to appear on your wedding cake. Scallops are the most common and form very elegant-looking borders and embellishments. If you want some diversity and more visual interest on your cake, you can also include:
Cowries
Sea stars or sand dollars
Starfish
Limpets
Turbans
Urchins
Abalones
Placing the Shells
Depending on how many shells you have on your cake, the design effect can look simple and sleek or very textured. Consider having shells on each level of a tiered cake, bordering only the bottom with one type of shell, or using a single large shell as a beach theme cake topper and keeping the rest of the cake plain.
Adding Edible Sand to the Cake
Some seashell wedding cakes include "sand," textured sugar or sweet cookies that are crumbled and made to resemble fine pebbles. If you like that look and want to have edible sand on your own cake, you can have a decorator place it on each level or tier, include a small scoop with individual cupcakes, or simply scatter a border of it at the bottom of your cake.
The Design Affects the Cake's Price
If you go to several bakers and describe what you want, you're likely to receive a different price estimate, or vendor quote, from each one. A number of factors contribute to what you'll end up paying for a seashell cake.
The reputation and skill level of the baker
The cost of the ingredients you want
The time involved in creating the cake
The amount of detail the shells have
Going with a simple design can save you money and choosing a small cake over a large one will also cut down on the total cost.
More Design Options
Image courtesy of Toni Brancatisano
There's plenty of room for creativity when you're choosing a shell cake. If you don't like the traditional options, why not go with cupcakes? They're easy to serve and distribute at a reception, they may be cheaper than a full-sized cake, and the decorations can be just as detailed and elegant. You can also combine several tiers or levels of cupcakes with one bigger shell cake to serve to the wedding party.
Another option is to use real shells rather than edible shells to decorate your cake. You can buy shells online through a number of retailers, and you'll be able to choose the sizes and types that you want. Using real shells will also save money because your decorator won't have to spend extra time shaping and detailing edible shells.
Don't Over Look Flavor
One helpful point to keep in mind is that buttercream frosting does not make good seashells because it's too creamy and soft for detailed work and figures with sharp edges and ornate lines. If you want seashells on your cake, a decorator will most likely make them with either fondant or gum paste. Both are clay-like sugar pastes that are easy to color, shape, and mold into different designs and figures. Though fondant and gum paste are completely edible, most people don't think they taste as good as buttercream, so make sure to taste-test the frosting on your cake before you hire a baker.
Seashells Help Create a Memorable Wedding Cake
No matter what seashell beach wedding cake design you decide upon, having a special wedding dessert that's decorated with beautiful seashells will make for lovely photographs and long-standing memories. This is your special day, so make sure your cake is everything you want it to be.