Classic Red Roses
Red wedding centerpieces are popular for many reception decorations because of the color's romantic connotations as well as the beauty of red in many wedding palettes. Whatever the season or theme of your wedding, red centerpieces can often add a romantic burst of color to your décor.
Classic rose centerpieces are one of the most popular choices, and there are many size and style variations. Red stands out against a silver vase surrounded by white candlelight. The reflective mirrors below help highlight the arrangement.
Red Coral Displays
Create a stunning display for a tropical wedding by using coral as a main element in your centerpieces. Start with coral as a base and then add red-tinted votive vases around the bottom and top. Dark pink carnations complement the red coral and add some depth and contrast. These can be placed in the center of round tables or as part of a longer runner display on rectangular tables.
Rustic Red Centerpiece Ideas
A rustic wedding doesn't mean you have to skimp on your flowers. Select a low wide bucket and fill with flowers that have a bit of a rustic look. Roses are a classic, but you can use other options like amaryllis or even pincushions create a unique country look.
Pretty Pearls
Elevated votive or tea light candle holders are an elegant choice to arrange as a centerpiece. Pearls or pearl-like beads can fill the bottom half of each holder, and a single rose bloom or candle can be added to the top for a finishing romantic touch. A ribbon can also be added to individual holders.
Red Floral Centerpieces
Roses may be the most popular red flower for wedding centerpieces, but there are many other choices. Large daisies make a statement in a bouquet; brides might choose lilies, daisies, mums, berries, or other red accents to add unique texture to their centerpieces without sacrificing this romantic color. A good mix accented by greenery in a lace-wrapped vase creates a pretty visual.
Short Bouquets
Simple rose cluster bouquets in low vases are a lovely option for easy-to-assemble red wedding centerpieces for wedding tables. Add interest by included varying hues of blooms. On the table, add rose petals, red crystals, or heart confetti to complete the centerpiece.
Red Topiary Centerpiece
A tall red centerpiece turned into a round wedding topiary looks elegant at a wedding. Have a professional florist make yours if you'd like to have live blooms or make your own with silk flowers. Place a few blooms in the stand with greenery and use an actual branch to create a more realistic look to a faux centerpiece.
Vase With Abstract Objects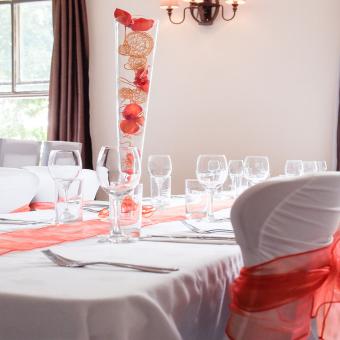 A red and gold centerpiece for a modern or minimalist wedding may incorporate abstract décor items and ornaments. This tall clear vase is filled with red and gold ornaments, ribbons, and flower petals. If you don't have a second wedding color, consider using only red items inside the vase for a monochromatic look to your centerpieces.
Sweetly Simple
The simplest of centerpieces can also be the most romantic. A few rose blooms and sprigs of baby's breath can be layered into a low bowl for a gentle yet attractive centerpiece that is easy to do yourself. You can put water in for a floating option or leave them in a clear bowl without water.
Red Apple Fall Centerpieces
Bold red apples arranged in a bouquet can be a fun option for fall wedding centerpieces. While faux apples will be easiest to arrange in a tall bouquet, real apples can easily be piled into a bowl or added to a floral bouquet for a burst of crunchy red. Placing the bouquet in a gold vase is a way to create a luxury look without sacrificing the fall design.
Dark Red Florals
Just because you select red as your wedding color doesn't mean you're limited to a cherry or fire engine red hue. Add depth to your tables by using deep, dark shades of red flowers in a vase surrounded by the more customary bright red petals and candles. The burgundy blooms are set off perfectly by the brighter accents.
Simple Centerpieces
Brides who want to use candles but don't want votives or pillar candles may find round red candles an appropriate option. Add them to a small tray and decorate around it. Surround the candles with crystals, faux ice, river rocks, beads, or similar items to complete the centerpiece. If you have a theme, like butterflies, you can add a small embellishment as an accent.
Tall Roses
Tall centerpieces are a great way to add dimension to your reception decorations, particularly if your celebration will be held in a location with tall, open architecture. A close bouquet of red roses atop rich black or white feathers is a chic design that still has the classic appeal of traditional roses.
Sweet Holiday Centerpieces
For a Christmas wedding, candy canes are a sweet touch to add to your centerpiece. Fill a clear dish one third full of red beads, crystals, or berries, and arrange the candy canes to curve over the lip of the dish. Tie a ribbon around the top of the dish for an elegant finish.
Head Table Decorations
The head table at a wedding reception is typically a longer, more prominent table and needs a larger centerpiece to be properly decorated. For a holiday event, a long, multi-candle holder with pine boughs, poinsettias, and red candles is a striking option, and similar designs can be used throughout the year with appropriate seasonal flowers and greenery.
Head table decorations and centerpieces are just as important as those on your guest table. Make sure you match all the table décor for a cohesive design at the reception.