Printable Wedding Certificates for Fun
A printed wedding certificate is not a valid or legal marriage license, but making printable certificates can be a fun way to show people how you appreciate them. Download one or more of the original certificates below to thank your family, bridal party members, guests, and those who played a special role in your relationship.
Free Printable Certificates
You can download any of the printable certificates provided here simply by clicking the image or caption. Each document will open as an editable PDF document in Adobe Reader that you can customize, save, and print.
Fake and Fun Marriage Certificate Template
Download and print this fake free editable marriage certificate. It's a festive option to display on the guest book table. Add it to a shadowbox display after the wedding is over.
Family Appreciation Certificate
Give this to family members who have offered love, support, labor, and/or financial help throughout the wedding planning process.
Certificate of Attendance for Guests
Guests will get a kick out of receiving their own certificate in lieu of a traditional favor tag.
Bridal Party Certificate
Hand out these lovely certificates to all the best bridesmaids and groomsmen who stood up for you on your wedding day and always.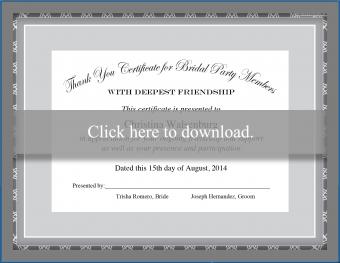 Gratitude Certificate for Special Helpers
Share your thanks with someone who went above and beyond to make your day memorable.
More Ways to Use Certificates
Use just-for-fun certificates throughout your wedding activities. For example, you can print a fake marriage license to use for a variety of purposes.
Place one into a photograph frame and give to the bride and groom.
Use it on a display table at an engagement party or bridal shower.
Use it as an opening page of a wedding scrapbook or photo album.

Laminate them and use as placemats at your wedding reception dinner.
When to Hand Out Certificates
If you're giving out one of the certificates, consider the most appropriate time to do so:
Family appreciation - The best time to hand out a certificate to close family members is during the rehearsal dinner. Only close family will be in attendance, so it makes sense to honor them during this time.
Attendance - Use the guest attendance certificate in lieu of a favor tag. You can also mail them as part of your wedding thank you notes.
Bridal party - Ask bridesmaids and groomsmen to stand up with you in the wedding by using this certificate. It can also be added to the attendant gifts or wedding party baskets you hand out.
Gratitude - When someone goes out of their way to make your day (or your planning) special, send them this special certificate to show how much their gesture meant to you.
If you're giving out certificates to everyone at a party, shower, or dinner, then you can frame or laminate them. However, if you're giving them privately or as part of a gift, you can leave them unframed since they will be protected on the way home. Roll them up and tie a ribbon around them if they replace favor tags or tri-fold them to put into a thank you card.
Printing Considerations
Use the templates discussed above to create a special certificate for a wedding day. Remember to print using quality paper and appropriate printer settings for best results.