Indian Bridal Attire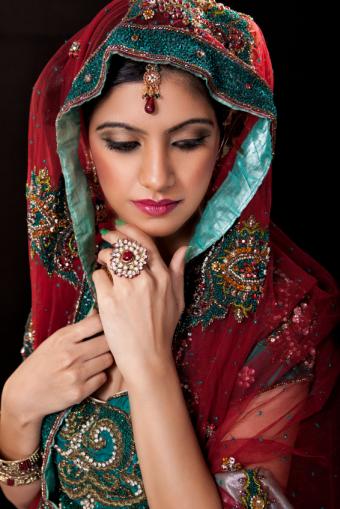 Pictures of traditional Indian wedding dresses reflect an elaborate, elegant and unique style. There are many variations of bridal wear for an Indian woman to consider for her wedding day.
Bridal Sari
A sari is a long piece of cloth that is wrapped around the body and pinned or tucked into intricate folds. It is often done with elaborate and handcrafted designs. Red is the traditional color of Indian brides and many saris incorporate the color red as well as colors such as green and gold.
Bright and Bold Colors
This traditional wedding dress is done in a bright purple color. The ensemble consists of a headcovering as well as a full, elaborate dress. Wedding guests and members of the wedding party also wear bright colors.
Luxurious and Rich Fabrics
Indian wedding dresses are made from the finest fabrics. Silk is a popular choice, as well as brocade. In addition to handcrafted embroidery, most dresses come with matching accessories to complete the look.
Eastern Indian Fashion
Many Indian brides decide to keep with tradition but opt for a color such as peach or pink instead of red for their wedding dress. This ensemble is worn by an Eastern Indian bride and is soft and elegant.
Gaghra Choli
The Gaghra Choli is a type of outfit that includes a long, flowing skirt and a short blouse as well as a scarf draped across the chest. It is a part of the wedding outfit worn under the sari, and it covers the body except for the midriff.
Shalwar Chameez
An Indian bride may wear a Shalwar Chameez. This ensemble consists of a long tunic with matching pants that includes a matching long scarf that can worn around the neck or over the bride's head.
Traditional Red Wedding Dress
Red symbolizes good luck and happiness and is often worn by Indian brides. This dress is a traditional style that is commonly worn for weddings.
All In The Details
The fabric of an Indian bride's clothing is elaborately decorated with beading and detailed designs. It is common to see plenty of sequins, metallic gold thread, beads and rhinestones embellished on a bridal dress.
Traditional gowns are a lovely option for brides, whether they are Indian, Mexican or Scottish. Pick out one that honors your culture and you're sure to be a beautiful bride.