A peacock wedding theme begins with a vibrant wedding color palette and includes lavish elements that together create a mod, chic wedding for the 21st century. Bring everything together from the attire to the cake using your themed elements.
Peacock Wedding Color Palette
The obvious color scheme with a peacock wedding theme is blue, green, and gold. However, you don't have to stick with the basics. Instead, consider:
Blues ranging from turquoise to sapphire to navy
Greens from bright emerald to grass green
Pops of bright colors like pink, coral, purple, and orange as accents
Gold and black accents
The entire wedding will reflect your particular palette. The bridesmaid dresses and groomsmen's vests, ties, and possibly shirts, should all be selected to match your particular colors and accents.
Bold Accessories and Attire
The bridal party will wear attire that suits the season and the particular palette chosen while groomsmen should at least have a matching tie or vest. Other ways to incorporate the peacock into your attire include:
The bride might want to select a gown with a colored ribbon in a peacock blue or utilize a broach on a simple a-line silk gown.
Similarly, the bridesmaids might wear a bold gown but have feathers added as an accessory.
All the female bridal party members might want to add a hair clip with a feather and/or earrings with feathers.
Groomsmen, ushers, and the groom might want to buy fun socks featuring the bird or feather pattern.
Brides may want to select a bold fantasy peacock makeup palette that utilizes the bold blues, greens, and golds of peacock feathers.
Locations for Peacock Weddings
Select your wedding location based on your theme idea.
Destination weddings - A peacock theme is the perfect supplement to a destination wedding in Sri Lanka, India, Java or Myanmar, the native areas of the peacock, according to National Geographic.
Outdoor venues - Peacock themes are also perfect in zoos, botanical gardens or other venues outside.
Indoor reception halls - If you choose a wedding reception hall indoors with peacock décor or with blue, green, or gold colors, choosing the peacock theme makes decorating for the wedding easy.
While renting an actual peacock to be brought to your location might sound like a memorable wedding extravagance, it is best to check with local animal authorities before attempting to do so. It may not be permitted at the location. Consider having photos done as a couple with a peacock in the background at a zoo rather than bringing the peacock to you. Otherwise, make sure you have an animal handler and all permits and waivers accounted for prior to the wedding day.
Invitations and Stationary
Utilize your invitations and other wedding stationary, like RSVPs and save-the-dates, to let guests know what to expect when they attend your wedding. The stationary may feature an actual peacock, the features, or the colors you've selected.
Ceremony Flower Arrangements and Bouquets
The bride and bridesmaid bouquets, plus ceremony altar arrangements, can feature peacock feathers in them. The feathers can be added in a variety of ways:
Mixed in with other flowers as part of the general bridal bouquet design
Placed at the back of a large altar or column flower arrangement
Centered in a bouquet of white flowers
Placed around the bottom of any bouquet as an outline
Added to a bouquet with other bright blooms
Put into a bouquet of just baby's breath or greenery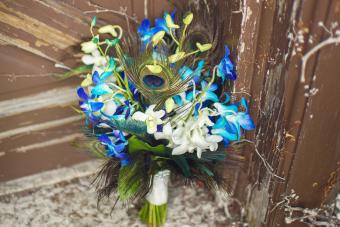 Peacock Wedding Decorations for Receptions
The decorations you select for your reception are what will really bring home your theme. From elaborate table settings to simple DIY options, you can make the most of the tables and the space.
Floral Peacock Figures
A talented wedding florist can create peacock shaped arrangements using flowers. These can be placed around the wedding ceremony on columns and then moved to the reception location. Use them as centerpieces and place throughout the area.
Table and Centerpiece Ideas
Modern centerpieces are often tall and bold. This tablescape features tall white vases filled with fluffy white peacock feathers. The feathers come out of a traditional rose bouquet in the vase. This is an elegant option that allows you to bring in additional colors in the floral part of the centerpiece.
DIY Peacock Centerpiece Idea
If you need cheap peacock wedding decorations, the centerpiece is one spot where you can save some money. Put a single rose stem (live or faux) in a narrow vase. Add a single peacock feather. Spread additional petals around the base of the vase.
Peacock Wedding Cake Designs
Get creative with the wedding cake. Just a few ideas include:
Shaped cake that looks like a peacock
Round cake featuring feathers sticking out of the top layer and/or each layer
Feathers as the border around each layer
Cake with feather design on each layer in bright accent colors
Hand-painted feather design
Peacock topper out of fondant with feathers flowing down each tier
No matter what design you select, you'll want to be sure you decorate the cake table with feathers and use a tablecloth that matches your wedding colors.
Put Together Your Peacock Theme
The vibrant palette and exotic peacock feathers work together to create a theme you can utilize from the ceremony through the reception. In fact, it could even work as a bridal shower theme, too. The availability of feathers and figures make decorating simple, allowing you plenty of room for those luxurious extras. Put your peacock theme together with ease!