Make Your Own Wedding Invitation
Wedding invitations are easy to make on your own by following a simple tutorial. From country themes to sophisticated ones, making your own invitations allows you the freedom to create your ideal wedding invitation.
Step 1
First, gather your materials. You will need:
Cardstock
Patterned paper (any design)
Adhesive
Embellishments
Paper cutter
Small inkpad in coordinating color
Computer and printer
Step 2
Use the paper cutter to cut cardstock into two sizes: 5x8 inches and 4x7 inches. Cut the patterned paper into a 4.75x7.75 inch sheet. They will stack as shown in the bottom part of the photo to the left.
Step 3
Open a word processing program on your computer. Set paper size to 4x7 inches. Type your invitation wording; select a font, font size and color. Print a test sheet off to see how it looks.
Step 4
Take your small inkpad and lightly brush along the sides of the 4x7 inch part of the invitation. This helps create a border and separate the top sheet from the rest of the invitation. Be sure not to smudge the ink with your hand or wrist.
Step 5
Glue all three parts of the invitation together as shown in Step 2. Carefully line the papers so the borders are even on all four sides.
Step 6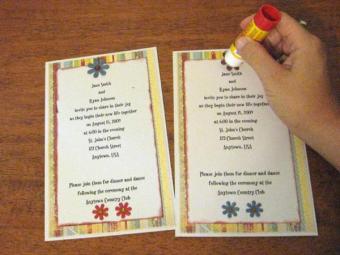 Finally, add any embellishments you wish to use, such as bows, rhinestones, stickers, flowers or even metallic charms. Placement can vary, depending on the embellishment you choose. Corners, along the bottom, along the top or even on the sides are popular places to put embellishments.
More Ideas to Making Invitations
If you choose to make your own invitation invitations you do not need to worry about making every invitation match the previous invite. A little variety makes each invite unique. The invitations you make can be casual, as shown in this tutorial, or as elegant as you choose. Pick a patterned paper that matches your wedding theme.
For more creative ideas, view our gallery of creative wedding wishes.