Expert Tips on Planning a Last-Minute Wedding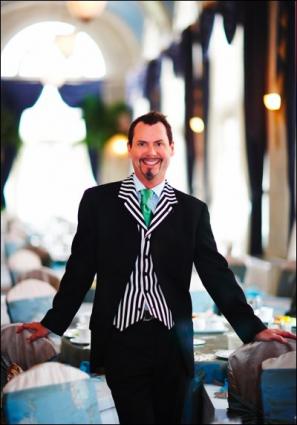 Who can blame a couple when they want to put together a last-minute wedding? Sometimes when the mood to say "I do" strikes, a couple can't fathom waiting too much longer before they're married. That doesn't mean they want to forego the wedding, though! Putting together a last-minute wedding can be overwhelming, so LoveToKnow Weddings spoke with Steve Kemble, "America's Sassiest Lifestyle Guru" and star of shows such as Whose Wedding Is It Anyway, Married Away, Platinum Weddings, Married by the In-Laws, and Extreme Makeover Wedding Edition, to acquire some tips.
Last-Minute Weddings: Where to Start
LTK: What is the shortest amount of time you've ever been given to plan a wedding and how did you handle it?
Steve Kemble: The shortest amount of time I was given to plan a wedding was one week. The couple called me on a Monday, wanted to get married on a Saturday and we operated at a feverish pace for five straight days!
If I say so myself, the smartest thing I did was first ask them if the ceremony and reception for their 75 guests could take place at either their home, a relative's home, or friend's house. Additionally, we would need full access to the selected property for the next five days. By having the wedding at someone's home, it took a great portion of the logistical planning as it relates to a venue out of the equation.
Best Venues
LTK: What have you found the best types of venues to be for last minute weddings and why?
Steve Kemble: First of all, I recommend to the couple that the chances of finding a venue at the last minute are better if they will consider getting married on a Monday, Tuesday, Wednesday, or Sunday. It helps even more if they can be somewhat flexible on the time of day they can get married. If they can get married on one of these days, I always suggest a restaurant.
Consider a restaurant that has an outdoor courtyard that can accommodate the ceremony and a 'party room' where the reception or seated dinner can follow. A restaurant has linen, china, beverages, lighting, restrooms, and more. If this is truly last minute you want to consider a venue that has most of all you will need to make your day special. Additionally, consider using the home of a friend or relative. And I would be remiss if I did not mention that if they have the budget, then fly to Las Vegas where last minute weddings a la Britney Spears are all the rage!
Budget
LTK: Do you have any tips for a brides and grooms on a tight budget with a short time to plan?
Steve Kemble: Establish priorities and focus on the elements of your wedding that are most special to you! For example, if the ceremony setting is the most important aspect of the wedding for both of you, then find the most incredible place to hold your wedding ceremony. If live music is something you both love, then search for the best live band within your budget you can find. Discussing and establishing priorities will enable to you to focus are the things that are most important to both of you.
Choosing Essentials
LTK: Any tips for frazzled brides and grooms when it comes to choosing flowers, decorations, etc.?
Steve Kemble: Since time is of the essence, the greatest tip I can give a couple planning within a very short window of time is to come to the vendors as prepared as possible. By this I mean come in with magazines showing flowers you like, cakes you like and more! Know the types of food and beverage you like and things you absolutely don't want at your wedding!
Additionally, come to the vendors with a budget in mind. Within a short window of time, it is not the best use of the vendors time to design a $150.00 bridal bouquet, when all you really wanted to spend on the bouquet was $50.00. Be honest and open regarding your budget with your vendors so they can spend yours and their valuable time designing a creating fabulousness within the desired amount you want to spend!
Don't Forget (or Procrastinate)!
Vows
LTK: What are things that brides and grooms may tend to overlook until the very last minute, leaving them scrambling on the day of the wedding?Steve Kemble: Some of the items I find that couples tend to overlook include writing their vows. Many couples today want to write their own vows, yet they don't realize how much time it actually takes to put their thoughts on paper so they can be presented in such a manner that is appropriate for a wedding ceremony.
I cannot tell you the number of couples that end up doing this the night before, and after the ceremony they think about all the things they wish they had said. I suggest they start the process three months in advance, complete the task and mark it off the list.
Cash and Emergency Items
Steve Kemble: Additionally, couples tend to forget about all the cash they will need on their special day for those they wish to tip in paper money. I always suggest the bride and groom prepare an emergency kit with items such as extra cuff links, buttons, a needle and thread, deodorant, Kleenex, band-aids, bobby pins, aspirin, duct tape (for fixing last minute hem issues) and more!
Transportation
Steve Kemble: I also encourage the couples to think about transportation, it can be a mundane element of the wedding, so it is often overlooked.
Couples need to think about how their guests will get to the wedding (especially if they are having a destination wedding), how the wedding party will get to the ceremony site, and most importantly how each the bride and groom will get to the ceremony, how they together will get to the reception, and then how they'll get to the location where they will spend their honeymoon night. The reason it is important to think about transportation is because it is an aspect of the wedding that is not always available at a moment's notice.
About Steve Kemble
LTK: How did you get started in the wedding planning business?
Steve Kemble: I have been planning parties for 25 years, so when my sister was getting married I offered to help her with her wedding. I feel in love with process and have now been producing weddings for over 15 years. I have thoroughly enjoyed every moment of it!
LTK: What would you consider the most creative ceremony you've ever planned?
Steve Kemble: This wedding ceremony took place on the stage of the Grand Ole Opry in Nashville, Tennessee. They wanted to have the wedding in Nashville and I thought, "Well, if you are going to do it in Nashville, we simply must do it front and center on the stage of the historic Opry."
Since music is what the Grand Old Opry is all about, I brought in three soloists and a 75 person gospel choir to sing throughout the ceremony. Additionally, I had a 16 foot x 16 foot custom designed cross made completely of boxwood shrubbery suspended above the couple on the stage. It was stunning! Custom-made stained glass windows flanked the back of the stage, and all the elements were beautifully accented to perfection with light! When the bride and groom, the entire 16 person bridal party, the three soloists, and the 75 person gospel choir on risers were all on the stage together, it rivaled any Broadway production on the stage today!
A Summary
When planning a last-minute wedding, decide as a couple what is most important to you. Get those details together first, along with a venue. Ideally, you will have access to a friend or relative's house for your wedding ceremony. Also, set a budget you can stick to and don't procrastinate on those vows and the transportation!