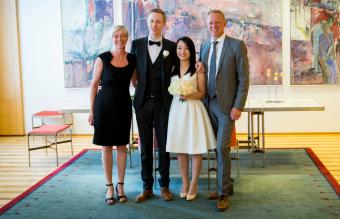 Getting married by a Justice of the Peace (JP) is an excellent alternative to a religious ceremony. JPs offer civil marriage ceremonies which are ideal for secular, interfaith, and same sex couples. Many JPs officiate outside the courts so whether you are eloping or getting married with all the fanfare, if you are looking for a nonreligious ceremony with all the authority of the law, this may be for you.
How to Hire a Justice of the Peace
Hiring a Justice of the Peace is a combination between getting a legal document at the Clerk's Office and hiring a wedding vendor of any kind. You will follow steps similar to this if you want to get married by a Justice of Peace:
Decide whether you want to get married at the courthouse or if you would like the JP to marry you at the location of your choice.
Decide how much personalization you want for the ceremony and if you have special requests.
Contact the corresponding office (as per your state's regulations) and request information or a list of available Justices of the Peace that officiate marriage ceremonies. Note that some offices may ask you to visit in person to request information.
While obtaining information regarding JPs in your area, consider asking about the cost. Some courthouses will have a set fee for officiating a simple ceremony on the premises. Other's will relay you directly to the JPs.
Contact, or make an appointment at the courthouse, to interview the Justices of Peace you are interested in.
Interview the Justices of the Peace. Make sure to ask about costs of officiating within the courthouse and at a venue, and also if he or she is willing to personalize the ceremony to your taste, and the cost for that as well.
Chose a JP that suits your preferences and needs and make sure to inform the other interviewees you have chosen another person.
Get the marriage license and pay the JP's fee.
Personalize the ceremony with the JP and confirm additional services, or alternatively, confirm appointment at the courthouse.
Get married!
Communication Is Everything
As with any service, communicating your needs and preferences is vital. If you are looking for an in-and-out kind of ceremony, let him or her know. If you are hoping to exchange personal vows and include a song or reading, then by all means discuss this with the JP. This is why interviewing a couple of JP's before choosing the one is always a good idea.
Cost of Hiring a JP to Officiate
Part of the allure of hiring a Justice of the Peace to marry you is the potential savings. While it is true you can simply pay the state appointed fee to get married at the court, many JPs also schedule ceremonies at locations chosen by the couple. These additional services will have a cost, and each JP can decide how much.
If you are planning to get married at the court, the cost might fluctuate from $25 to $100 in addition to the cost of the marriage license. The ceremony might be succinct and standard, and the location limited, but your marriage will be legally recognized.
If you intend to have the JP cater to your preferences in terms of where and when to officiate, or even personalize the ceremony for you, the cost might be similar to what you would pay wedding officiants in general, typically from $100 up to $500.
Is a Wedding Officiated by a JP Legal?
Yes, by all means. Like all other officiants, religious or secular, the Justice of the Peace will have to file the marriage at the Vital Statistics Department after the ceremony, and that's what completes the process. What matters is that you are being married by someone qualified to do so according to your state's regulations.
Making Sure It's Legal
To cover all legal bases, make sure you comply with all the legal requirements for marriage in your state and that you chose a JP legally recognized as such. It is ideal to get your JP recommendations from an authorized source, such as the Justice Court, County Court, or the Secretary of State (depending on your state). If you find a recommendation online, such as one from FindaJP.com, it is still recommended to contact the local authorities to confirm the person's vested authority and continued good standing.
Where to Find a Justice of the Peace
Some states have eliminated the Justice of the Peace position. Some states still have Justices of the Peace, but they are not authorized to officiate marriages. The following states are some that do have JPs authorized to perform marriages:
If your state is not listed, but you are interested in a civil ceremony contact your local County Clerk, Vital Statistics, or Department of Health offices for more information. Most likely a county clerk or court officer will be able to officiate your civil ceremony in the same manner, and under similar legal authority, as that of a Justice of the Peace.
Tips for Planning the Ceremony
If you found a JP who is willing to personalize the ceremony with you, you may want to take a look at the typical order of service and maybe even draw inspiration from same sex wedding ceremonies. Ask your JP for his or her suggestions and work together to create a civil ceremony that truly reflects who you are and what your hopes are for your marriage.
Understanding What a Justice of the Peace Is
Although the term Justice of the Peace is freely used to refer to non-religious officiants (such as former judges, notary publics, county clerks and non denominational ministers among others) the term actually refers to a legal position in the court system of some states. In the strict meaning of the term, a Justice of the Peace is a court judge with lessened legal privileges. These officials are able to settle minor disputes in small claims court cases and often handle oaths, depositions, and affirmations as well as dealing with misdemeanors. Most importantly, Justices of the Peace also have the authority to perform wedding ceremonies and administer oaths to marrying couples.
Celebrate Your Love Your Way
Whether you chose to get married at the courthouse or have a secular ceremony in a location of your choice, a JP can officiate a meaningful civil ceremony for you. Consider hiring a Justice of the Peace for your wedding ceremony and enjoy the legality and simplicity of a getting married by a JP.