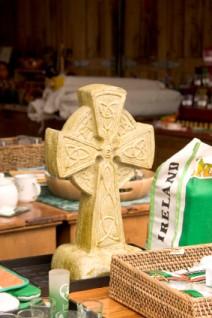 Ideas for Irish wedding gifts are different than typical wedding presents. These ideas include gifts that celebrate the couple's Irish heritage, especially if they're having a traditional Irish wedding ceremony.
Traditional Irish Wedding Gift Ideas
Veer off the wedding gift registry if you know the couple has a strong Irish heritage or are having a Celtic wedding. Instead, find a gift that reflects their Celtic origins and celebrates their union as a couple.
Traditional wedding gift ideas have usually involved silver, china, crystal, and other items the couple may need to start their home together. Just because you are looking for an Irish wedding gift does not mean you have to stray too far off the traditional path. Ideas for these gifts may include:
Claddagh Make Up Bell: Pick up a wedding bell that has the Claddagh symbol. Tradition holds that the bride or groom should ring it to signal an end to a disagreement.
Horseshoe Items: Brides often carry horseshoes down the aisle, but they also can be brought into the home for good luck. Look for wall hangings, doorknockers, or throws with the horseshoe ends pointed upwards, so luck does not "run out."
Religious Gifts: Give the religious couple a gift of a stunning silver Irish cross with Celtic graphics, like the love knot, on it. Decorative plates may have a traditional blessing and be perfect for display in a new home.
Items like candlesticks, wine glasses, picture frames, and decorative bowls may all have Claddagh, Celtic knots, horseshoes, shamrocks, or other Irish symbols on them, making them perfect Irish wedding gift ideas.
Irish Clan Crests or Coats of Arms
Pride in one's family heritage stretches across cultural boundaries, and those of Irish heritage are no exception. Instead of buying the usual kitchenware or registry gift, pick up a personalized wedding gift in the form of a plaque bearing the couple's coat of arms or clan crest.
Any of the following family crests or coats of arms would look lovely displayed in the home of newlyweds:
Framed Double Family Crest Gift Set: The set includes a framed plaque with bride and groom's family crests, as well as scrolls containing each sides family history. The plaque can be personalized with the wedding date.
Double Family Armorial History: Not only is the earliest coat of arms displayed for both last names, a history of the family is also included. From the ancient origin to noteworthy name bearers in the sixteenth and seventeenth century to the first settlers in North America, this will be cherished by the couple.
Coat of Arms Ornament: Jumpstart the holiday decorations for the couple by giving them a hand-carved coat of arms ornament.
Wedding Gifts of Irish Origin
Even if the couple is not getting married in Ireland, you can give them a gift from an Irish company. As with any international order, check shipping charges, shipping times, and exchange rates before purchasing. You can purchase directly from an Irish company online, by phone, or catalog; you might also look for American retailers of the items to avoid international shipping fees.
Belleek
Sold online, in fine retail stores, and even on shopping channel QVC, Belleek pottery and giftware offers a wide selection of items perfect for wedding gift giving. Products range from lamps, clocks, crystal, silverware, and more. Use the website's search feature to find appropriate items for bridal and engagement occasions.
This company was started after John Caldwell Bloomfield found raw materials in 1849 on his inherited estate near the town of Belleek. Although established in 1857, the company is still so popular the original building has become one of Ireland's top tourist attractions.
Newbridge Silverware
Newbridge Silverware came out of an attempt to build up industry in the village of Newbridge in Kildare County, Ireland. Started in 1935, the company lasted through both World Wars and expanded into the jewelry and giftware lines in the 1990s, as well as adding contemporary design lines. You can find a nice selection of Newbridge Silverware items, including giftware and plated cutlery, or Newbridge Home items, which consist of kitchenware, cookware, and stainless steel cutlery, perfect for Irish gift giving.
---
You don't need a leprechaun's help to find Irish gift ideas. From simple symbolism to authentic Irish items, a gift that celebrates the couple's cultural heritage will be appreciated long after the wedding day.