How to Make a Topiary for a Wedding Reception
Learning how to make a topiary for a wedding reception can end up saving you a lot of money on your reception centerpieces or other floral arrangements. Although a silk arrangement is the easiest to do, you can also make a live topiary with a bit of time, patience, and a green thumb. Either way, this is a great DIY wedding flower project to try.
How to Make a Topiary for a Wedding Reception Using Faux Flowers
Making a silk topiary for your wedding reception centerpieces allows you to experiment with various arrangements, colors, and flowers before choosing a final design. You can finish them well before the wedding without any further worries about pruning, watering, or feeding live plants. Artificial topiaries should be covered or stored until use so they do not collect dust. Pack them so the base does not move, but loosely around the frame so the flowers are not smashed.
Flower Topiary Supplies
You'll need the following supplies to make a silk flower topiary:
Green Styrofoam shape (heart, star, ball), available at any craft store
Small pot
Silk flowers (hydrangeas, rose buds, lilacs, etc.)
Artificial moss
Pearl or rhinestone hat pins
More rhinestones or sequins for decoration
Green wooden dowel, about 12 inches long
Sand
Scissors/wire cutters
Glue gun
Drill with drill bit the same diameter as the dowel
Accent ribbons, paint, or other decorations for the pot
What to Do
To make the flower topiary, follow these steps:
Decorate your pot or vase if you desire. Wait for any paint to finish drying or glue to harden before moving on to the next step.
Affix the wooden dowel to the bottom of the pot using glue. Allow the glue to cool completely. Fill the pot most of the way with sand to help weigh it down and hold the dowel in place.
Line the top of the pot with artificial moss to cover the sand.
Cut the flowers blooms from their stems. Stick a hat pin through each bloom so the sharp part of the pin comes out the back of the flower. The number of flowers you need to make will depend on the size of your topiary, but it's a good plan to get a bunch ready at once.
Place the foam shape onto the wooden dowel. Depending on whether it is designed for use as a topiary, you may need to drill a hole in the bottom of the foam. Use hot glue to make sure the topiary form is firmly attached.
Place a dab of hot glue on the base of a flower and stick the pin into the topiary form. Repeat with each flower until the entire topiary is covered.
For more sparkle, add rhinestone or sequin decorations to give it some texture and pizazz.
Add a bow or leaves to the dowel as a finishing touch.
Using Fresh Flowers
You can also make this type of topiary with fresh blooms. Keep these tips in mind for success:
You'll need to make the arrangement the day of the wedding and omit the hot glue from the assembly instructions.
Keep the finished topiary in a cool, moist environment until you're ready to display it.
Choose blossoms that are hardy and can handle being out of water for a while. HGTV reports that peonies, dahlias, and carnations are all good choices.
Consider using a florist foam topiary form that you can soak in water before assembling the topiary. This can extend the life of the blooms.
You can also spray the finished topiary with a moisture-sealing product designed for flowers, such as Crowning Glory.
Making Live Topiaries
Because live topiaries require a lot of time to fully cover their frames (up to six months), they are not usually a typical "do-it-yourself" project for most couples. However, if your thumb is a little green, you may feel like giving it a shot. These handy instructions will help you get started making your own live topiary.
More Wedding Topiary Variations to Consider
If you want something a little different, there are a lot of ways to vary the standard topiary design. Try these fun options.
Different Shapes, Sizes, and Colors
You can make a topiary in almost any shape. All you need is the basic foam form, available at your craft store. For a romantic touch, consider a heart shape. You can make the floral part of the topiary any shade you want, from a vibrant red for a Valentine's Day wedding to a sweet white for a traditional event. You can even do one in each color for a rainbow wedding decoration. Vary the size according to how you plan to use it, with smaller topiaries for smaller tables and larger options to sit on the floor near the entrance to your reception venue.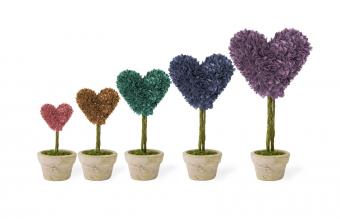 Tiny Topiaries for Favors
Tiny topiaries make adorable favors, and the pot can even double as a place card if you write guests' names on them. These are just a miniature version of the regular topiary, but you'll need mini flower pots, tiny dowels, and small blooms too. Make them ahead of time so you don't have to stress on the day of the wedding. They offer a sweet way to include guests in the theme of a garden wedding or simply bring a touch of nature to your tables.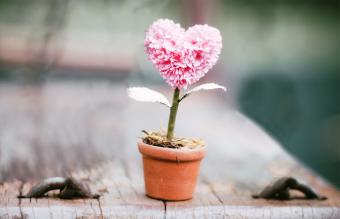 Neutral Green Topiary
While topiaries are a great way to show off colored flowers, you can also go for a classy, neutral look with an all-green version. These look great as table decorations. Instead of using blooms to cover the topiary form, use leaves instead. You'll need to substitute green floral pins instead of rhinestones. Decorate the pot with a romantic or lacy design and tie a ribbon on the stem for added color. If you want to keep everything neutral, use a white or ivory ribbon or a piece of burlap fabric.
Get Creative With Topiaries for Your Wedding
Topiaries are a modern centerpiece option for your wedding reception. Save money and feel proud of the fact that you learned how to make a topiary for a wedding reception yourself. Whether you make miniature topiaries as your wedding reception favors or giant versions to welcome guests to your venue, this is a wonderful way to get creative with your wedding reception decor.