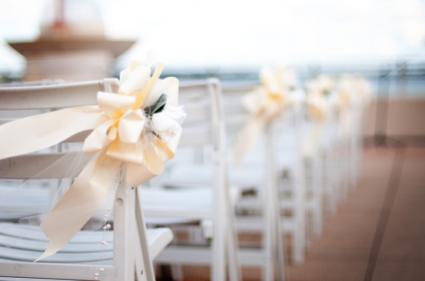 Learning how to make wedding bows can be as simple or complex as you want it to be. When preparing for a wedding, give yourself as much time to practice-don't leave this until the last minute. If you plan to create several matching bows for pews or the backs of chair covers, it's best to buy a bow making tool, such as a Bowdabra or EZ Bow Maker. You can find them online or at discount stores such as WalMart for between ten and fifteen dollars each. If you have time, buy two or three kinds of bow makers to find the one that works best for you, and buy more than one so that friends can help.
Plan Ahead to Buy the Right Type and Amount of Ribbon
Types of Ribbon for Wedding Bows
To make wedding bows that look nice from any angle, choose sheer ribbon or tulle, or any ribbon, such as grosgrain, that looks the same on both sides. Satin ribbon is pretty and elegant, but it doesn't look as nice if you make a mistake and the matte side faces outward instead of the shiny side.For an informal or beach wedding, rope or twine may be a good choice and will be relatively inexpensive and easy to work with. Keep these bows simple.
Besides matching your theme's colors, you should also match the texture of your bows to other fabrics used in your gown or reception decor. Grosgrain ribbons are too informal for a night-time wedding when your gown is satin and lace, and satin ribbons may look out of place if your tablecloths are cotton or gingham checked. Likewise, a simple wedding requires more simplicity in the bows, though simple bows can also be beautiful in a formal setting. When in doubt, keep your ribbons more dressy and your bow structure more simple.
Size of the Bows
When planning large, decorative bows, make a sample bow first and look at it where it will be placed during your wedding or reception. You don't want pew bows that look cheap and small when placed on each side of the aisle, nor do you want large centerpiece bows to overwhelm your tables.
Bows for hairpieces and dresses should usually be smallish and understated, though the bride's bouquet bow can be larger. Let the beauty of the bride and her attendants speak for itself.
How to Make Wedding Bows for Your Special Day
Whether you use a bow making tool or rely on your own hands and eyes, make one generous bow, then buy at least one length of extra ribbon. A few extra inches on bow loops here and there can add up, and you don't want to have to run around to several stores to try and match ribbon when your wedding is a week, or a day, away.
To make wedding bows, cut all the pieces of ribbon at one time to match in size based on your sample bow. Using tailor's chalk, which rubs off and is available at most fabric stores, mark each length of streamer and loop ahead of time, especially if you are not using a bow making tool.
Leaving enough ribbon at one end to dangle a streamer the length that you have planned, place the top of that length into your bow maker or pinch it between your fingers firmly and loop the length of one loop, pinching it between your fingers at the mark on top of the ribbon already there. Do this in the other direction, and continue until all of your loops are formed and your second end is dangling at the length you want it to be. Be generous with the ribbon to make wedding bows that fit the occasion.
Hopefully you have recruited a helper or two to make your wedding bows. If you have a helper, ask them to tie about a 12-inch length of thin floral wire around the center of your bow. If not, you may need to use a straight pin to keep your bow in place while you wrap the wire around if you do not have a bow making tool.
Twist and tie the wire securely, then cut the ends off or tuck them in. If you plan on adding flowers or other decorations, leave the ends of the flowers intact to fasten these to your bows. If you plan to tie the bows to chairs or pews, you may want to use a longer length of wire and leave it intact for fastening. You may also fasten another length of ribbon to the wire that will serve to tie the bow to its mount. Use twine or narrow ribbon to tie bows that will be worn; you don't want wires poking you or your attendants!
Arrange and fluff your wedding bow loops. If your fabric is full-bodied, you may not need an additional step. However, if your bows have unsightly, unfinished gaps where they are tied, cut a short length of matching ribbon to loop over the center of the front of the bow and secure it in back with a safety pin or a small spot of glue.
Knowing how to make wedding bows can stretch your wedding budget and add drama to your decor. Be creative, and make your wedding bows well in advance of your wedding so that you can enjoy your special day.