Knowing how you want to decorate a barn for a wedding saves time and money. A country or western wedding theme can become a beautiful fantasy setting when you follow a few tips.
Decorate for a Beautiful Barn Wedding
A barn is not as easy to decorate as a reception hall or garden that may frequently host weddings. With careful planning and coordination, however, a barn can go from rustically simple to romantically gorgeous.
Outdoor Decorations
The wedding location is photographed dozens of times on the big day, and outdoor barn decorations can make it a welcoming and photogenic setting. Options for exterior accents include:
Groomed lawns or fields.
Open windows for fresh air and a glimpse inside.
Stacked hay bales or corn stalks along the pathway or near the entrance.
Tulle, ribbon, or streamers draped on outside ledges.
Wildflowers growing around the barn or in large bouquets nearby.
Clean, groomed animals grazing nearby.
Lighting
A barn can be dark and dreary if not properly lit, but great lighting can turn it into a romantic venue perfect for a wedding.
Place candles (if permitted, or use electric or battery-operated candles) along window ledges, on tables, and in wall sconces.
Wrap twinkle lights or rope lights along beams or pillars.
Hang lanterns from the rafters or place them on tables.
Opt for tall torches along the edges of the barn.
Flowers
Flowers are a staple wedding decoration, and flower accents can brighten any barn.
Choose large blooms such as sunflowers for a bright, dramatic statement.
Include farm-familiar plants such as grains, fresh fruit, autumn leaves, vegetables, pumpkins, and hay for rustic charm.
Bring in potted plants and trees to add greenery.
Use galvanized pails or buckets, canning jars, or watering cans as vases.
Table Decorations
How tables are decorated can add color, sophistication, and flair to barn wedding decorations.
Choose bright colors to offset the barn's darker woods and shadows.
Use quilts, Native American blankets, or bandannas for vintage table decorations.
Incorporate western wedding favors into the table décor.
Opt for picnic tables or other casual arrangements to coordinate with the barn.
Walls
The walls of most wedding venues are tastefully colored and accented with artwork, but barn walls are often large, bare spaces. To decorate the walls:
Hang quilts, Mexican blankets, Native American blankets, and other fabrics as artwork
Clean tack pieces such as saddles and harnesses to hang as integrated accents
Drape tulle, ribbons, and greenery along beams, pillars, and ledges
Hang wagon wheels and other themed pieces along the walls or lean them against walls to draw attention away from bare spots
Themed Accents
Whether a couple is interested in a fall harvest theme, a western wedding, or basic country ambiance, there are many decorative accents that can add richness and flair to barn decorations, such as:
Colored horseshoes that match the wedding colors
Lassos shaped into hearts
Corn stalks tied with coordinating ribbons
His and hers saddles or other gear
Hay bales draped with matching fabrics for low seating or floral arrangement stools
Cut logs for extra seating
Straw strewn across the floor to reduce echoes
Barn Decorating Prep
Not all barns are ready for decorating the minute you walk into them. If this is the case, you'll need to do some prep work before you can begin incorporating your beautiful decorations. The prep work may need to be started several months before the actual wedding date.
Cleanup and Repairs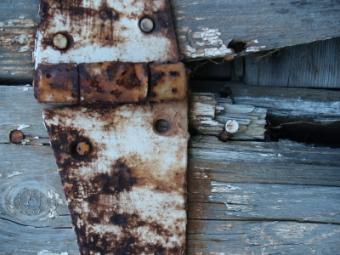 If the barn is frequently used for large events, there may be no necessary cleanup prior to the big day. If, however, the barn is part of an operational farm, there may be substantial improvements needed to ready it for a wedding, including:
Removing animals to other locations or outdoor pastures
Cleaning out all soiled hay, dirt, and other materials from the barn and leaving it open to thoroughly air
Cleaning walls, windows, and floors to remove excessive dust, dirt, cobwebs, and debris
Eliminating loose nails, splintered boards, and other hazards from surfaces guests will touch
Sprucing up the painting if possible, particularly around windows and edges
Repairing loose or rusted hinges, boards, and other minor problems
Necessities
Before using a barn to host a wedding ceremony or reception, the couple should determine if it has adequate facilities to handle the number of guests. Restrooms are a must, and proper heating or cooling mechanisms should also be in place. Adequate outlets will be needed for lighting and music, and there should be plenty of space for tables, dancing, and circulating. Furthermore, there should be sufficient parking nearby, and guests will appreciate if the barn is easy to find from main roads.
Cautions About Barn Decorations
While a barn may seem like an empty palette for wedding decorations, most barns for rent do have restrictions on the types of decorations that may be used. Because of the risk of fire open flames may not be permitted, and extra hanging items may not be allowed. Before planning an elaborate decorative scheme, couples should investigate what types of restrictions the location imposes on decorations.
Creative Country Decor
From a fresh coat of paint to lucky horseshoes on the wall and a rustic western cake topper, knowing how to decorate a barn for a wedding can turn an otherwise ordinary location into an extraordinary setting. Add just the right touches to set the scene for the couple to ride off into their happily ever after sunset together.