A handheld plumeria wedding bouquet is a lovely bouquet choice for any wedding. The fragrant blooms are available in a wide range of solid and variegated colors.
Yellow Frangipani Plumeria Bouquet
Plumeria is the common name for the genus of these beautifully scented flowering plants in the Apocynaceae family, commonly known as dogbane family. The frangipani genus blooms in white, yellow and pink colors. This yellow bouquet is shaped like a ball and creates a bright and cheery addition to a bridal party. You may decide to use this solid colored bouquet for your bridesmaids and select a mixture of white and yellow frangipani for your bridal bouquet.
Pink Roses and White Plumeria Bouquet
This bridal bouquet has it all from pink roses to yellow center white plumeria. Some larger plumerias feature a gold bead pinned through the center. The bride will hold this round bouquet with a ribbon-wrapped stem. Gold ribbon bow loops cascade around the ball while gold and pink streamers curl past the stem grip. This is an elaborate design intended for an elaborate gown and wedding. If your gown features gold trim or pink satin, this may be the bouquet style you want.
Simply Blue
Sometimes, simple is best. This blue tinged plumeria bouquet combines yellow, white and blue colors seen in the large blossoms. Blue satin ribbon peeks out beneath the flowers. The same ribbon is used to wrap the bouquet stem that is highlighted by a single wrap of yellow ribbon that showcases a pair of blue cloisonne butterflies. This bridal bouquet is elegant in its simplicity and a great color for a summer wedding, especially a beach or lake setting.
Spring Pastel Shades
This bouquet features many flowers and beautiful colors. The frangipanis plumerias are multi-colored orange and pink along with a purple and white variety. In addition to the plumeria, there are elegant white callas, pink amaryllis, ivory orchids and orchid leaves. This bouquet is ideal for a tropical or spring style wedding.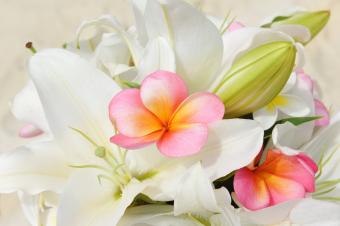 Whimsical Bear Bouquet
If you have a whimsical side and are looking for a fun way to make your wedding just a touch different, this bouquet might be it! The highlight and impossible to miss the main feature of this red rose and white plumeria bouquet. Graced with a pair of wedding bears, this red and white bouquet is graced with whimsical tulle ribbon. The ruffled tulle is reminiscent of a ballerina tutu and is wrapped around the bouquet stem with red and gold streamers cascade beneath and held in place with a red-tinged white plumeria and pearl tipped pin.
Fuchsia Frangipani Plumeria and Crystal Pins
If you to have a little glam and flash, consider adding crystal pins to your bouquet for a fun sparkling design. The large frangipani plumeria has colorful centers of fuchsia and aqua that give over to white broad petals. Nestled around the plumeria is a mix of pink hibiscus and dendrobium orchids tipped in pink and aqua. Springs of green grass frame the bouquet while large crystal pins look like diamonds scattered among the flowers. Pink satin ribbon is wrapped around the bouquet stem and a tied in a simple bow, secured with two crystal studs. This bouquet is ideal for an island, beach, lake or summer garden wedding.
Fiery Red Plumeria Bouquet
Not all plumeria bouquets need to be soft pastel colors. Instead, look for a bright red bouquet featuring plumeria amidst tropical red flowers like firespike. Adding plumeria to a bouquet with unexpected blooms makes this a modern option for a destination beach wedding or nuptials with an island theme.
Handheld Plumeria Wedding Bouquet Design Tips
Florists who design a handheld plumeria wedding bouquet typically focus on a host of tropical flowers while keeping the plumeria as the featured blossom or blossoms. If you are making your own bridal bouquet with plumeria, a few helpful tips ensure a successful design.
The blooms will last longer if you place freshly picked flowers in cold water for several hours. Keep the blooms out of the water, but bring the water high enough to submerge the stems but stopping just below the flowers. Once cooled down, remove the flowers from the water and place them in a large plastic bag. Be careful not to crush the petals. To protect the flowers while in the bag, use a straw to blow air into the bag just before closing it.
If you plan on ordering plumerias, keep in mind that some varieties may not be available until the warmer summer months. You may be able to find rare varieties at nurseries in Hawaii.
Keep in mind the scent of some plumerias can be overpowering. If you're allergic to flowers or if you're highly sensitive to certain aromas, you may want to visit a local nursery or florist and ask to smell the flower before making a decision.
If you love the tropical look of plumeria, consider adding a bloom or two as a hair accessory for you and your bridesmaids.
Add tropical greenery such as ferns or palm fronds as accents for a truly exotic bouquet.
Choosing a Bouquet
If your wedding destination is on a warm beach or if you just love the look of tropical or Hawaiian wedding flowers, a handheld plumeria wedding bouquet may be the perfect choice to add an exotic touch to your wedding bouquet. Since plumeria come in many colors and color combinations, you're sure to find one to go with your wedding color scheme.