Grand Entrance Songs for the Wedding Party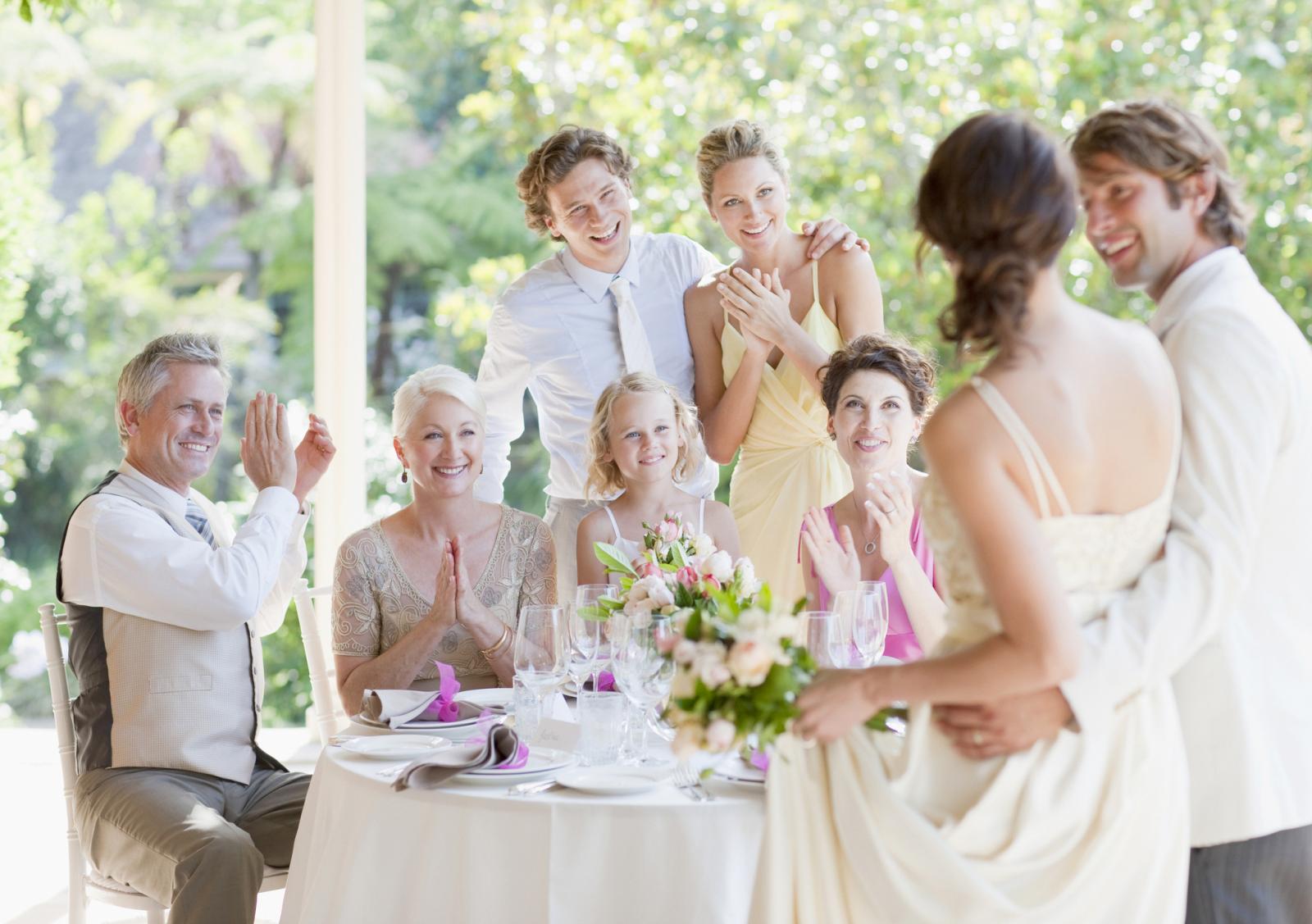 How to Select Grand Entrance Songs for Your Wedding Party
Having a list entitled "Grand Entrance Songs: Wedding Party" can help you and your DJ or band choose a final selection. After all, you want to pick the best wedding song to reflect the tone of the reception, honor your friends and family who stood up for you, and to fit your personalities. Most couples choose an upbeat song rather than a slow romantic classical piece. Even at the most formal affairs, something a bit more lighthearted for wedding reception music is usually in order after the ceremony.
Choosing the song can be difficult. Your wedding DJ or band may be able to make suggestions after speaking with you as a couple, or your friends may have excellent suggestions. Consider the following questions when picking your wedding party's grand entrance song:
Will people recognize it, or is it too obscure to be appreciated?
Does it reflect our wedding party?
Does it reflect our personality as a couple?
Is it appropriate for our reception (not too formal, but nothing with foul language, either)?
Do I want just an instrumental version, or lyrics, too?
Theme Songs from Television and Movies
Television and movie theme songs can make excellent grand entrance songs. Popular themes from television shows include Love and Marriage from Married. . . with Children and the theme from The Simpsons. If you are adventurous, maybe the Survivor theme is right for you. Honor your friends in the wedding party by playing the chorus from The Wonder Years (A Little Help From My Friends) as your opening song.
Movie soundtracks also offer a lot of choices for grand entrance songs. Your bridesmaids and groomsmen will want to get into the fun, so have them "groove" on into the reception with the following movie themes and songs:
Mission Impossible Theme
Austin Powers Theme
Godfather Theme
Jurassic Park Theme
Star Wars Theme
Danger Zone from Top Gun
You're the One That I Want from Grease
Men in Black from Men in Black (Will Smith)
Eye of the Tiger from the Rocky soundtrack
Children's movies can provide a number of romantic but still lighthearted numbers from which to choose your wedding party's grand entrance song. Perhaps Cinderella was a childhood favorite of the bride, or maybe your first date involved seeing a Walt Disney movie. Regardless, you are sure to find Disney wedding songs that fit the bill if you wish.
Oldies but Goodies
Playing a song from decades past can be a fun way to open your reception. Choose a song that older generations enjoyed, but that younger ones frequently know the words to as well. Classic rock, 1950s rock 'n' roll, or a big band hit will start your wedding reception off on the right foot. Pick out a song of your own, or think about using any of these songs:
Another One Bites the Dust -Queen
Tequila -The Champs
Puttin' on the Ritz -various artists, including Frank Sinatra or Benny Goodman
What a Wonderful World -Louis Armstrong
Joy to the World -Three Dog Night
Party Songs
Some of the best grand entrance songs for your bridal party are those that are considered great party songs. Consider using these songs for your grand entrance:
Accidentally in Love -Counting Crows
Get Ready for This --Technotronic
I'm a Believer -Smash Mouth
Let's Get It Started -Black Eyed Peas
Rock & Roll All Night -KISS
Let's Get Ready to Rumble -Jock Jams
Everybody Have Fun Tonight -Wang Chung
No matter what song you choose, your wedding party and guests are sure to have a blast at your wedding reception.