Getting Married in Ireland
If you're planning on getting married and are considering a destination wedding in Ireland, you need to prepare in advance. A few guidelines can help you wade through the legal issues you may face.
Basic Guidelines for Marrying in Ireland
Unfortunately, you can't just hop on a plane with your sweetie and get married in Ireland on a whim, so no spontaneous eloping.
Official Notifications
To get married in Ireland, officials require you to let them know your plans at least three months ahead of time. Look up the contact information for the district where you want to be married. Check Ireland's Health Service Executive (HSE) website for a list of Registrars. Notify them in person (or by mail, with special permission and a completed form) at least three months in advance and be prepared to meet with them at least five days before the wedding. You will receive your Marriage Registration Form when you meet with the Registrar three months before your wedding date, or if giving your notification by mail, it will be mailed to you.
Ceremony Venues
You can get married in churches, registry offices, hotels, and other public buildings. In previous years, outdoor marriages were not permitted, but the ban was lifted by the Attorney General in 2014. Though you will need to notify the Registrar of your venue plans when you meet, it is wise to attempt to secure the venue well before that meeting to have it approved.
Religious vs. Civil Ceremonies
You can have a civil or religious ceremony. You can speak with the Registrar if you have a specific venue in mind that you'd like to use in a civil ceremony; otherwise you can get married at the Registry Office. For religious ceremonies, you'll need to speak with a leader of the religious denomination for advice.
Additional Guidelines
Other guidelines include:
Regardless of the type of ceremony you'll have, you will need two witnesses over the age of 18.
You'll need to consult with the Register of Solemnisers for civil or religious ceremonies, which is also available at the registration office.
A declaration of no impediment.
There are no longer any residency requirements for couples who wish to wed in Ireland.
Documentation Needed
Whether or not you are a citizen of Ireland, to get married in Ireland, you'll need to present these documents and information:
Passports or refugee/asylum card issued by the Department of Justice and Law Reform
Original, full birth certificates with photocopies of each
Proof of address, such as a utility bill
Divorce decree, if either person has been divorced
Deceased spouse's death certificate, if applicable
PPS (Personal Public Service) Number for all parties who have a current and/or a future address within the state
Plans for your wedding, including whether it's a civil or religious ceremony, date and location of the marriage, solemniser, names and birth dates of witnesses
Notification fee of €200

20 euro for a full standard marriage certificate
Non-citizen Additional Marriage Requirements
If you and/or your spouse are not citizens of Ireland or the European Union, you will also be required to:
Make contact by phone with the county in which you'll marry (appointments cannot be made online for non-citizens) to serve notice of intent to marry
Receive special permission to give intent to marry by mail, rather than in person, a minimum of three months before your wedding
Meet with Registrar at least five days in advance of ceremony
Undergo an interview process

Provide evidence of civil status - a Certificate of Freedom to Marry, or other documentary confirmation of civil status issued by a relevant authority of the person's country of origin

Provide immigration status documents for foreign nationals
Wedding Planners
If you're planning on getting married in Ireland and you don't live there, your best bet will be to find a wedding planner who can do all the footwork for you. A few planners in Ireland that cover destination weddings include:
Elegant Events: This company is very familiar with the rules and guidelines involved in getting married in Ireland if you're from the United States, Canada, the UK, or anywhere else in Europe. Collette, the head of Elegant Events, has a combination of organizational and creative skills.
Waterlily Weddings: Waterlily Weddings offers one-stop packages for weddings in Ireland. Visit the site for a few ideas based on the venue and to find out what comes with each package.
Anne Lanier Weddings: This company also provides destination wedding packages and even works to get the best travel prices for its clients. Anne Lanier has put in quite a bit of effort to familiarize themselves with the rules for civil marriages for non-residents and has worked personally with the General Registrar to make sure they know exactly what their clients need.
Popular Venues
Castles, churches, hotels, and other venues are all great venue options for your wedding location.
Castles
If you're not dreaming of an outdoor reception or ceremony, you may be considering a castle. Ireland has plenty to choose from. You may even be surprised by how little you can get away with spending on the venue. Check out Celtic Castles for a few pictures. You'll find castles like:
Lismore Castle, which looks like a setting from a fairy tale and overlooks a river and the mountains.
Wilton Castle, an updated, luxurious castle nestled in the countryside.
Castle Leslie, which caters to the outdoorsy folks. You'll find fishing, horseback riding, and more.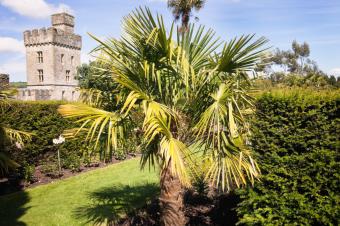 Churches
One Fab Day provides a list of churches available in Ireland to host your ceremony and provides information about the churches as well as venues near each church.
Hotels and Alternatives
Hotels are obvious places to have a reception, and these two are beautiful options:
Cahernane House Hotel will make you feel cozy and right at home, accommodating you and up to 80 guests.
Gougane Barra Hotel is a perfect, nearly secret little spot close to a beautiful church, so not only is it homey, but it's convenient too.
People planning a destination wedding often prefer something a little different, especially if they go somewhere like Ireland to say their vows. There are plenty of other venues to choose from, like:
La Peniche is a barge accommodating 20 to 40 guests and takes you down Dublin's Grand Canal.
Coolclogher House is an exquisite home for those who don't want to get married in a hotel. You can even have your immediate family stay in the home with you for a few days.
For More Marriage Information
The basics include giving at least a three month notice to the Registrar and even more notice to the venue you're hoping for and having the right documentation. You can find more information at Citizens Information and Ireland's Department of Social Protection in addition to using the services of a wedding planner.