Funny Groom's Cake Toppers
Funny grooms' cake toppers are a lively addition to any reception table. In addition to the traditional white tiered wedding cake, consider having a cake with a lot more personality just for the groom.
Ideas for Funny Grooms' Cake Toppers
When deciding what type of groom's cake to order, remember this cake is meant to be a reflection of your husband's taste and style. Though it may not be what you would want, this small area of the wedding planning should be based on what your groom enjoys eating and doing.
Wedding Couples
By far the most popular toppers are brides and grooms. Instead of the traditional bride and groom standing hand in hand at the altar, order a topper with the couple in humorous poses. This may be the bride dragging the husband to the altar, the bride carrying the groom, or the bride holding the key to the groom's ball and chain. All of these portray a reluctant groom and a determined bride, which should bring chuckles to the groom's friends, especially if the groom was a "confirmed bachelor" before he met his bride to be. In fact, the couple doesn't even need to be human - they could be birds, hedgehogs, or even dinosaurs!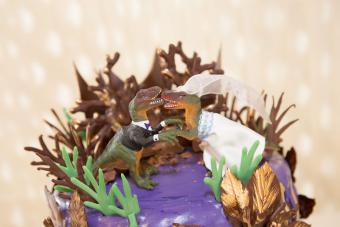 Funny Wedding Sayings
A groom who is used to telling it like it is may appreciate having one of his favorite sayings put on top of the cake. The funniest options will be ones he says all the time to his friends and family. But, if you need a place to start, consider:
"Got 'er done!" is a take on the famous phrase by Larry the Cable Guy.
"Keep Calm and Eat Cake" takes a popular meme and makes it his own.
"Happy wife, happy life" is a common toast that is pretty funny when put on the groom's cake.
Sports
Customized sports themes are also common for grooms' cakes. Choose from a variety of NCAA and NFL team logos, like the Dallas Cowboys, for backgrounds of the bride dragging the groom to the altar. Grooms playing football, soccer, and rugby are also available with many showing a bride chasing after her groom. The bride as a cheerleader rooting for her man complete with a megaphone and foam finger declaring she is the number one fan work well for grooms that are sports fanatics.
Pop Culture Characters
Groom's cakes might represent his favorite Marvel Avenger or DC Comics hero like Superman. Additional ideas include:
Gamers may get a kick out of their avatars being represented on the groom's cake.
A favorite band or musician can be turned into a festive cake topper, complete with '80s metal hair!
A more lighthearted approach would be to take a favorite television or movie couple and turn them into your topper, whether it's Lady and the Tramp from the movie of the same name or Carl and Ellie from UP!.
Hobbies
If your groom is into fishing, the "hooked on love" cake topper portrays the groom holding a fishing pole and dangling a wedding ring just out of reach of his bride's outstretched arms. For the couch potato groom, a cake topper depicting the groom in his favorite recliner watching television and holding the remote will be a hit. A deer groom's cake is perfect for an avid hunter. Motorcycle riding grooms may appreciate the cake topper that portrays a cool groom with his "hot mama" bride riding on the back.
Social Media Trends
Couples who grew up in the digital age may find their inspiration in social media.
If Grumpy Cat was your favorite online pet, have your likeness made into the cat's sad expression.
A cake with emojis on top would also be a silly nod to your texting addiction.
Perhaps you loved "ermahgerd" memes, so make a sign to signify your utter surprise at getting hitched and place it at the top of the cake!
Aging apps have been all the rage, so have a couple top the cake that reflects your results.
Country Cowboys
A rustic, country, or cowboy themed wedding doesn't mean you have to stick with sweet florals or cute boots. Instead, pick up something that will showcase your silly side that stays in keeping with your country western groom's cake. For example, have your decorator make a gum paste tracktor and wagon, but put the bride in the back. At a causal wedding, a redneck cake topper may be hilarious on the groom's cake. You could also have the bride roping the groom in.
Playfully Risque
If you are having a casual wedding full of friends and family who can totally take a hilarious joke, having a slightly risque topper can elicit a few chuckles. This is most appropriate at an adults-only wedding. For example, you might want a cake topper with the groom retreiving the bride's garter. Or perhaps a running joke among your friends is that the bridesmaids all had crushes on your new husband, so you want a topper to poke fun at that. Whatever you select, run it by your parents and your bridal party to ensure it's not too over the top!
Enjoy the Cake
No matter which of the funny grooms' cake toppers your groom ends up ordering, just go with the flow. Be sure to take photos of the cake before it is cut so you can remind your groom that he had at least a small amount of control over the wedding process and that you were a good sport. Letting him choose the design also shows you are willing to compromise, which is a sign you are starting your marriage out right.