Free wedding program templates are a great option for a budget-conscious couple to customize and create their own wedding programs. Free wedding templates for programs are easy and affordable. Just change the wording to personalize the template then choose an appropriate paper for printing your wedding programs.
Print Free Wedding Program Templates
Use a downloadable free wedding program template that you can print to get your programs finished quickly. The templates should cover what to include in the wedding program, but double-check that you've personalized the template for your own wedding before printing. If you need help downloading the templates, check out these helpful Adobe tips.
Traditional Template
A traditional wedding program is an 8.5 x 11-inch heavy-weight paper that is folded in half. Most couples choose to purchase the programs in bulk with wedding photos or graphics on the front. Alternatively, you could use wedding program clipart on the front of a plain sheet instead of purchasing paper. All you have to do is slip your program paper into your printer, revise the downloaded template, print and fold to finish the programs.
Unique Template
If you are crafty or want something unique, look for a creative wedding program template. The template below is four pages long and designed to fit paper 4 x 6 inches in size. Remember to change the names, dates and other details to fit your wedding. Print on parchment paper or other lightly colored paper using dark ink. Use a paper punch to make a hole in the upper left corner and tie the pages together with raffia or ribbon that matches your wedding colors. If desired, print a 4 x 6-inch engagement photo to use as a cover.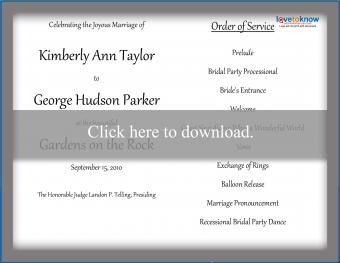 Save Money Printing Programs
Once you've gotten your template filled in, you'll need to print it. If you don't want to print these DIY wedding program templates yourself, you can utilize other options.
Many websites, and sometimes the church or venue where you are planning your ceremony, offer professionally printed programs for a nominal cost.
Another option retailers and print shops offer is purchasing blank programs; these may include a cover photo or design of your choice and quality paper that you can print the details of the ceremony on at their store.
Purchasing multiple stationary items, such as invitations, blank programs, and thank you cards, from the same wedding vendor may also qualify for a discount on your overall purchase.
Use Free Templates at Your Wedding
With the high quality of today's home printers, printing your own wedding programs is one way to cut costs and still present guests with a nice overview of the ceremony. It's also a way of providing everyone with a memento or keepsake from the wedding. These do-it-yourself wedding program templates are perfectly suited to informal weddings, but can also work for more traditional weddings, particularly if a classic style and good quality paper are used for printing.