Father and Daughter Wedding Songs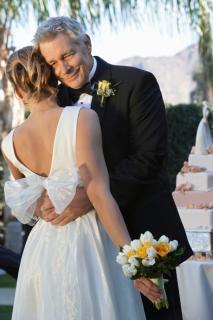 Songs for the father and daughter wedding dance should make a sentimental statement about this special relationship. Enlist the help of your father to ensure you select a song both of you like and will enjoy dancing to its beat.
Song Suggestions
If you don't have a special song, don't worry. There are plenty of songs that cater to the father and daughter relationship. The suggestions below are all readily available through multiple sources, like downloads from iTunes, Amazon, and Google Play, and on CDs sold online or at local big box retailers like Target.
Sentimental Songs
You Are So Beautiful by Joe Cocker: Talk about a tear-jerker, this is a classic song that hints at beauty on the inside and the outside.
The Way You Look Tonight by Frank Sinatra: The lyrics are tender and sweet, so it is sure to create a tender moment during the father and daughter dance. The lyrics imply that the daughter looks radiant, beautiful, and gorgeous on her big day (or night).
Because You Loved Me by Celine Dion: This song could be a message from a daughter to a father; the lyrics say that she is everything she is today because of the love and support her father gave to her.
Beautiful in My Eyes by Joshua Kadison: The lyrics could be heard as though they are from a dad's perspective. He talks about how he sees his daughter. The way a father sees his daughter can be quite different from the way the rest of the world sees her--more special and with more meaning.
Wind Beneath My Wings by Bette Midler: The song lyrics hold a message about someone holding someone up in the spotlight without recognition, which is something many fathers do for their daughters. The music has a powerful feel to it, adding depth to the song.
Lighthearted and Fun Options
Isn't She Lovely by Stevie Wonder: It's an upbeat song, so it's not too slow or sentimental. The lyrics are from a father's point of view on how wonderful his daughter is moments after she is born.
Daughter by Loudon Wainwright III: It's a lighthearted song with lyrics that a father and daughter can enjoy while they are dancing. The lyrics talk about everything the father has done for his daughter.

My Girl by The Temptations: My Girl has a faster beat and rhythm than traditional songs. The lyrics could be considered from a father's point of view on how his daughter makes him feel.

Sweet Child O' Mine by Guns N' Roses: Fast, metallic, and a fun wedding song, a father and daughter can really get down to this Guns N' Roses classic. Pick this for a rocking wedding that's far from formal.
Traditional Tunes
Daddy's Little Girl by Al Martino: This old, jazz classic is a highly traditional wedding song. The father talks about everything that makes his daughter "Daddy's little girl."
Butterfly Kisses by Bob Carlisle: This song was made for fathers and daughters to dance to at a wedding. The father talks about how his daughter gave him butterfly kisses, which are kisses on his cheek by fluttering her eyelashes, when she was a little girl.
Unforgettable by Nat King Cole: In the version where Nat's daughter, Natalie, sings with him (using technology many years later), you can feel the affection between a daughter and her father through the lyrics of the song.
Dancing on Daddy's Shoes by Leon Redbone: The song brings back memories of when the bride was a little girl. When she would dance with her father, she would dance while standing on top of his shoes. Since most little girls turned brides did this with their dad, it's heartwarming, traditional, and sentimental--all wrapped up into one song.
How to Pick the Right Song
The perfect father-daughter wedding song is different for every family. Consider these points before making your final choice:
Personal history: If there is a song that is special to both of you, choose that one. Maybe your dad sang it to you when you were very little. Maybe the two of you just enjoyed it together when you were growing up or it reminds you of the relationship you share.
Point of view of the lyrics: Some songs reflect the dad's perspective of seeing his daughter's beauty and letting her go. Others reflect the bride thanking her dad for everything or are more generic in nature. Consider whose perspective you want to reflect and what you want the song to say.
Person choosing the song: Will it be you, your dad, or the two of you together? If one of you decides to surprise the other with the song choice, make sure the two of you are able to wing it on the dance floor, that he can lead and you can follow, and that both of you can improvise.
Dancing to the Father and Daughter Song
Hopefully, the two of you can dance. If one of you has two left feet, you can't expect a natural dance rhythm to just come to you at the right moment. While this isn't a performance, you will be dancing in front of everyone. You want to be prepared so you can enjoy it instead of stressing about it.
If you're beginners, take dance lessons together or at least practice dancing together. Once you have a bit of a rhythm, and have picked your song, practice an actual dance routine until it feels comfortable.
Put on Your Dancin' Shoes
While having a father and daughter dance at a wedding is a tradition, song choices can range from sentimental to traditional to fun. Pick a song that means something to you and your father, put on your dancing shoes, and dance.