Pretty Fall Bridesmaid Dresses
Bridesmaid dresses for a fall wedding often reflect the colors of the season. Autumn brides have a wide palette of color choices from burnt orange and warm golds to rich reds and fall sunset pinks or purples.
Basic black dresses are a smart choice for any season. Dress them up by adding a colorful shawl accent in orange, mustard or bronze.
Full Coverage Fall Dresses
Late outdoor fall weddings are often chilly, making heavy, more ornate dresses perfect for the season. The champagne dresses at the right feature thick straps and a wide waistband, with a heavy skirt that will keep bridesmaids warm in the cool weather.
Fall Jewel Tones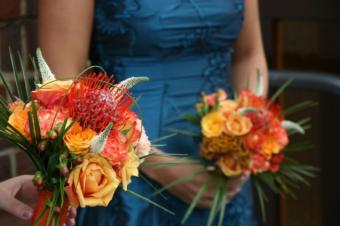 Fall wedding color palates are not limited to the colors of the changing leaves. Choose a deep jewel tone that pairs nicely with the other rich shades of the season. Indigo, navy and cobalt blue are stunning choices that pair nicely with vibrant fall bouquets. Plum and burgundy are two other popular fall color options.
Vintage Fall Lace
Lace bridesmaid dresses offer a vintage feel to any wedding, and are especially appropriate during the changing season of fall. Black or deep mocha lace covering an ivory or beige satin offer a beautiful alternative to traditional autumn bridesmaid dresses.
Asymmetrical Hemlines
Radiant red dresses glow against the darkening colors of fall. Typically, details are on the bodice of a bridesmaid dress. Choose dresses with a unique hemline for a pretty alternative. Outside, a detailed hem will draw attention to any fall leaves on the ground.
Themed Dresses
Match the bridesmaid dresses to a theme wedding in the fall. The dresses at the left are perfect for a Renaissance wedding or a country-western wedding. Choose dresses that are comfortable for the women to wear but also fit in with the day's theme.
Autumn Neutrals
Brides can't go wrong by picking a neutral color for their bridesmaid to wear in any season. In the fall, many brides choose brown and gold for their bridesmaids. Consider skipping the typical bronze, gold, beige and brown tones and instead dress maids in eye-popping silver. The color will stand out, drawing attention to them instead of the scenery.
Perfect Cocktail Dresses
Depending on the geographic location of the wedding, early fall is often warm. However, many brides are hesitant to dress their maids in summer colors and styles after the season has begun to change. In this situation, consider having bridesmaids wear black cocktail dresses. The shorter length keeps the bridesmaids cool on warm afternoons, but the black color is perfectly appropriate for fall.
Autumn Colors, Bright Accents
Mix up the typical color palate for fall bridesmaid dresses by adding in a bright pop of color to a neutral brown. Vivid fuchsia, lime green or even sunny yellow colors dazzle against a simple chocolate or mocha dress.
Get more ideas for autumn bridesmaid dresses in these LoveToKnow articles: