Cupcake favors are always a big hit with wedding guests! Sending guests home with these delicious morsels is a sweet way to thank them for sharing your day. These personalized favors allow guests one final indulgence from your wedding celebration.
Delicious and Decorative Cupcake Favors
Cupcakes are an appealing favor choice to many couples struggling with the favor decision. Like wedding candy favors, most people enjoy eating cupcakes and you won't be spending money on favors that just get thrown away.
The design for the cupcakes depends on whether you want to make them yourself or have a baker create them and how much money you want to spend on each favor.
Homemade Cupcakes
Skilled cake decorators can look at pictures of wedding cupcakes and re-create the designs using buttercream or fondant. In fact, if you have the right skills and tools, you could even make the cupcakes look like individual miniature wedding cakes, similar to the one cut and served at the wedding.
Decorators with less skill can still create pretty cupcakes themselves. Place the cupcake in a decorative wrapper. Use a large star decorating tip and pastry bag to swirl frosting on top of a cupcake, tinted to match the wedding color scheme. Add an icing flower, purchased from a craft or kitchen store to the top, if you desire.
The cost to a home decorator is relatively low. Even the more elaborate designs cost relatively little when you all ready have the skills and knowledge, because it only takes supplies and labor. However, the time cost could be too great to make an elaborate cupcake while planning a wedding. Simpler cupcakes are cheap, unless you purchase expensive decorations.
Professionally Decorated Cupcakes
The same professional decorator who creates your wedding cake design can usually make complementary designs on the cupcake favors. The pro also has the tools and staff to make elegant and elaborate designs, like a bride and groom design to package together, or a cupcake so perfect, it's almost too pretty to eat.A professionally decorated cupcake is going to cost significantly more than making them yourself. However, the larger hit to the budget may be worth it when you consider the saved labor, stunning design and how delicious they will taste.
Give Cupcake Wedding Favors
Giving out a cupcake as a favor is something that needs a little planning. Simply giving them out individually at the cake table might cause people to think they are in lieu of traditional cake or other desserts. Instead, make sure your packaging and distribution plan makes it clear that the cupcakes are also the wedding favors.
Package Cupcake Favors
Giving cupcakes as favors at a wedding allows people to sample more than one flavor of cake. When you package the cupcakes, make sure to attach a wedding favor tag that not only has a short thank you, but also includes the cake and frosting flavors.
Place the cupcakes into a small wedding favor box. Pick up plain ones and then add a decorative ribbon, or purchase special individual cupcake boxes from a decorating supply store.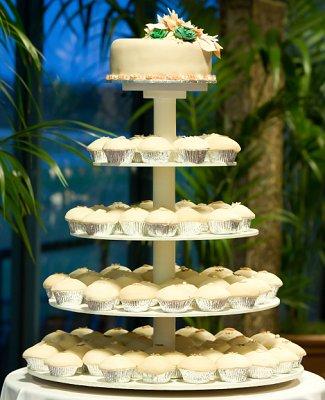 Distribute Favors
Couples have several options for distributing the favors to their wedding guests. Consider doing one of the following with your cupcake favors:
Place cupcakes on a stand in the center of a table, surrounded by take-home boxes. Guests can choose their own cupcakes from this display that doubles as a centerpiece.
Pre-package the cupcakes at home in pretty boxes and either line them up on the cake table or scatter them around the wedding cake itself.
Place a boxed cupcake next to each place setting at the wedding reception.
Use the cupcakes to designate a table seating assignment. Pipe table numbers on the cupcakes and place guests' names on the favor tag. Package this type of cupcake in a clear container.
Cute Cupcake-Themed Favors
Couples who are having serving a wedding cupcake cake might not want to send home cupcakes as the wedding favors. Instead, look for items with a cupcake theme to send home, but are not actually cake:
Candles scented like vanilla frosting in the shape of a cupcake
Bookmarker wedding favors with a cupcake design
Cupcake-shaped cookie cutters
Measuring spoon set with a favorite cupcake recipe tied to it
Cupcake-shaped and scented bath bomb or soap
A decorated cupcake is a charming alternative to taking home a slice of cake. Use it as a supplement to your traditional cake, or as a complement to a full wedding dessert bar. Or, avoid the hassle of food favors by sending home an inedible themed cupcake favor.