A wedding is a time for you and your significant other to express yourselves as a couple; that's why creative wedding ceremony ideas are perfect for keeping your guests talking long after the special day. Say goodbye to the by-the-book ceremonies. Don't let anyone tell you what you "should" do. Instead, let your mind run wild so your guests won't be bored and you'll get exactly what you want out of your big day, whether it's a unique ceremony at a castle, or simply a one of a kind favor.
Choosing Creative Wedding Ceremony Ideas
A lot of work goes into planning a wedding, even if you're doing the traditional route. In lieu of completely traditional down to the music and the vows, try to incorporate at least one or two creative wedding ceremony ideas into your special day. It may sound like a hassle to find just the perfect ones, but in the end, you'll be happy you did. Your memories will be more special and your guests will be talking for years about how perfectly your ceremony symbolized your union.
Fun and Frivolous
There's no point in letting your single female guests kill each other over one bouquet. Surprise them with multiple small bouquets. Hold them together throughout the ceremony and then let them all fly in different directions as you toss them behind your head. You can add a special charm to each one.
Theme weddings can be fun. Do you wish for a destination wedding but can't afford it or can't get the time off? Bring the destination to your ceremony. Another "theme" could be a birthday party. The catch is, you invite your guests to a birthday party and don't tell them it's actually your wedding. You can even hire a caricaturist or a clown for entertainment.
Turn your wedding into a wine tasting and watch how many guests want to toast your union.
Make your own wedding program and "introduce" each member of your wedding party to all the guests. Put in their name, how you know them, and a little bit about them. Your guests won't have to sit there wondering if you're related to your maid-of-honor.
Two words: wedding piñata.
Tearjerkers and Sentimental Items
Weddings generally equal tears of happiness. Here are a few ways to squeeze out them from your family and friends:
This one is a spin-off of the already beautiful unity candle part of the ceremony. Instead of just the bride, groom, and sometimes mothers participating, every guest gets to. As they walk into the wedding site, they are given a candle. After the bride and groom light the candle, each guest gets to light his/her own from that flame. It symbolizes the fact that they're a part of the couple's life. Of course, this works best for small ceremonies. If you have 500 guests, it could take a while!
Another one-this one will make you cry and laugh after the ceremony-is to let each guest write a memory about you in a blank journal. Just pass it around the room.
Signatures are so impersonal when it comes to guest books. Why not let your guests create a page for you ahead of time and bring it to the wedding? You can put them all together later. The guests get to show their creativity and thoughtfulness because they won't be in a hurry. Just mail them a page from the book ahead of time.
Another guest book alternative is a silver serving platter with the names of your guests engraved on it. Get the engraving tool you need from a hardware store or Wal-Mart.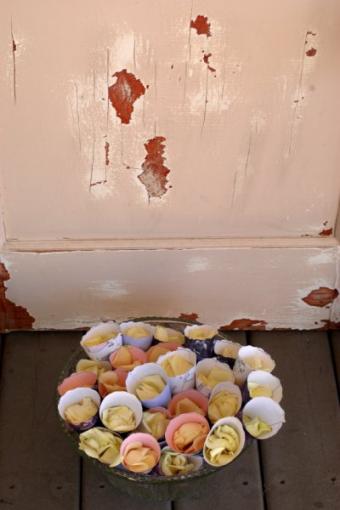 Cultural Accents in Your Ceremony
If you and your partner have strong cultural or ethnic ties or just wish to incorporate a specific country's tradition into your ceremony, go to Beau-Coup.com for tips. Did you know that in France, the groom walks his mother down the aisle before he takes his spot at the altar? Or that in Italy, candy-coated Jordan almonds are given to guests wrapped in tulle in groups of five (a lucky number)? The almonds symbolize marriage's bittersweet nature. There are dozens of fun cultural ideas that can be added to any wedding ceremony.
---
Just remember, no matter what you do, make your wedding yours. Brainstorm for your own special meanings and creative wedding ceremony ideas to write your own book on the perfect wedding.