Country Western Style Wedding Cakes
Couples who plan to have an outdoor wedding, enjoy farm/ranch life or even simply love western décor might choose country western style wedding cakes for their wedding dessert.
Country Cake Appeal
The appeal of a western wedding is far reaching. Even some city dwellers are drawn to country style weddings, opting to host their weddings in rural areas. Country cakes are the perfect dessert for these rustic weddings, and couples choose a country-themed cake for a variety of reasons.
The couple is already planning a country western or rustic themed wedding.
One or both spouses work in an occupation like farming, ranching, or large animal veterinary care.
The wedding reception is being held in a rural venue.
Country cakes are versatile-decorations can range from cute and casual to elegant and simplistic.
Choosing a country western cake is a way to tie an overall theme together. The bride and groom might be hosting a theme with more subtle country décor, and the cake is their main decorative statement. Alternatively, a couple might host an elaborately done western wedding ceremony and reception, and the country cake is the final touch. Regardless of the style of country wedding you are hosting, there are plenty of options for your cake design.
Designs for Country Western Style Wedding Cakes
Like any themed cake, a country western one should reflect the rest of the wedding's tone. If you are planning casual gathering in a decorated barn, you want your cake to fit the surroundings. Similarly, if you are planning an elegant wedding in a country western dance hall, you want your cake to reflect the ambiance you have created through the decorations and setting.
Sculpture Cakes
Country western cakes often lend themselves well to becoming a sculpted, 3D style cake. Possible designs for these shaped cakes include:
Cowboy hat
Barn
Boots
Vest and chaps on a torso
Saddle
Wagon
Horse, cow or other farm/ranch animal
Windmill
Horseshoe
Hay bale
Ask your baker about viewing wedding cake photos in his or her portfolio to get an idea of whether they can create the sculpted cake you want. These styles of cakes often have higher price tags, so be sure to find out wedding cake prices for your budget.
Tiered Cakes
Traditional cakes are [[Images of Wedding Cakes 3 Tier| tiered wedding cakes]], with anywhere from two upwards to even five or seven tiers cakes in one large cake. These cakes, with their classic shape, offer plenty of ways to create an elegant country western look. Ask your decorator about one of these styles: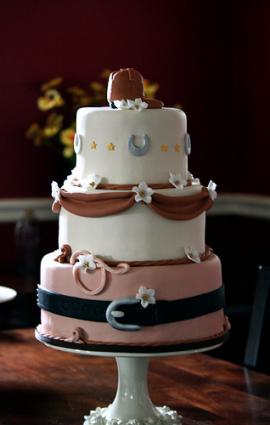 Bandanna Print: Use a bandanna as inspiration to make an all over print on the cake. Pipe the outline or airbrush impressions on fondant for a simple country design.
Lasso Borders: Ask the baker to make a simple buttercream wedding cake and smooth the top and sides. Then, have him or her make gum paste ropes and line the base of each tier with the rope. The rope could be brown, tan or even white, depending on the look you want.
Southwest Flair: Use a quilted blanket for inspiration on a cake that has a design with some southwest flair. Orange, silver, turquoise and brown are typical of the American southwest, so create a geometric design using these colors.
A simple way to incorporate a country western theme into a tiered cake is to use a western wedding cake topper. Using a topper allows you to decorate the cake more traditionally, while still maintaining the country western aspect of the wedding.
Grooms' Cakes
Couples who want country western style wedding cakes but are not sure about making it their main cake can opt to include a decorated groom's cake in their celebration. Unique groom cakes are becoming trendy, and many couples get creative in their design choices. Place the groom's cake on the same table as the traditional cake, so everyone gets a chance to see the country western decorated cake.
Wedding sheet cakes are a popular cake size and shape for a groom's cake, because a scene can be depicted on top of it with relative ease. Try one of these ideas for your country western groom's cake:
Cowboy figure on horse, herding cattle across water
Edible image of the couple from a photograph of them in western attire
Fence, stable and horse figures
Wagon train going across the cake
Unified Theme
Rustic or country themes are popular for couples who feel a strong connection to the lifestyle and nature. A country western cake will pull the entire theme together and is a delicious way to end the wedding celebration.