Cheap Unique Bridal Shower Invitations
Select cheap yet economical and unique bridal shower invitations to stretch your shower budget without sacrificing style. Inexpensive invitations are readily available. You can use free printable invitations for a personalized touch.
Free Printable Bridal Shower Invitations
All three invitations on this page can easily be downloaded and customized before you print them yourself. If you need help downloading the printables, check out these helpful tips.
Make Your Own Unique Invitations
Homemade invitations can be just a pretty as purchased invitations, and they can be fairly inexpensive to make. Perhaps one of these projects will inspire your creativity. Both will produce a 5" x 7" invitation that will fit an A7 envelope.
Layered Bridal Shower Invitations
Supplies
Computer printer
Paper punch
Glue stick
Scissors or a paper cutter
Ribbon
White cardstock
12" x 12" scrapbook paper with a bridal shower theme (Plan on two invitations per sheet.)
Directions
Create your invitation wording in a word processing program such as Microsoft Word, leaving space for two punch holes near the top, and then print out the number of copies you need.
Trim around the wording so you have 3.5" x 5.5" cards.
Cut the scrapbook paper into 5" x 7" sections.
Apply glue around the edges of the back of one wording card, and carefully center it over the scrapbook paper and press down.
Make two parallel punch holes approximately one inch apart near the top of the wording card.
Thread a section of ribbon through the holes and tie the ends together in a bow.
Repeat for each invitation until you have enough for all your potential guests.
Stamped Bridal Shower Invitations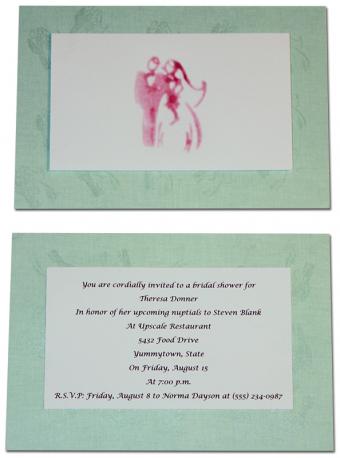 Supplies
Computer printer
White cardstock
Scissors or a paper cutter
Glue stick
One watercolor marker in a color that coordinates with the wedding colors
Rubber stamp with a design suitable for a wedding shower
Directions
Create your invitation wording in Microsoft Word or a similar program. Print out enough copies on white cardstock for all the invitations you need.
Trim around the wording to create 4" x 6" cards.
Using your rubber stamp and watermark stamp pad, place random stamps on the front of the A7 note cards, and on the backsides where you will eventually place your wording cards. Clean the stamp when you're finished.
Rub the glue stick along the back edges of the 4" x 6" wording card, and carefully press it into the center of the backside of the card directly over where you stamped. Repeat for each invitation.
Cut more white cardstock into 3" x 5" cards.
Color the rubber stamp's raised design with the watercolor marker, and immediately press the design onto a 3" x 5" card. Repeat for each card you need.
Turn the 3" x 5" card over to the back, place one foam adhesive square on each corner, and carefully press the card onto the center of the front of the note card. This gives your invitation a dimensional effect. Repeat for each of your invitations.
Purchase Inexpensive Invitations
There are plenty of options available. You may choose to go paperless and email your invitations, or you might want to purchase customized invitations. You can even use fill-in-the-blank style invitations if you find a design you love.
Paperless Post: This website offers invitations you can send online, and there are many beautiful designs for bridal showers. You must create an account to get started, and you'll receive 25 free "coins," the site's currency for email invitations, just for signing up. You can purchase additional coins as needed at the cost of $5 for 25 coins. Invitations cost anywhere from one to three coins each on average, so this can be a fun and economical way to let everyone know about the shower.
Wedding Paper Divas: This site has a lot of interesting designs you can order, and the price per invitation drops for larger orders. In some instances, you can purchase 20 customized invitations for less than $30.
Target: You can purchase fill-in-the-blank shower invitations for a reasonable price at Target. For example, they sell a design online that features a bride carrying her shower gifts, and it costs about $12 for 25 invitations. You can also check your local store to see what else is available.
Quality Affordable Invitations
"Cheap" doesn't automatically mean low quality, and it is possible to find unique invitations that don't cost a fortune. Take your time looking at different designs until you find something you love that's also in your price range.