Wedding rings for a celebrity are a source of curiosity for many people. In fact, some people search for wedding rings like those of their favorite celebrity. Finding a replica can be difficult, but it's fun to explore what wedding rings a celebrity chose.
Madonna
Madonna's man, Guy Ritchie, presented her with a three-stone wedding engagement ring. The three stones hold significant meaning for Madonna. They represent herself, Ritchie, and their son, Rocco.
Marilyn Monroe
Marilyn had several marriages, but Joe DiMaggio is sometimes referred to as her true love. His love was certainly evident when he gave her a beautiful diamond and platinum eternity ring covered in 35 baguette diamonds.
Princess Diana
Princess Diana's ring was certainly fit for a princess. The large round sapphire was surrounded by brilliant diamonds. The ring now belongs to Diana's son, Prince William.
Camilla Parker Bowles
Well, Camilla's and Diana's rings couldn't be farther apart in appearance. However, both are gorgeous. While Princess Diana's ring centered around a sparkling sapphire, Camilla's ring boasts an art deco design with an emerald cut diamond and small baguette diamonds on the sides.
Paris Hilton
Ok! Ok! So Paris isn't engaged any longer! You still have to admire the gorgeous ring that she displayed during her albeit short engagement to Paris Lastis. The emerald-cut diamond was worth $4.7 million dollars! Wow!
Nicole Richie
Are Paris and Nicole always in competition with each other? Who knows? But, their rings certainly inspire copycat jewelers to try and recreate the look. Nicole steers away from tradition with her stunning 6.5 carat diamond and pink sapphire ring. Her relationship with Adam Goldstein, A/K/A DJ AM has been on again, off again for the past year, proving that while diamonds are forever, engagements aren't.
Priscilla Presley
You would expect Elvis to go all out wouldn't you? Well, he did. The ring that he bought for his very young bride, Priscilla, was magnificent. Size definitely mattered, especially to Elvis. This ring was 3.5 carats, but that wasn't enough glitter! Twenty-one smaller diamonds surrounded the magnificent stone!
Reese Witherspoon
Reese Witherspoon is America's favorite all-American girl. Her hubby, Ryan Phillipe, must agree since he presented her with a gorgeous four carat [ Asscher-cut] ring when he proposed.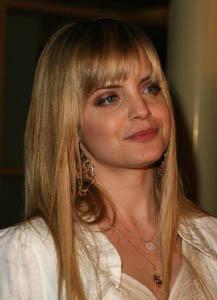 Catherine Zeta-Jones
While rings boasting four and five carats are certainly nothing to sneeze about, it might be hard to top the ring Michael Douglas presented to Catherine Zeta-Jones. The marquise diamond is an astonishing 10 carats!
Mena Suvari
Mena Suvari helped her husband out a little with the design of her celebrity wedding ring. Hubby Robert Brinkmann decided to forgo the traditional diamond at Suvari's request and present her with a ring designed around her birthstones, amethysts and citrines. The ring outlasted the marriage however, the couple divorced in the spring of 2005.
---
For more information about celebrity bling, check out Celebrity engagement rings and LoveToKnow Celebrity for all the latest Hollywood hype.