Catholic wedding hymns are a beautiful tradition still utilized by many couples today as a special and spiritual part of their wedding day.
How to Choose Catholic Wedding Hymns
Hymns are a beautiful and important part of wedding ambiance and can be just as meaningful as Catholic wedding vows. However, sometimes your selection process is not as simple as just choosing your favorites. There are a few guidelines you should follow if you want to incorporate Catholic hymns into your marriage ceremony.
Will There Be a Mass?
First, you will want to find out if your wedding will include a mass. This is usually up to the discretion of the priest or the Catholic community you are getting married under, however sometimes a couple can decide whether or not they would like to include a mass in their ceremony.
If you do choose to incorporate a complete mass, you will have many more songs to choose from. Every Catholic wedding ceremony has an opening and closing hymn, a gospel acclamation, and a psalm. If you choose to have a mass, you will also need to hunt down a memorial acclamation, a communion song, and a few others. A priest should be able to provide you with a full list of required music once your planning is in full swing.
Selecting Appropriate Hymns
Next, you will want to make sure your songs are overall very sacred and traditional. In the Catholic Church, marriage is a blessed sacrament rooted deep in history and ritual. Again, ask a priest or Catholic Church advisor to help you in your selection process, especially if you are a new convert or not exceptionally devout in your faith.
Choosing Musicians
Finally, if you're having live musicians play at your ceremony, don't be afraid to audition them. You will want a rich and gorgeous feeling to fill the air as you and your attendants are walking down the aisle as well as during the different parts of the wedding ceremony. Keep searching through musicians until you find the one able to perform your exact style preference. You'll be glad you spent the extra time hunting down the perfect musical fit.
Classic Music
There are some hymns that have become so prominent in our culture that we no longer associate them with just Catholic weddings. However, many of them first achieved mainstream notoriety through this sacred event, and continue to be used today. Ave Maria is one example of a frequently played song that never tires when it comes to wedding processionals. There are plenty of recordings available, as well as sheet music and accompaniment tracks if you would like a soloist or choir to perform it.
Handel's Water Music, specifically the Allegro Moderato, is another favorite. Both soothing and regal, it is a gorgeous tune for either a formal or casual wedding processional. Jesu Joy of Man's Desire by Bach is a popular choice for Communion, as is Laudate Dominum by Mozart. When it comes to Wedding recessionals, some prefer something a little more jovial without veering too far off course, such as the Wedding March by Mendelssohn or Ode to Joy by Beethoven.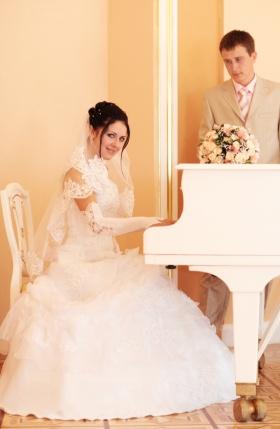 Today's modern Catholics also mix up tradition with progressiveness, sharing their favorite pop song or other music genre as part of their nuptials. If you are unsure what wedding ceremony music is appropriate, bring a recording of the song to your priest of wedding coordinator and let them have the final say.
Other Recommended Hymns
The diocese of Green Bay, Wisconsin is just one of many Catholic communities across the United States that provides their engaged couples with hymn recommendation lists. Below are just a few compilations you may want to look into, if you're having trouble finding that perfect hymn for your most special of days.
When Love is Found - GIA Publishing. Here you will find hymns and other versions of ritual music that has been compiled by two professionals in the religious music industry.
United as One - OCP Publishing. This two volume collection has plenty of Catholic wedding hymns perfectly suited for all aspects of the ceremony and reception.
A Ring of Gold - Concordia Publishing
Hymns Make a Ceremony More Meaningful
Catholic wedding hymns are richly spiritual and heavily significant for many couples. Incorporating them into your wedding ceremony can add another layer of spiritual beauty to what will be one of the most blessed events of your relationship.