Weddings Slideshows
Browse Topics in Weddings Slideshows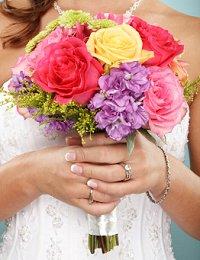 When couples first begin to plan their weddings, they can be overwhelmed by the many different options available for themes, flowers, attire, cakes, decorations, and more. These weddings slideshows can help you find the type of celebration you want by showing you a range of coordinated, stylish weddings as inspiration, from classic traditional ideas to modern, trendy weddings.
Looking at Weddings Slideshows
Each slideshow showcases a range of styles, but look carefully at each picture to see beyond its basic details. When checking out pictures of head table decorations, for example, look past just the place settings and centerpieces and take note of the linens, cutlery, and other details that make it a coordinated and elegant look, or when examining different pictures of beach wedding dresses, look past the sand and surf to the cut of the dress, whether it's right for your body shape, the color, length, style, and other details to see if it truly is your dream gown.
What You'll Find
In this special category, you'll find dozens of slideshows dedicated to some of the most popular wedding topics, including:
Bouquets and flowers
Reception decorations
Wedding dresses
Seasonal wedding themes and ideas
Bridesmaid dresses and other wedding attire
Using Slideshow Pictures
Each slideshow will open in a popup window and slides will change automatically or you can use the buttons at the bottom to view different photos at your own pace. Feel free to print out the pictures and add them to your wedding planning notebook so you can keep track of the ideas you like, and don't forget to check out the additional resources listed at the end of each slideshow for related ideas.